Edward and Mary Farrar created an Inner Harbour Heritage tour in 2012 that began at the downtown Tourist Office, extended north along the shoreline to the Woolen Mill and back to the Tourist Office via Wellington St. It included stops at 30 sites of Aboriginal, French, British and Industrial Heritage. The alignment was decided upon, the timing was done, most of the research for the 30 sites was completed and volunteers were found to help.
A grant application for $6000 for 1000 copies of a map/brochure and an audio tour was submitted to the Community Foundation in the fall of 2012 that was not successful. It was suggested that the format was dated and that creation of an app would be more appropriate. As they have no expertise with apps no further action was taken. Subsequently, in the spring of 2013, members of the City's Municipal Heritage Committee expressed an interest in the tour and a digital copy was made and given to them. However, in the fall of 2014, the City's Heritage Staff was cut and moved into Planning. In the fall of 2014 two members of the Kingston Association of Museums advocated strongly that FKIH submit a proposal for funding from the City's Heritage Fund. Chrystal Wilson of jNetrix, an IT company based in the Woolen Mill, said she and her company would be interested in creating an app that the City could use for a variety of purposes including our Inner Harbour Heritage Tour.
The grant money being requested by FKIH was predominantly to pay for a project co-ordinator who would finish the research, create photos and sound bytes for each stop. These would then be included as one aspect of a City tour app. However in the end Chrystal decided that it was too much to handle and never submitted the application. At this point, Laura Murray of the City's Municipal Heritage Committee has expressed an interest in finally getting something done. The materials were given to her on November 25, 2014 to see what she thinks feasible. We remain hopeful.
Some of the sites on the Inner Harbour Heritage Tour
1)  Site of Cartwright's Ferry 1787.  Toll drawbridge (Penny Bridge) 1829.Bridge purchased by city 1912.  Lift bridge in place by 1917.  Contemporary Use: La Salle Causeway
2)  Site of Montreal Transportation Company shipyard.   Industrial History: Tugs, barges, and later steamers used for transporting goods along the St. Lawrence. Building slip 250' long oriented towards open water (east of north). Contemporary Use:  Parking lot for Department of National Defence.
3) Fort Frontenac:  French 1673 + "Cabanes des Sauvages".  French and Natives living in harmony.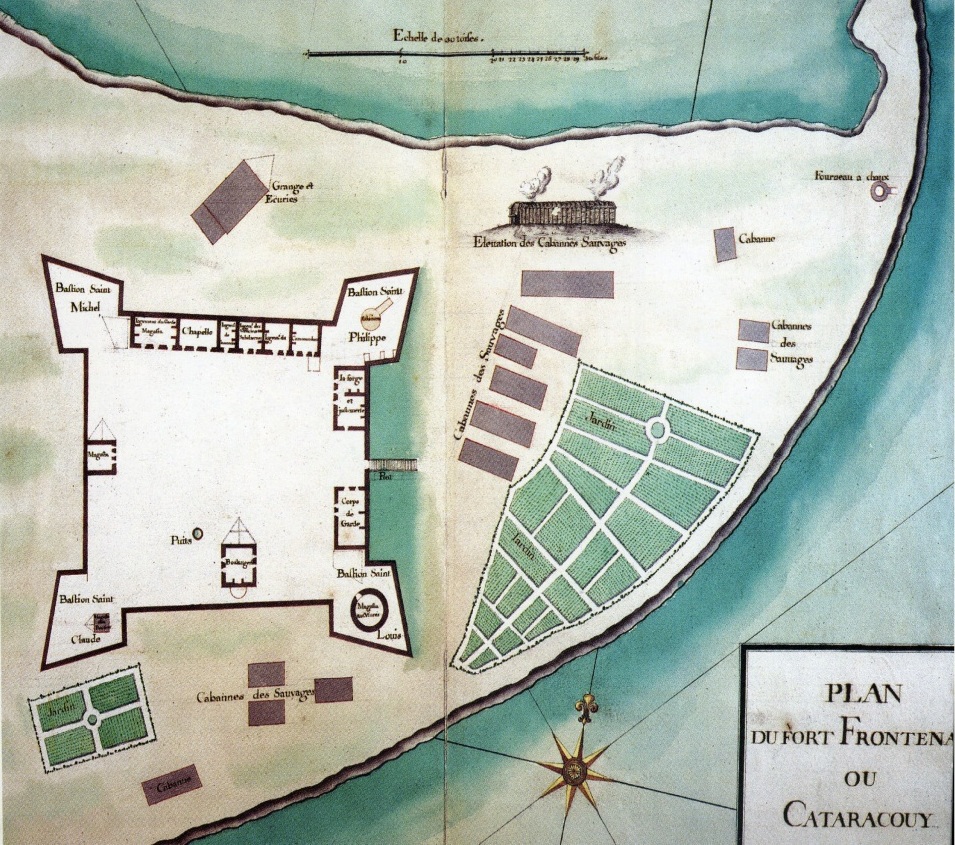 4)  Site of Sowards Coal.  Industrial History.   Contemporary Use: Site for Frontenac Village condo.
5)  Site of Bootlegger's District and business of famous bootlegger "Dollar Bill". Contemporary Use:  Food Basics store and parking lot.
6)   Bajus Brewery. Industrial History:  Brewery on site as early as 1794.  Original wooden buildings replaced by stone 1835-1840.  Jacob Bajus bought business in 1861. Iron stars on wall under kegs may represent "Twelve Star Lager".  Brewery ceased operations in 1922. Contemporary  Use:  Bajus Condominium  and offices.
7)   Davis Dry Dock.  Industrial History:  Established 1867.  Commemorated by Sir John A. 1875.  Expanded 1889 with construction of Welland Canal.  Davis Dry Dock manufactured steam leisure yachts. Contemporary use:  Dry Dock used by Metalcraft Marine.
8)  Site of Canada Dredge and Dock Co.  Industrial History: 1937-1973. WWII Ship Building in Inner Harbour.   A quarter of work force  teenagers as young as 13. Average age of teens 16, many with several dependents.  Contemporary Use:  Metalcraft Marine.
9)  Metalcraft Marine.   Site of boat building since1676.  Contemporary Use:  Industry founded  in 1987.  Niche market for custom aluminum fire and rescue boats.  Customers throughout North America.
10)  Kingston Marina.  Industrial History and Contemporary Marina.
11)  Queen City Oil Company Building (designated Heritage building) behind Rideaucrest. Industrial History: Built on or before 1908 for storage of Kerosene for Coal Oil lamps. Later owned by Standard Oil (S.O. = Esso) and Imperial Oil.  Currently in disrepair.  Projected Use:  Cycle Rental.
12) Site of Anglin Lumber.  Industrial  History: Originally on both sides of Wellington north of Bay.  Expanded south and west.  Contemporary Use:  Sites for OHIP building and part of Frontenac Village.
13) Site of Anglin Fuels.  Industrial History.  Contemporary Use:  site of Leuwarden condo.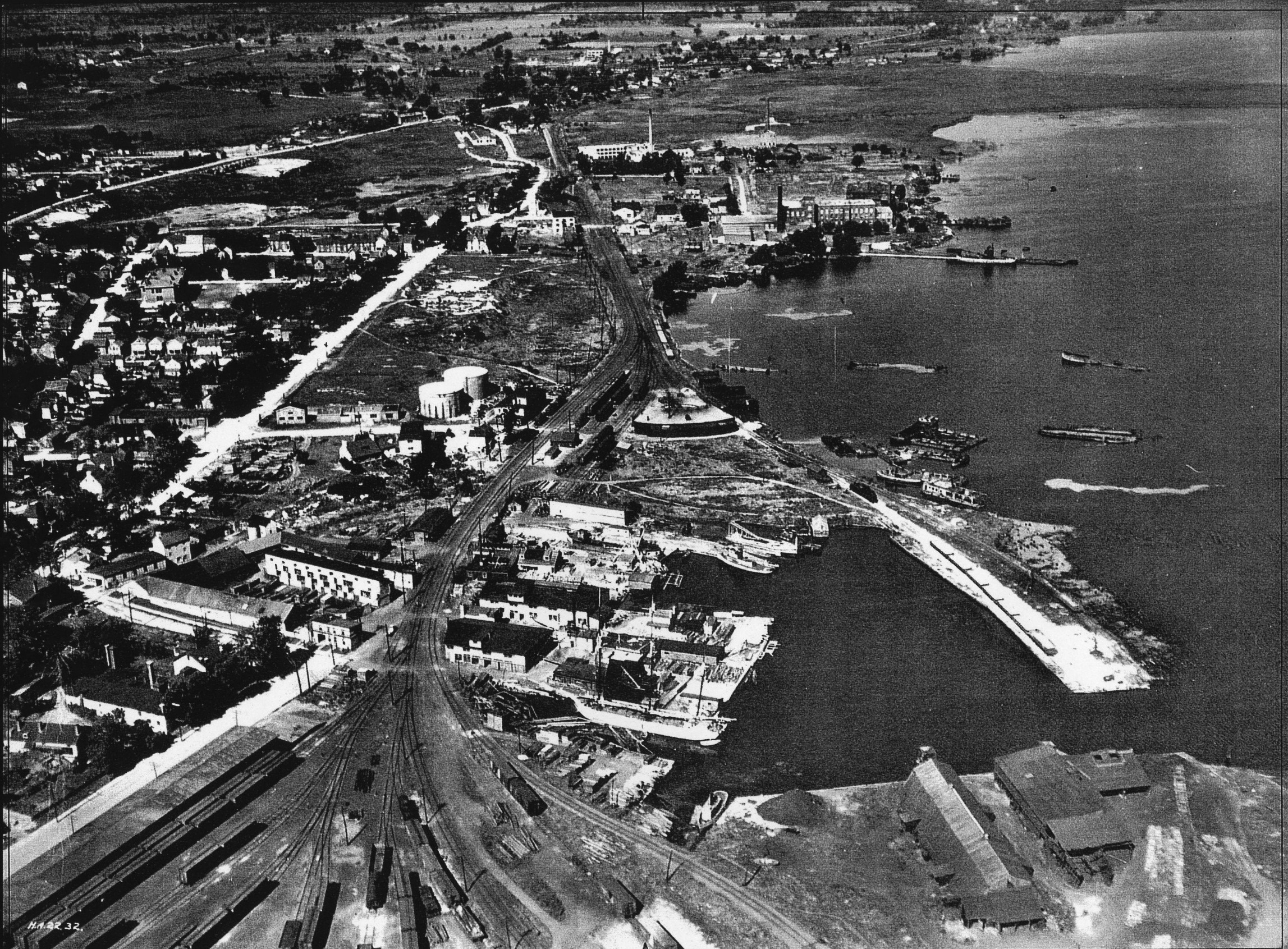 14)  Site of the Grand Trunk Railway and later the K&P line.  Grand Trunk came down Wellington St. and then angled SE and across a trestle bridge (remnants visible at end of peninsula that forms the eastern side of the Kingston Marina) to get to Ontario St. and the Inner Station which is now Frankie Pesto's restaurant.  Site of turnabout.  Contemporary Use:  Doug Fluhrer Park.
15)  Sites of Molly and Joseph Brant's houses behind Rideaucrest.  Existing historical plaques.
16)Wreck on shore near Woolen Mill.  Industrial History: one of 14 wrecks in the Inner Harbour.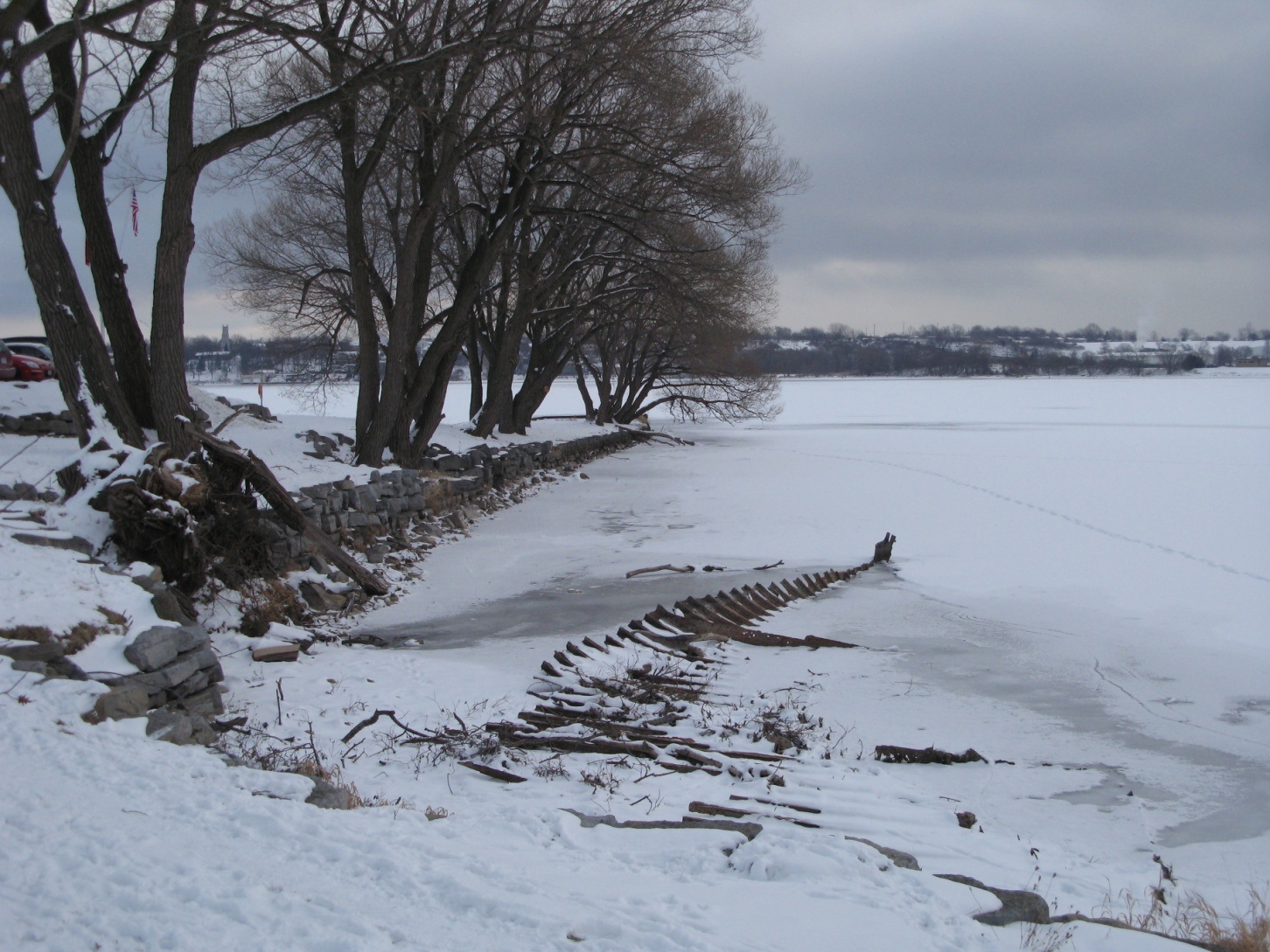 Unknown metal steamer probably propeller-driven. History of marine transportation in the Great Lakes and the abandoned boats left behind with improvements in the St. Lawrence waterway. "Urchins" from "Swamp Ward" encouraged to salvage wood despite fears wood harboured "Asian Cholera".
17) Molly Brant Point  Industrial History: Industrial site for over 130 years.  Wharf of Woolen Mill. Two wrecks used to extend the point, placed prior to 1924.  Also, remains of an elevated ore dock built in 1883 under the water south of Woolen Mill.  For many years a demolition yard.  Contemporary Use:  Park
18) Woolen/Cotton Mill: Industrial History:  Major employer in 1870s and 1880s. 
Example of Murmur Project story possibility re initiations:  On first workday for new male employees, women held them down while oil was poured down their pants. Contemporary Use: Office Park with restaurants.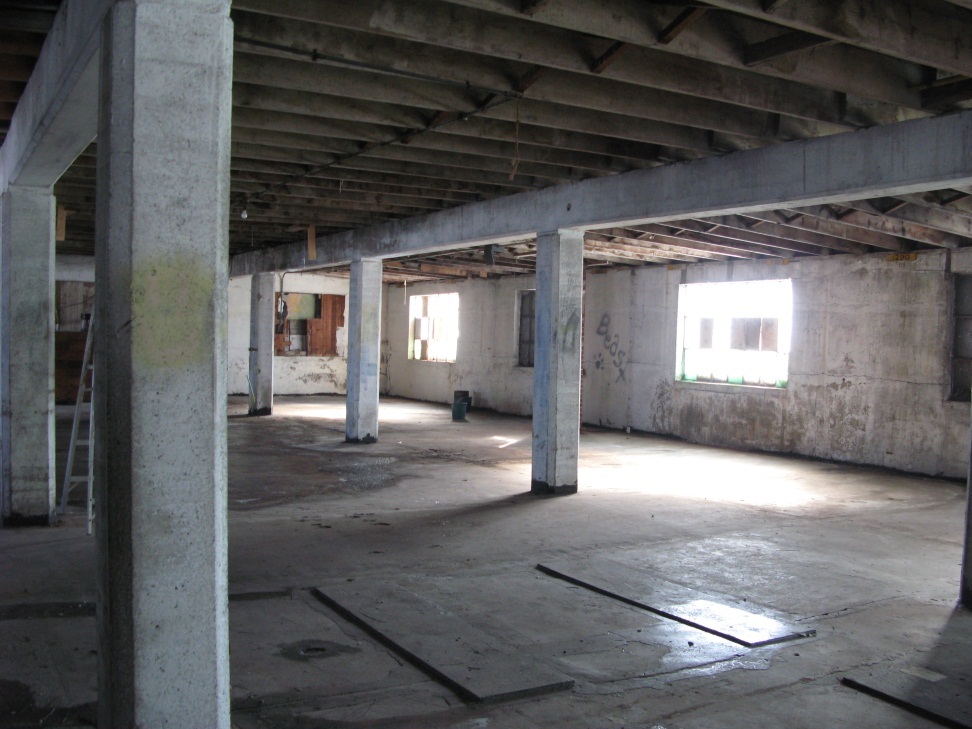 19)  National Grocer  Built 1930.  Railway siding to loading dock.  Food left out for urchins.  Contemporary Use: Env. Friendly Building Materials. Artists Colony.  Proposed  rooftop restaurant.
20)  Rowing Club built 1980 on land from the Buffalo Ontario Smelting Co.
21)  Dye Chemical Co.  Contemporary Industry
22)  Site of Buffalo Ontario Smelting Co.  Industrial  History: lead smelting.  Lead from Perth Road Village area mines.
23) Site of North American Smelting Co.  Industrial History: lead, silver (from Cobalt, ON) and arsenic smelting.
24)  Davis Tannery  Industrial History.  Established by Ford and son in 1860s.  Later owned by Carrington and then Davis family.  Site chosen for proximity to hemlock bark used in tanning and for good rail and water transportation facilities.  Produced upper leather for footwear.  One of largest tanneries in Canada.  One of Kingston's largest employers.  Production ceased 1974.  Main building demolished in 1983/4 for development not yet done.  Chromium pollution and attempts at clean-up.
25)  Berm at Orchard St. Marsh constructed as environmental clean-up (1970s) for Rowing Club.
26)  Abandonned  rail line to and from Belle Park.  One of Kingston's existing "Linear Parks".
27)  Belle Park  Industrial History:  Massive port development proposed by C.D. Howe in 1920s in conjunction with bid for large grain elevator. Contemporary story of dump and clean-up.
28/29) Belle Island Point Peninsula site (Middle Woodland, 1st c. A.D.) and Late Woodland burial site. Officially off limits for trail development but accessible for respectful walks.
30)  Historical account of a Belle Island Recollet Mission from the time of Count Frontenac.
31)  Kingston Outer Station Archaeological Site used by Natives for hunting and fishing.
32)  CN Railway:  Contemporary rail line.
33)  Stories from the Swamp Ward and the Swamp:  e.g. Oil- drenched cattails set on fire in play leading mistakenly to severe burns and marsh fires that were subsequently repeated over the years to the present.
34) The  islands in the marsh  just south of the 401 were lived on by the Conway brothers, trappers, who  all died sad deaths.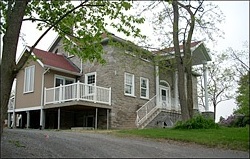 35) Maplehurst (1830):  British (Early Canadian) History: The life and work of Thomas Burrowes, clerk of the lower section of the Rideau Canal.   Engineer and artist.  House build by prisoners.  Six cells in basement.  115 historic watercolours in Ontario Archives.  Projected Use: Museum