October 2017
Snapper Hatchlings, October 24th, 2017,
Photos by Martine B.
The little turtle wakes up in my camera bag…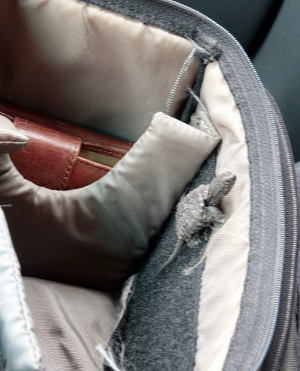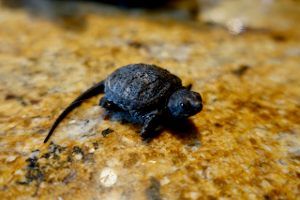 Release of my new friend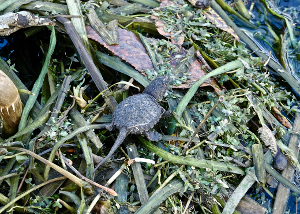 July 2017
Eggs Rescued and Incubated
Huge thanks to local hero Ric Barr for alerting us to a nest located near his business at the National Grocer's Building where heavy trucks might have crushed the eggs. Ric contacted Susan Irving at Sandy PInes Wildlife Centre in Napanee and she came out to harvest the eggs and take them for incubation. July, 2017
Rescuing a Northern Map Turtle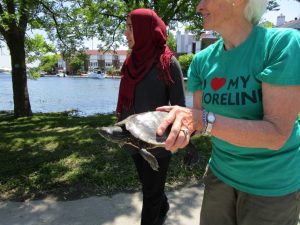 Egg-laying Northern Map turtle at Doug Fluhrer Park.
Mary Farrar rescues the turtle from being run over – June 2017.
---
Turtle Release at Doug Fluhrer Park
July 2016
Doug Fluhrer Park recently welcomed home 4 adult turtles (2 Northern Map turtles and 2 Snapping turtles) from the Inner Harbour who were returning to their homes after a stint of rehabilitation at Sandy Pines Wildlife Centre in Napanee. Mary Farar assisted Susan Irving, a volunteer with Sandy Pines, with the releases.
These turtles had been brought to Sandy Pines for care and rehabilitation following injurious encounters (usually vehicle related) with humans. These turtles were happy that their stay at Sandy Pines was relatively "short" (having been injured earlier this spring). A significant number of turtles with more serious injuries can take a full 12 months to recover sufficiently to be able to return to the wild. Sandy PInes has remarkable success with saving turtles with serious, life threatening, injuries.
The Ministry of Natural Resources requires that rehabilitated animals are released back into the environment within a mile of where they were found.
If you are interested in learning more about turtle rehabilitation or other facets of the care that Sandy Pines provides to well over 2,500 injured and orphaned animals every year, you may contact Susan at menardsa@sympatico.ca
---
September 2016
Susan Irving of Sandy Pines Wildlife Centre released five baby Northern Map turtles into the water in Doug Fluhrer Park. One turtle is quite visible to the right of the central dark rock. Two other tiny heads are visible in the water a bit further out.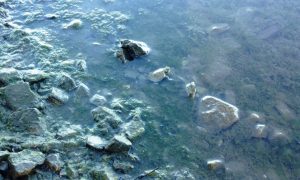 ---
Protecting the Turtles
The Friends of Kingston Inner Harbour are helping protect Inner Harbour turtles by covering nests containing laid eggs and also making a record of the turtles people are seeing. Contact 613-572-1246 and/or harbourturtles@gmail.com
Turtle Awareness Evening was held on June 7th, 2016. For stories and photos see Turtle Awareness Evening, Snapd Kingston July 2016, and Turtles' Best Friend, Kingston This Week, June 30, 2016.
An informal get-together took place in Doug Fluhrer Park on July 12th.
See Chairs for Turtles – a video of the event by David McCallum.
Inner Harbour species are mainly Painted, Northern Map and Snapping. For pics, visit
Toronto Zoo | Adopt A Pond | Resources
Below are some amazing photos of turtles sighted at the Inner Harbour.
Photographer:
Herb Helmstaedt
For more photos of turtles sighted this spring please go to the Gallery
Northern Map Turtles Basking in the Sun


Painted Turtles