Queen City Oil Company (9 North St.)
Updated May 2020
The Queen City Oil Co. Ltd. warehouse at 9 North Street (better known as on Wellington St. below Rideaucrest), is a mostly two-storey limestone building designed by William Newlands in 1897.  Newlands is well known for his handsome houses and his beautiful pavilion on the lakeshore near the Richardson Bath House. Read more about the building's truly fascinating history in the historical account by John Duerkop included at the end of this update.  Did you know, for example, that one of the founders is a relative of today's media giant Ted Rogers?
In 2014 we reported that the 9 North St. property was sold to ABNA Investments Ltd. pursuant to RFP Number F31-CSI-RELD-2014-01 to acquire, stabilize, restore and repurpose 9 North Street.
Work is now ongoing (Spring 2020)
Applications for Brownfield Assistance and for Official Plan Amendment and Zoning By-law Amendments have been filed to facilitate its redevelopment into eight residential units.
Brownfield Financial Assistance
Due to former industrial uses on the site, the proposed project has required management, remediation, and risk assessment of environmental contaminants. Council has approved a brownfield financial tax rebate benefit in exchange for remediation and redevelopment of this brownfield property, and the approval of by-laws and execution of agreements for that purpose. Report to Council Number 20-120 dated April 21, 2020 is here .   In short:
"The report recommends approval of brownfield financial tax rebate benefits of up to a maximum of $1,216,915 to ABNA Investments Ltd. in exchange for the remediation and redevelopment of the brownfield property at 9 North Street, and the approval of by-laws and execution of agreements for that purpose."
Heritage Approval
This property is also designated under Part IV of the Ontario Heritage Act and has was deemed complete March 20, 2020. The application for Heritage Permit was presented to Heritage Kingston (Report HK-20-023) on April 15, 2020 (File Number P18-019-2020).
Alterations include the following;
Withdraw of the approvals under Heritage Permit P18-110-2017
Restoring and repointing of the remaining limestone walls of the building, including the reconstruction of the south gable-end chimney to its original height;
Reconstructing the gabled roof to its former profile, with new standing seem metal roofing and two vent boxes, at a 4:12 pitch and at a height of approximately 1.5 metres above the stone walls;
Installing pattress plates on the east, west and north elevations, and exhaust vents on the east elevation;
Altering a number of the openings on the north and south elevations to accommodate new entrances;
Installing metal-clad wooden sash wooden sash windows and wooden exterior doors with partial glazing in their respective openings around the building;
Installing concrete steps, landings and metal hand rails at the entrances on the east elevation;
Erecting of a "silo" shaped metal-clad stair enclosure addition on the north side of the building with a painted "Queen City Oil Company" signage on its east face;
Installing  landscaping pavers, plantings, and a larger stone planter;
Relocating retaining wall to create a level access to the second floor on the south elevation; and
That the approval of the alterations be subject to the following conditions:
 A Building Permit shall be obtained, as necessary;
A Sign Permit shall be obtained, as necessary;
All Planning Act applications, including Official Plan and zoning by-law amendment and Site Plan Control approval, as necessary, shall be completed;
Drawings and specifications submitted as part of the Building Permit process shall be provided to Heritage Planning staff for review to ensure consistency with the Heritage Permit;
Details related to the colour(s) of the new siding, trim and roofing shall be submitted to Heritage Planning staff, prior to installation, for review and approval, to ensure it complements the heritage character and attributes of the property;
All planters shall be constructed as free standing structures and not attached to the stone walls;
All masonry works shall be completed in accordance with the City's Policy on Masonry Restoration on Heritage Buildings;
All window works shall be completed in accordance with the City's policy on Window Renovations in Heritage Buildings; and
Any minor deviations from the submitted plans, which meet the intent of this approval and do not further impact the heritage attributes of the property, be delegated to the Director of Planning Services for review and approval.
You can find out more about this project by visiting DASH and searching using the application file number D35-001-2020 and/or by contacting James Bar, Senior Planner,
jbar@cityofkingston.ca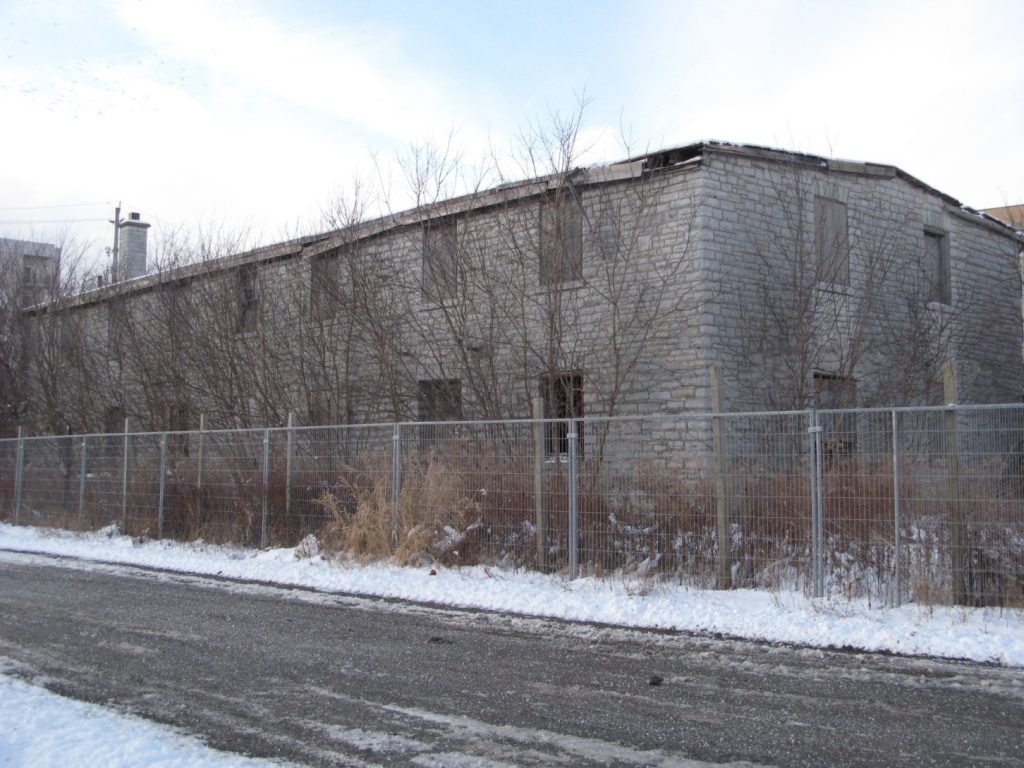 Queen City Oil Company Historical Account, by John Duerkop
Background: 
Petroleum in large quantities was discovered near Oil Springs, Canada West in 1851 by the International Mining and Manufacturing Co. The oil was lying in pools on saturated soil. It had to be dug out. It was used to make asphalt and kerosene. Free-flowing underground oil was discovered during the hand digging of a water well there in 1858.
Commercial production began at nearby Petrolia CW that year and in Pennsylvania USA in 1859. The Canadian Oil Co., better known under the trade name "White Rose", was formed at Petrolia in 1860. The company was the world's first integrated oil producer, involved in the production, refining and marketing of petroleum products.
The availability of kerosene (paraffin) by rail led to the founding of the Queen City Oil Co. Ltd. in Toronto (the "Queen City") in 1882 by brothers Samuel and Elias Rogers 2 who amalgamated previous firms (including their Queen City Oil Works) founded in 1877 in Hamilton and Ottawa.
In that era, when fear of fire could produce public hysteria, the first sailing ships specifically designed to carry petroleum as case oil 2, in barrels 3 or even in bulk, appeared in the early 1860s. Since they were sailing, not steam, vessels they were accepted as safe. But eventually oil companies moved to larger steam-powered tankers. The first ocean-going steam tanker was the British-built GLÜCKAUF of 1886. She was designed to carry kerosene in bulk from New York and Philadelphia to Europe 4.
There was a great deal of opposition to her arrival in New York. Some of it revolved around the safety of the new Brooklyn Bridge (1883) as many claimed that terrorists would drop bombs on her as she passed under the bridge, blowing up the bridge and even parts of New York City. Others were sure that she would have explosives on board and blow herself up under the bridge. The price of kerosene in Europe, however, was soon cut in half by the introduction of large steam tankers and the long-range bulk transportation of petroleum products changed world-wide.
History of Queen City Oil Co. Ltd:
Queen City Oil was mainly a wholesaler of kerosene in barrels and tins. The kerosene arrived in rail tank cars at regional warehouses across southern Ontario from refineries in Toronto and Sarnia. It was unloaded at a warehouse's railway siding and transferred into iron tanks. The kerosene was transferred to barrels and tins in the warehouse. The barrels were sold to retailers that sold it in smaller amounts to homeowners for use in "coal oil lamps" for interior lighting, "barn lanterns" for rougher work, ship's navigation lights, etc. An 1898 postcard advertising Queen City Oil's "Sarnia" brand kerosene said that it was the "… best regular grade Canada Oil ever made. No smell. No smoke. No crust on the wick." Other petroleum products, such as "Sarnia" brand lubricating oil, naphtha, axle grease, candle wax and castor oil arrived in small lots or as case oil.
In the mid 1890s, the City of Kingston was in the midst of a letter-writing campaign aimed at attracting new industry. The city's Oil Limit was an impediment for at least Queen City Oil. Samuel Rogers wrote to the Kingston city engineer on 9 July 1895 saying that the company did not think it was justified to open a kerosene barrelling works in Kingston under the existing by-laws.
At that time, cities in Ontario had two common ways of trying to minimize the risk of a fire spreading from one building to another. An Oil Limit restricted the amount of specified flammable liquids that could be in any premises within the limit. A Fire Limit, on the other hand, required buildings in the specified area to be built of fireproof materials such as brick, concrete, stone or metal-covered wood construction. Typically, this would be an area where buildings were large and close together, such as a downtown commercial area. Gunpowder, blasting powder, etc. were controlled in a separate by-law.
Any premises within the Oil Limit was prohibited from having more than five barrels of kerosene or petroleum, or two barrels of naphtha, benzene (C6H6 C6H6), bensole (a solvent, C6H), gasoleum (fuming sulphuric acid, H2O7S2), turpentine or any other liquid containing any of the banned liquids on the premises at any time. There was a combined limit of no more than five barrels of any flammable liquids at any location.
The Fire Limit was older than the Oil Limit. By-law 11, the first by-law establishing a Fire Limit in Kingston, had been passed on 8 November 1847. The 1883 Fire Limit, within which all buildings had to be built of fireproof materials, was not a problem for the oil companies. The Fire Limit then was a line 30.5 m (100') south of and parallel to Cataraqui St. from the Great Cataraqui River extended west to Montreal St. When Imperial Oil came to Kingston about 1892, they built their kerosene sheds outside the Oil Limit without protest. Their sheds appear to have been wood covered with corrugated iron or tin, sensible but not legally required in that particular location.
Queen City Oil thought that they needed a large facility in Kingston. They especially wanted a rail siding and a building large enough to handle kerosene brought in bulk by rail car, stored in iron tanks and then dispensed into barrels. The company also wanted convenient access to a wharf or jetty where they could receive and ship product by water. On 9 November 1896, John Morris of Queen City Oil wrote City Council that access to navigable water was critical for the company and without it; they would not come to Kingston 5.
The company tried to get permission to build a stone or brick warehouse on the Grand Trunk Railway spur line as close as possible to navigable water. The specific location they wanted was Lot 40 with frontage on Rideau St. and North St. It was within the Oil Limit. Like Imperial Oil before them, Queen City Oil's planned location was north of the Fire Limit so the "fire proof" building they wanted was not legally required. But the contents of the building would be contrary to the Oil Limit and that was what they wanted changed 6.
The root cause of much of the opposition to Queen City's plan was that many people, aldermen included, did not understand the differences between the Oil Limit and the Fire Limit. The insurance underwriters first heard from people who thought the Fire Limit was being changed and they reacted accordingly with warnings that every property owner in the city might face an increase in fire insurance rates.
A public meeting, the largest ever held in Kingston City Hall to that point, was held on the evening of Saturday 14 November 1896. Supporters of the new Queen City Oil project were greatly outnumbered in the audience. A petition bearing 132 signatures opposed to the Queen City project was sent to City Council from the meeting. It was subsequently alleged that an agent of Queen City's competitor Imperial Oil had sponsored the petition.
Newspaper overage was extensive and the debate extended into whether American coal oil was burned cleaner than Canadian coal oil, whether the alleged American coal oil available in Kingston was really American, what the wholesale prices of coal oil in Kingston and in New York State actually were and would the insurance underwriters use a kerosene warehouse within the Oil Limit as a reason to raise everyone's fire insurance rates?
In 1883-1893, the city's by-laws included a ban on manufacturing flammable liquids anywhere in the city. As previously mentioned, they also included a limit on the amounts of certain flammable liquids that could be stored at any premises within the Oil Limit. The Oil Limit became the focus of a continuing debate in 1895-1897.
The subject was referred to the Fire, Water and Light Committee of City Council. It was discussed at no less than four meetings of the committee in October and November of 1896. The by-law was defeated by council 9-10 on second reading at their meeting on 28 November 1896. Then finally, the insurance underwriters understood the city's intent and withdrew the possibility of an increase overall fire insurance rates.
Alderman Carson was the sponsor of a by-law to change the Oil Limit. Called a by-law "… respecting Petroleum and other illuminating oils and fluids". He moved in council on 11 January 1897 that a committee be established to draft an amendment to the Oil Limit so that Queen City Oil or any other company could locate "… near the Kingston & Pembroke quarry hole." He said that Queen City Oil would begin quarrying at once to create enough level space and that it would erect a stone building. The motion was withdrawn, to be brought up again at the next meeting. After some time and further discussion, the proposed changes passed council on third reading 16-4 on 1 November 1897.
The new Oil Limit changes kept the previous west and south boundaries but with two exemptions. The first exempted a triangle of land beginning at the junction of Cataraqui St. and the railway allowances, extending 30.5 m (100') along both the railway allowances to the south and along Cataraqui St. to the east. There was a pre-existing oil storage building within this triangle.
The second exemption was critical for Queen City Oil. This exemption was bounded by a line drawn south from Cataraqui St. to North St., running parallel with and 76.2 m (250') east of Rideau St. and then west along the centre of North St. Lands west and north of this line were placed outside the Oil Limit,
The main fire dangers at a kerosene warehouse were of leakage from the barrels and spillage while "barrelling", transferring kerosene from the outside tanks to barrels. It is possible that at least the floor of the second level of the Queen City Oil warehouse was paved in asphalt that would retard any spilled kerosene.
The new two-storey warehouse built in 1897-1898 was limestone, 30 m (99') long x 18 m (59') wide, with a "fireproof" roof. A small one-storey extension of the building and a very prominent chimney occupied the south end of the structure.
Kerosene was pumped out of bulk tank railcars (Queen City Oil owned at least six of them and could lease others) and piped into two iron tanks that were located at the north end of the warehouse 7. Barrelling was done inside the warehouse. Local deliveries to retailers were made at first by horse-drawn wagons and later by motor trucks.
On 4 January 1897, the Daily British Whig reported that John Morris of Queen City Oil had stated in a letter that Queen City would not amalgamate with Imperial Oil. This reassurance soon became meaningless.
The Rogers brothers had sold 80% of their firm to Rockefeller's Standard Oil Co. of New York in 1896. The sale was probably influenced by the Laurier government's decision to allow kerosene to be transported to Canadian ports in bulk tankers and to lower import duties on kerosene and lubricants. Queen City Oil in Canada then started to be supplied with some kerosene and lubricants from Standard Oil's Buffalo refinery.
Standard Oil bought 75% of Imperial Oil of London Ontario in 1898 for $339,470. Then, in 1899, Standard Oil made Queen City Oil a subsidiary of Imperial Oil. In about 1900, Imperial shut their kerosene own sheds and then used the Queen City Oil warehouse instead.
In 1911, the US Congress forced the breakup of Standard Oil Co. The breakup involved 34 companies, mostly in the United States but also worldwide. Imperial Oil Co. Ltd. and its subsidiary Queen City Oil Co. Ltd., both registered Canadian companies, were given by the US Congress to what became the Standard Oil Co. of New Jersey.
The Rogers family sold their remaining Queen City Oil shares to Imperial in 1912. Imperial then stopped selling products under Queen City's "Sarnia" brand. It is interesting to note, however, that as late as 1915 Imperial used the Queen City Oil Co. Ltd. name as owner of a new refinery in East Montreal. The mv MOTOR QUEEN, registered in Kingston, continued to be officially owned by Queen City Oil until 1930 when she was sold 5.
As mentioned previously, the Queen City Oil warehouse had a Grand Trunk Railway siding on its east side. This was where it received petroleum products. It also had an entrance on the west side of the upper level that gave it the street address – 9 North St. It does not appear that there was a proper roadway through the rail yards near the lower level. No evidence of an external staircase or ramp to connect the levels has been found, but two of the openings on the west side of the warehouse's second floor seem larger than the others.
A wooden stable for the horses that were used by the Queen City Oil warehouse's delivery wagons was built on North St., close to what is now the southeast corner of Rideaucrest,. The stable was gone by 1908, replaced by a wooden garage for motor vehicles.
The Queen City Oil physically separated its Kingston administration and sales from the warehouse by opening an office at the foot of Clarence St. (also given as the corner of Clarence St. and Ontario St.) downtown by 1903. In 1913, the city directory listed 'Imperial Oil Co. Queen City Division" at 198 Ontario St. John Morris, the former manager of Queen City Oil in Kingston and a former partner of Samuel Rogers, was listed as the Imperial Oil manager.
The geographic growth of Kingston, the need for gasoline filling stations throughout the city and then the decline in the use of coal oil lamps (replaced by gas lamps in many late 19th Century buildings and later by the widespread use of electric light after the Great War) ended the usefulness of the Oil Limit.
The warehouse was of diminished importance after the Great War. By then petroleum products were increasingly distributed in bulk, rather than in barrels or tins. By 1924, the "Imperial Oil Ltd. Queen City Division" had six oil tanks above the embankment. Two of the tanks were very large.
Later, Imperial Oil tankers used a terminal at the entrance to Anglin Bay to discharge their bulk cargo to the tanks behind the warehouse. The pipes and bollards for the terminal are still there. The heating oil and gasoline the tankers brought moved by pipe to eight large tanks on the embankment above the warehouse. The change to gas or electric heating of buildings, coupled with the point-to-point movement of heating oil and gasoline by truck, meant that by 1990 the tanks were gone.
Other oil companies had terminals and/or warehouses in the area. Rosen Fuels, British American Oil (in what we now call the Bailey Broom Factory) and Canadian Oil ("White Rose") were all in the area by 1924.
Since 1987:
The warehouse had been owned by the city since 1987, although nothing had been done to protect the structure. In 2003, the estimate for rehabilitation was $800,000. The city rated the warehouse as of medium historical significance, low operational significance and low public visibility. The 2004 city Building Conservation Master Plan estimated the cost of rehabilitating the building at $1,467,070.31 including an allowance of $370,195.31 for contingencies. The remainder was to be divided between $450,000 of urgent work and $1,050,000 of future costs.
Despite the inclusion of the cost estimates, no actual assessment of the interior of the building had been done. That was because access has been denied for years. The city did not repair the roof, which suffered significant damage, including the collapse of the tall stone chimney, in the spring of 2018! The internal wooden structures, including the second floor, have collapsed. Even in 2004, enough internal damage was visible through the open windows for the city to fence the building. They then spent $5,000 to board it up to prevent further access and further deteriorate. The property standards by-law was not applied.
The 2007 city budget included $100,000 for the building's demolition. Council subsequently voted to investigate the sale and rehabilitation of the building. It was noted that the city could hardly fight to force the CNR to rehabilitate the Outer Station while at the same time owning a building of similar vintage and in a similar state of disrepair.
The Doornekamp family's ABNA Investments bought the Queen City Oil warehouse in 2014 and has since gained approval from Heritage Kingston and from City Council to restore it as an eight-unit apartment building. There are to be six two-bedroom and two one-bedroom apartments. Those on the main floor are to be accessible. A great project! It will reactivate one of the very few industrial buildings left in Kingston from before 1900. Hopefully its industrial origins, including the tall chimney, will be prominent features its appearance.
Except for the Bajus Brewery (1835 with various additions until 1861), the Davis Dry Dock (original 1889 and with subsequent reconstructions) and the Cotton/Woolen Mill (1882 with additions in 1887 and 1890); the Queen City Oil warehouse is the last remaining pre-1900 industrial building left on the west bank of the Great Cataraqui River.
Acknowledgements:
Thank you to those who supported this paper on what must have seemed to be a rather obscure topic. The research and writing would not have happened without the encouragement and help of Helen Finley several years ago. More recently, Dr. Jennifer McKendry has been the source of valuable information, encouragement and advice. The staff of the Queen's Archives, especially Heather Home, have been particularly helpful. Their support is much appreciated, but any errors or omissions are mine.
Bibliography:
City of Kingston Consolidated By-Laws 1883, 1895 and 1907.
——————- Council Papers 1896-1898.
——————- "Minute Book", Fire, Water and Light Committee 1896-1902.
——————- Minutes of Council 1896.
——————- Proceedings of City Council 1896-1899.
——————- Report Book "H" 1896-1899.
Daily British Whig 17, 19 and 20 November 1896; 4, 11 and 19 January, 2 February, 10 and 18 August 1897; 19 January 1898.
Dictionary of Canadian Biography Vol XI (1818-1890).
Dunn, Lawrence. The World's Tankers, 1956.
Encyclopædia Britannica Vol 24, 1911.
Foster's Kingston Directories 1894 to 1907.
Goad, Charles E. Kingston Fire Insurance Maps 1908 and 1924.
Guild & Hanson, Kingston City Directory 1906-1909, 1910-1914, 1915-1920 and 1923.
Holtoff, Benjamin L. "Queen City Oil Building", MA thesis, Queen's University 2015.
Inglis, Lily and Downey, Bruce. Plans of Queen City Oil Building 2007.
Irwin, W.H. & Co., Irwin's City of Kingston Directories 1891-1894.
McKendry, Dr. Jennifer. Personal communications 19 and 22 April and 27 May 2018.
Marchidon, Gregory P. Canadian Multinationals and International Finance 2013 (excerpt).
(The) Mercantile Navy List 1911, 1929 and 1930.
Might Directories City Directory of Gananoque, Kingston and Napanee 1927, 1929, 1965 and 1969-1971.
Van Hasselt, Caroline. High Wire Act: Ted Rogers and the Empire that Debt Built 2010 (excerpt).
Footnotes:
1 Samuel Rogers and his wife had a son Edward ("Ted") born in 1900. That son and his wife also had a son "Ted" (1933-2008) who, as founder and head of Rogers Cable, was far better known than any of his ancestors. Samuel Rogers continued to have his own kerosene distribution company for several years after co-founding the Queen City Oil Company. Elias Rogers & Sons, originally a lumber and coal dealer, was later sold to McColl Bros., the Canadian affiliate of Texaco.
2 "Case oil" was two American five-gallon tins put together in a wooden case that might weigh a manageable total of 40.8 kg (90 lb).
3 Barrels of petroleum were "standardized" in 1866 at one barrel = 42 US gallons, 35 Imperial gallons or 159 litres. The weights were not actually standard. 42 US gallons and 159 litres are both 336 lb. of water. But, 35 Imperial gallons are 350 lb. of water.
4 GLÜCKAUF was 91.6 m (300.5') long, with a deadweight tonnage of 2,740 tonnes (3,020 tons). That large amount of kerosene near a lit boiler was what raised most of the opposition. She was built on speculation with the expectation that a German or Norwegian shipowner would buy her. Before she was finished a German firm, associated with Standard Oil, did buy her and named her "glűckauf" or "good luck".
5 Between 1910 and 1930, Queen City Oil owned the MOTOR QUEEN ex SUPPLY, official number 130322. A small wooden vessel, built in Alexandria Bay NY in 1904, she was only 20 gross tons and 15.4 m (50.4') long. Based in Kingston, she delivered gasoline, kerosene, lubricating oil etc. to yacht clubs, general stores and even cottages along the Rideau and throughout the 1000 Islands. She was sold to a Windsor Ontario owner.
6 The 1883 Fire Limit, still in force then, had been from the foot of Barrie St. north to Ordnance St. and then down Ordnance to Rideau St. and north to Bay St., east down Bay to the harbour (at roughly the present corner with Wellington St.) and east and south along the shoreline to the foot of Emily St. west on Emily to King St. and south on King to the starting point at the foot of Barrie.
7 Five iron petroleum tanks show on the 1908 Fire Insurance Map. They were above the embankment behind the Queen City Oil warehouse, and the two tanks formerly north of the building were gone, possibly moved up the hill. Those two tanks were the only circular ones in the group. Like the others, they were not very large, being only about 7.6 m (25') in diameter.