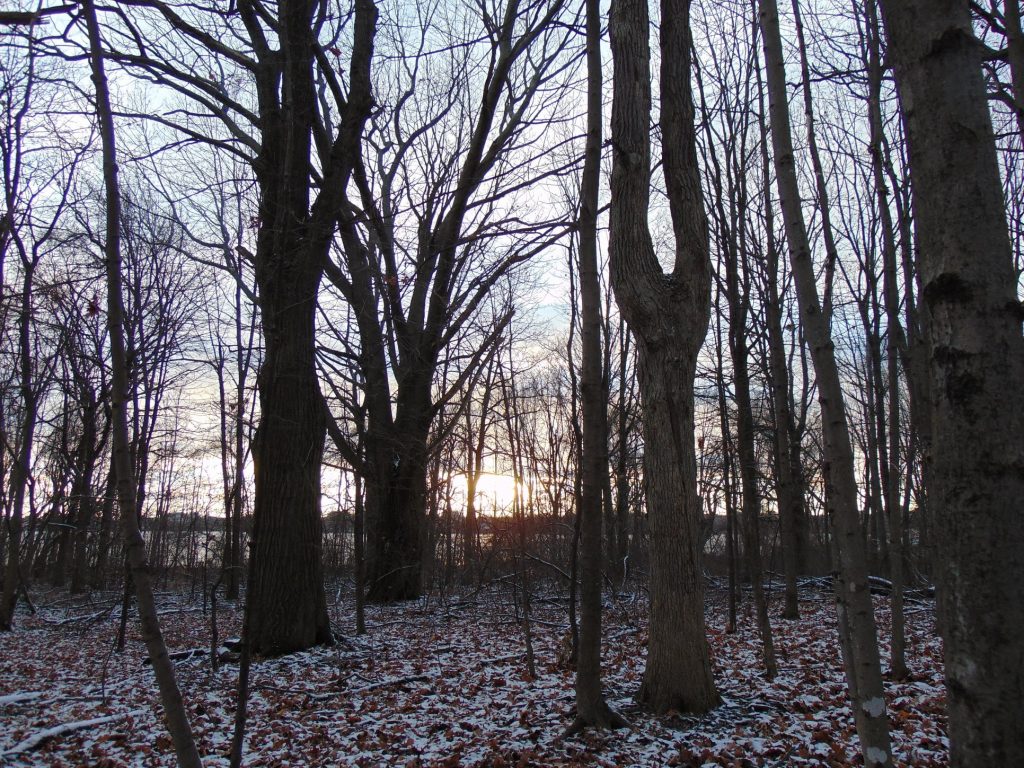 Dear Friends of Kingston Inner Harbour.
Thanks so very much Hilbert Buist for this beautiful picture of Belle Island in December.  Sometimes we get locked indoors in December and forget that Nature is wondrous – even in December!
Trusting you are making the best of things.  Not easy in these crazy times!

SCAMS TO BE AWARE OF:
1. Water Heater Related Scam Phone Calls
2. Suspicious Phone Calls re Assessment of Appliances 
CITY INFORMATION:
3. Great Turtle News!
4. View of New High School
5. Snow and Ice Safety Reminders
6. LaSalle Causeway Lane Closures
7. Enjoy Kingston's Downtown
8. Artillery Park Open
9. City's COVID website
10. Grand Theatre Update
11. Dr. Moore: KFL&A May Still Avoid Orange Community Status
12. Volunteer Contact Tracers Urgently Needed
13. Market Square Open for Skating
14. Avoid Buying, Giving or Making Garbage This Holiday Season! 
LOCAL CAUSES FOR CELEBRATION
15. Kingston-made Vessel Nominated for Work Boat of the Year Award
16. Kingston's Marine Museum in Talks to acquire Titanic-era Steamship 
ODDS AND SODS FROM HERE AND THERE
17. Non-bleach Cleaners Can Pollute the Air
18. Alcohol-free Sanitizers are Good at Killing the Virus
19. Differences in the Immune System and Blood Vessels Help Protect Kids from Virus 
LOCAL CHRISTMAS PRESENT BOOK IDEAS
20: Steve Manders' New Book – The Rideau Canal
21. Ken Cuthbertson's New Book – 1945: The Year that Made Modern Canada
22. Eric Gagnon's New Book – Smoke on the Waterfront: The Trains, Ships and Industries of KIngston Harbour
 
SCAMS TO BE AWARE OF:
Ontarians are seeing an increase in fraudulent emails, text messages and phone calls, as scammers try to take advantage of the COVID-19 pandemic. Learn more ways to recognize, reject and report fraud at www.UtilitiesKingston.com.
 
1. Water Heater Related Scam Phone Calls
Received 30, 2020 and Dec 8, 2020
Utilities Kingston warns customers of water heater related phone calls
Utilities Kingston is warning customers to beware of callers demanding an in-home inspection of their rental water heater. Several Utilities Kingston customers have reported this activity today.
These individuals may also falsely represent themselves as being affiliated with Utilities Kingston or the past Public Utilities Commission (PUC) to gain access to customers' homes.
Utilities Kingston wishes to assure its customers that:
– It is not affiliated with this individual or company, and is not partnering with them.
– It has not provided customer information to this individual or company.
– It is committed to providing efficient and reliable water heater rentals.
– Its water heaters meet safety standards and regulations, including building code. 
 
If you receive a suspicious call or visit to your home:
– Remember, you have the right to ask people to leave your property. If they don't, then contact police.
If you receive a suspicious call:
– Do not provide any personal information including Utilities Kingston or credit card account numbers.
– Collect any information possible about the caller.
– Contact Utilities Kingston customer service at 613-546-0000 during regular business hours, Monday-Friday 8 a.m – 5 p.m., to report the incident.
 
2. Suspicious Phone Calls re Assessment of Appliances
Received November 18, 2020
Concerned customers have alerted Utilities Kingston about suspicious phone calls from an un-named company. The callers are attempting to book an appointment for an in-home assessment of gas and electricity appliances.
The callers may:
– be targeting seniors.
– claim to be affiliated with the government, or Environment Canada.
CITY INFORMATION:
3.  Great Turtle News
Received from Turtles Kingston, Dec 10, 2020
Great Work Mabyn Armstrong!!!!!
"WE HAVE TAKEN A GIANT STEP FORWARD IN THE MITIGATION OF THE WESTBROOK WETLAND !
THANK YOU TO THE MEMBERS OF THE ENVIRONMENT, INFRASTRUCTURE AND TRANSPORT COMMITTEE FOR THEIR UNANIMOUS SUPPORT.
Excellent news for our Wetlands and Turtles !
The turtle crossing mitigation strategy for Princess Street at Collins Creek was passed unanimously last night. The City of Kingston Staff Report was presented to the Environment, Infrastructure & Transportation Policies Committee directing staff to include $525,000 in the Transportation and Public Works capital budget submission (2021) and increase the operating budget starting in 2022 by $10,000 on an annual basis for the ongoing maintenance and monitoring.The installation of 'exclusion fencing' will protect Kingston area turtles, the most imperilled vertebrate species on the planet, for decades to come.
Even though the turtles may be hibernating at the bottom of the wetland, we know that they will be breathing a little easier knowing that their chances for survival and their longevity has been endorsed by all of your caring natures.
As the wetland 'janitors' humbly keeping our freshwater sources clean, guaranteeing their survival is the least we can do. Without them, our wetlands would implode with bacteria.
We send a heart felt thank you to all who submitted emails with their 'Statements of Support'. We thank Adrianna Nystedt, the Queen's University Biology student, for the submission of her more than 1,200 signature petition in support of the project. We especially thank Councillors Lisa Osanic and Simon Chapelle, whose  districts share the governance of the Provincially Significant Wetland, for their unwavering support as well as EITPC members: Councillor Stroud; Chair, Councillor Neill; Vice Chair, Councillor Doherty, and Councillor Oosterhof.
NEXT STEP: The proposal will be presented to City Council in January."

4. View of New High School
https://www.youtube.com/watch?v=WV08yuW76h8&fbclid=IwAR1hDDBUklHnlLnPlf0GDnqhw3UTLaVuLcm1WeU8fIP0-RB1OLDWfJvvk78

5.. City, Utilities Kingston + Kingston Fire & Rescue's Snow and Ice Safety Reminders
Received Dec 3, 2020
– Be a good neighbour. Show your family, friends and neighbours you care about their comfort and safety – keep your sidewalk and neighbourhood catch basin clear of snow and ice.
– Be a Snow Angel.  Snow Angels notice when neighbours need help clearing snow and ice from a driveway or sidewalk and do it for them. Know someone who could use a helping hand? Be a Snow Angel this winter season! Go to CityofKingston.ca/SnowAngel to learn more.
– Be safe around snowplows.
Drivers:
– Stay three car-lengths behind a snowplow to allow for a safe stopping distance. NEVER cut off a snowplow.
Pedestrians and caregivers: 
– Assume the snowplow driver has NOT seen you.
– If you see a snowplow, move off the sidewalk and into a yard where you can be seen.
– Do NOT play on, or make forts or tunnels in roadside snow banks.
– NEVER approach a snowplow, even when it has stopped.
– Go to www.CityofKingston.ca/Snow to find out about City snow-clearing standards and priorities.
– Keep gas meters clear. Although your outdoor gas meter is designed to withstand winter weather, heavy or hard-packed snow and ice can be a safety hazard. Keep snow and ice from building up on and covering your meter. Concerned Utilities Kingston customers can call the 24-hour line at 613-546-1181 or visit www.UtilitiesKingston.com for tips and information. Concerned Enbridge customers can call its emergency line at 1-877-969-0999.
– Keep outside exhaust vents – such as those for gas-fired furnaces or water heaters – cleared of snow or ice.
– Ensure fire hydrants and fire department connections are visible. We thank residents and building owners who take the time to clear snow and ice from fire hydrants and fire department connections. This assists firefighters in the event of an emergency.
– Clear snow and ice from fire escapes, exit doors and other emergency exit points to allow for a safe exit in the event of an emergency.
–Place garbage and recycling where it can be clearly seen and safely collected.
– Please do not place garbage bags/containers, recycling boxes or Green Bins on top of snow banks. Choose a collection area at a safe and visible ground-level location on the boulevard closest to the curb, or on the right side at the end of your driveway or walkway (as you face the street).
– Another option is to create a shelf in the snow bank that provides the collector with easy access to your waste containers.  Search "Winter Waste Placement" on the City of Kingston YouTube channel for examples.
– Keep a path from the road to your collectibles clear of snow and ice. Safe placement helps avoid injury.
– Do not park overnight on City streets. Parking is prohibited on city streets starting Dec. 1 from 1 to 7 a.m. – and from 12 to 7 a.m. on the streets that surround Kingston General Hospital – until March 31, 2021. This bylaw ensures that cars are kept off the streets so that snowplows can effectively respond to winter weather events. You can be fined and towed for violating the bylaw. Please note that parking in the middle of a cul-de-sac is also prohibited at all times.
Businesses: 
– Keep sidewalks clear of hazardous snow and ice. If you front onto public sidewalks you must remove any snow or ice – including roof-top snow, ice or icicles hazardous to pedestrians –  "as soon as is practicable but, in any event, not later than 12 hours after the end of the precipitation that caused the snow and ice."  Those who don't will be charged the cost for clearing and could face a fine of up to $5,000. It is also illegal to move snow on to streets or sidewalks.
– Prevent water from freezing around electrical lines.  Keep your eaves troughs free of debris so water runs safely away before it freezes. Ice can build up where overhead electric service wires attach to your home—a dangerous and costly situation. Consider that the root of the problem may be poor attic insulation.
– Never attempt to clear ice from or around electrical service wires yourself. Concerned Utilities Kingston customers can call the 24-hour line at 613-546-1181. Concerned Hydro One customers can call 1-800-434-123 – available 24 hours a day, every day.
– Remove icicles hazardous to pedestrians. Every building owner/occupant in Kingston must remove the snow and ice, including icicles, from the roof of their building when it poses an immediate danger to pedestrians. Those who do not will be charged the cost for clearing the icicles and could face a fine of up to $5,000.
– During prolonged, extreme cold spells, take steps to prevent water lines from freezing. Go to – Utilities Kingston Frozen Water Services page to see if your pipes are at risk of freezing – and the steps that building owners can take to help prevent freezing pipes. This webpage also explains the processes and responsibilities involved if your water service does freeze.
6. La Salle Causeway Lane Closures
Expect short delays on the La Salle Causeway starting 6 p.m. on Dec. 11 until 6 a.m. on Dec. 12 (inclement weather dates: Dec. 14-15) due to work by Public Services and Procurement Canada. Flaggers will direct traffic. The bridge will remain open to cyclists and pedestrians. Direct questions to tpsgc.biensimmobiliers-realproperty.pwgsc@tpsgc-pwgsc.gc.ca.

7. Enjoy Kingston's Downtown
The City and Tourism Kingston have added LED lights and light art downtown to encourage safe enjoyment of Kingston's downtown and to support local businesses.  Love Kingston lights will be on nightly Dec, 2020 – March, 2021.
Know before you go:
– The following measures are still in effect for Kingston:
– Face coverings are mandatory in all indoor public areas and recommended in outdoor areas where physical distancing is not possible. 
– Group gatherings of more than 10 people on downtown streets, boulevards, and sidewalks are not permitted.
– Indoor event gathering limits of 10 people and outdoor event gathering limits of 25 people are in place.
– Physical distancing of 2 metres (6 feet) apart must be maintained in municipal parks and should be maintained elsewhere.
– Frequent hand washing with soap and water or use of an alcohol-based hand sanitizer is one of the most important ways to prevent the spread. 

The following capacity limits are in place:
– Instead of 50 people, indoor classes are now limited to 10 people.
– Instead of 100 people, outdoor classes are now limited to 25 people.
– Up to 50 people are allowed indoors in areas with weights or exercise equipment. Physical distancing of 3 metres apart must be maintained.
– Contact information will be required for all patrons and attendance for team sports.
–Additional restrictions are also in place for the following;
Meeting and event spaces, Retail, Personal care services, Casinos, bingo halls and gaming establishments,
Cinemas, Performing arts facilities
View the complete list on the Government's COVID-19 response framework webpage.
For questions relating to healthcare measures in place, please contact KFL&A Public Health.

8. Artillery Park Open for Recreational Uses
Under the province's re-opening framework and through guidance from KFL&A Public Health, Artillery Park has opened in two stages:
– Fitness Centre and Gymnasium opened for drop-in use on Tues, Nov 17.
– Pools are now available for drop-in use as of Mon, Nov 23.

9. City's COVID Webpage
Stay updated on what's happening.
Find regularly updated information on COVID-19, City services available, and what you can do on the City's COVID-19 webpage – https://www.cityofkingston.ca/Resident/COVID-19.
All updates are noted within the City's news releases, on the City website and their social media feeds.
If you would like to be on the city's mailing list for info on a variety of topics, sign up here. 

10. Grand Theatre Update
Received Nov 20, 2020
A job well done: Grand Theatre Foundation announces it is dissolving and passing the baton after years of successful fundraising on behalf of the City
On Aug. 13 the Grand Theatre Foundation's Board of Directors unanimously voted to dissolve the Foundation as of Dec. 31, 2020 after determining its mission would be better served under a different structure. The Grand Theatre Foundation is a registered charity that was founded to support the most recent renovations of the Kingston Grand Theatre and subsequently shifted its mandate to fund Grand OnStage programming and related educational activities. 
For more than 15 years, the Foundation worked to build a legacy for the performing arts for the Kingston community and, as of today, the City of Kingston will assume
Restoration Foundation, Co-Chaired by Walter Fenlon & Fred Laflamme, went to work to raise millions of dollars in partnership with the City of Kingston to breathe new life into the Grand Theatre. The result was a beautifully renovated performing arts venue that, in normal circumstances, attracts tens of thousands patrons a year and provides Kingston audiences with opportunities to engage with some of the best artists and performers from around the corner and around the world. 
"The Kingston Grand Theatre would not be the success story it is without the tireless work of the Grand Theatre Foundation. The generosity, time and effort they brought to their work shows a deep love for the performing arts and a desire to share it with Kingston audiences," says Mayor Bryan Paterson.
 City welcomes donations to support 2021 Grand OnStage programming 
Moving forward, the City of Kingston will assume responsibility for fundraising and sponsorship related to the Kingston Grand Theatre as of Nov. 20, 2020. Due to COVID-19, current programming looks quite different following the recent launch of a virtual Grand OnStage program and the limited re-opening of the Baby Grand.  However, opportunities still exist to support the virtual Grand OnStage program through donations and sponsorships to help keep the performing arts in Kingston vibrant and to ensure the future continuation of the Grand Onstage school performances and the Municipal Fee Assistance Program ticket fund. 
One time and monthly contributions can be made online on the Grand Theatre website. Donations can also be made by phone through the Grand Theatre Box Office at 613-530-2050. Income tax receipts will be issued for all donations over $20. 

11. Dr. Moore: KFL&A May Still Avoid Orange Community Status
Received Dec 8, 2020 from The Kingstonist – Samantha Butler-Hassan
I had said that I would not copy and paste whole articles but this is really important.
I do encourage you to subscribe to the Kingstonist.  They provide great local coverage!

"Kingston's Medical Officer of Health Dr. Kieran Moore says that the Kingston Frontenac, Lennox & Addington (KFL&A) Public Health region is approaching, but still able to avoid, the Orange level of provincially mandated public health restrictions.
"Our rate of illness is around 20 per 100,000 per week," he said, describing the key statistical benchmarks the province considers when moving a region from one protection level to another. "The cut off to move into Orange is 25 per 100,000."
"The percentage of positive tests locally is approaching one per cent," he said. "I think it's not until 1.5 per cent that Orange is considered."

The provincial government moved the KFL&A region into the 'Yellow: Protect' stage on Monday, Nov. 23 2020. This introduced restrictions on venue capacities, indoor and outdoor group sizes, as well as the hours for liquor service. It's the second of five levels ranging from Green, Yellow, Orange, and Red to Grey, or Lockdown. Orange would see a further reduction on venue capacity limits and alcohol service, as well as stricter contact tracing and seating requirements, and other changes.
"People need to understand that the risk is really much higher in our community, and we do not want to have to go into Orange… if we can avoid it."
'Widespread transmission in the community'
Dr. Moore made his comments during a Skpe press call on Monday, Dec. 7, 2020. Public Health coordinated the conference and issued a statement Monday afternoon after a record-setting weekend for COVID-19 cases, across the region and the province.
KFL&A Public Health is imploring people in the area to strengthen their efforts against the virus. There are currently 54 confirmed active cases of COVID-19 in the area, the highest since the start of the pandemic, with over 400 high-risk contacts identified and several outbreaks under investigation.
While all cases can ultimately be traced back to someone travelling out of the region, Dr. Moore said the community is now harbouring its "seventh generation" of the virus, and officially experiencing community spread.
"Four or five weeks ago, it started with travel, and we tried to control it with case and contact management. But we're now seeing widespread transmission in the community," he said.
"Some individuals have gone to work with symptoms — muscle aches, joint aches, fatigue, low-grade fever. In our opinion they should not have gone to work. They should have stayed home and gotten tested," he added.
Public Health said their investigations have also revealed transmission during close, unprotected contact between individuals in work and social settings. That includes large gatherings, they said, where physical distancing is limited, and face coverings are not being worn.
Public Health wants people in the area to monitor symptoms on a daily basis, and elderly and high-risk individuals to avoid "crowded places, closed spaces and close faces" entirely.
"Get outside, go for walks, but be very careful," Dr. Moore said. "It's a dangerous recipe heading into the holiday."
Dr. Moore said he wants all residents of the area to take the following actions immediately:
Monitor for symptoms daily and get tested if you have any symptoms of COVID-19,
Stay home if you have any symptoms – do not go to work or visit others,
If someone in your household is symptomatic, they need to get tested and everyone else in the household must isolate until a negative test result is back,
– Avoid crowds and closed spaces,
– Limit close contact to your household (the people you live with),
– Do not travel outside of the KFL&A area,
– Wear a face covering and stay 2 metres apart from anyone who does not live in your household,
– Wash your hands or use hand sanitizer often,
– Do not touch your eyes, nose, or mouth, and
– Cover your coughs and sneezes.
"We have a chance these next two weeks to turn things around," Dr. Moore said. "This is really a request to the community to try to embrace prevention once more to try and turn this around and reduce the risk."
The provincial government's COVID-19 Self-Assessment tool can be found here."
Here is the link if you want to subscribe directly –
https://www.kflaph.ca/en/healthy-living/status-of-cases-in-kfla.aspx

12. Volunteer Contact Tracers Urgently Needed
Received Dec 9 from The Kingstonist – Jessica Foley
KFL&A Public Health has immediate need for volunteers to help with contact tracing, related to an upswing in case numbers this week.
After recent outbreaks at Third Day Worship Center, and the LiveWell Centre in downtown Kingston, Public Health is looking for people willing to undergo training, and who are able attend the main Public Health office for two or three shifts ranging from four to eight hours January through April 2021.
On the KFL&A Public Health website they say this work is very important to the community's health and contact tracers play a critical role. If you are interested in joining their current volunteer complement to strengthen the agency's capacity to respond to COVID-19, please review the requirements below to see if this is a fit for you.

If you:
– are comfortable speaking with people about uncomfortable topics,
– have strong computer skills (will be using a web-based contact tracing software),
– can work independently, 
– and are able to physically come to the main office for training and to work (may be remote opportunities in future),
AND you can committo completing the training outlined below (average 7-10 days), 
– and are available to work 2 to 3 shifts (4 or 8 hour shifts) per week between January and April 2021,
Public Health urges you to apply as soon as possible, to help keep the community informed.
Please note: the actual requirement and timing of shifts will be dependent on the outbreak numbers in the community.
Public Health says training will include:
– John Hopkins Contact tracing modules– approximately 5 hours that can be done independently by December 31st;
– General orientation (1 day – date first week of January TBD);
– Specific procedural training and basic legislative training required for all volunteers;
– Position specific training (2 days split between the classroom and the unit – dates in the first and second week of January);
– Approximately 6 buddy shifts to become proficient (early January following position specific training).
Email volunteer@kflaph.ca by Monday, Dec. 14, 2020, including a resume or summary of your skill set that would support this type of work together with more detail regarding your time availability. Public Health says they will be screening based on the above criteria and giving those with similar healthcare experience priority. It is important that there is a good fit between the volunteer and the work that is required.

13. Market Square Open for Skating
Received December 9, 2020
Weather permitting, the Springer Market Square rink will reopen Dec. 9 at 4 p.m. for skating under the province's re-opening framework and through guidance from KFL&A Public Health.
"We are excited to offer another way for people to stay active this winter," says Jaclyn Grimmon, Manager, Recreation Programs. "Come for a skate, support some of the many great downtown businesses and vendors and enjoy the new winter lighting features in and around Springer Market Square."
Health and safety measures have been put in place to comply with the provincial framework and local health protocols to ensure the safety of staff and patrons remains the priority.
These measures include:
– Limit of approximately 25 skaters on the ice surface at one time. 
– Use will be on a first-come, first-served basis. Please line up at the designated entry point.
– Skaters will be permitted on the ice on the hour and must exit the ice after 50 minutes before the ice resurfacer floods the ice. Entry onto ice outside of these times will be permitted based on availability.
– Patrons must maintain physical distancing of 2 metres (6ft) both on and off the ice and in washroom areas.
– Face masks are required in the washroom area, and strongly recommended, but not required, on the ice.
– Changerooms and skate rentals will not be available.
– Washrooms will remain open for public use 7 days a week.
These protocols are subject to change and will be reviewed on an ongoing basis.
The rink will be open 7 days a week, weather permitting, from 7 a.m. to 10 p.m.
Before leaving home check the Springer Market Square webcam for live coverage of the rink
For facility re-opening information visit the Springer Market Square webpage.

14. Avoid Buying, Giving or Making Garbage this Holiday Season!
Received from the City, Dec 10, 2020
The City reminds you to avoid buying, giving or making garbage this holiday season.
Give gifts, not waste and packaging.
Remember: every non-recyclable item we send to landfill contributes to greenhouse gas emissions that contribute to climate change," says Raymond Garner, Director of Solid Waste.
Share your waste-saving holiday ideas on Twitter using the #WasteNotYGK hashtag.
Here are some ideas to help reach the City's goal of diverting 65 per cent of Kingston's household waste:
– Bring re-useable bags when you go shopping.
– Choose reusable or recyclable wrapping. Traditional wrapping paper cannot be recycled due to the large amount of coloured ink. Choose recyclable or reusable wrapping such as brown paper, newspaper, gift boxes or bags. Share your ingenious wrapping idea at #WasteNotYGK.
– Get crafty! Get items at second hand stores and add your own touch to them!
– Create or buy holiday decorations that can be repurposed or composted.
– Buy or make gifts you can put in your stomach. 
– Feed your guests, not the green bin! Plan to make use of leftovers and don't bring home food that will go to waste.
– Make the most of your green bin. Remember that the green bin accepts soiled paper towels, paper plates and napkins as well as food scraps of all kinds.
– Compost your real Christmas trees at the Kingston Area Recycling Centre or Tomlinson Organics. Be sure to remove all decorations first. Artificial trees can be donated to second-hand stores and charities or sold on online sales websites.

LOCAL CAUSES FOR CELEBRATION
15. Kingston-made Vessel Nominated for Work Boat of the year Award
Received from the Kingston Whig Standard, Nov 10, 2020 – Steph Crozier
The writers at WorkBoat magazine nominated MetalCraft Marine's Boat 42 as one of its top ten!

"It's a big recognition for Canada," Bob Clark, managing partner at MetalCraft Marine, said on Tuesday. "So many Americans think we can't build anything of high technology."
The writers at WorkBoat magazine nominated MetalCraft's Boat 42 as one of its top 10 Significant Work Boats of the year. The Significant Work Boat of the Year is determined by online votes and will be unveiled at the International Work Boat Show.
Boat 42 is a chemical, biological, radiological, nuclear (CBRN) detection vessel built for the Los Angeles Port Police. Clark said MetalCraft has made a number of others, including two in Seattle, one in Tacoma and another in San Francisco.
The Los Angeles boat is 43 feet long, 13.4 feet high, and six feet across. It was ordered in the spring of 2019, tested on the St. Lawrence River that next December and then trailered to its new home in sunny California in January 2020.
"This one has an odd-looking unit on the roof, but it can detect a chemical 3.1 miles away," Clark said. "Its computer and software can immediately calculate its density, the size of the plume and the direction it is moving. It's pretty amazing."
He said that Boat 42's radiation detection equipment, the CBRN "Rad Machine," is also very notable.
"It can detect nuclear particulates or waves through the steel sides of a ship," Clark explained. "They can check every ship's stack coming in the harbour for chemical particulates or nuclear particulates … and that rad machine was made in Oakville, Ontario."
To vote for Boat 42, visit www.workboatshow.com/vote-for-significant-boats.
"We're the only Canadian company that is really recognized in the United States, and we do about 90 per cent of our business there, really," Clark said.
He explained that for every 10 Canadian orders, the U.S. orders 100 or more. MetalCraft is currently working in the fifth year of contract with the U.S. Navy for 94 boats, it has another with the U.S. Coast Guard for 46 boats, and it is completing another contract with the U.S. Coast Guard for 13 $1.5-million boats.
Clark attributes their boats' success to their durability.
"You wouldn't buy a car if you thought it would break down regularly," Clark said. "Our boats don't break down. It saves us a lot of money; we have a service call in L.A.? That's $5,000 like that. We haven't had one warranty call on that boat from last January."
Clark also shared an update on the 55-foot boat that brought down electrical lines on Montreal Street in July 2019 as it travelled from it Sir John A. Macdonald workshop to its Wellington Street location. The incident knocked out power to about 30 customers for a number of hours.
"Because it was a super hot day in July, who knew all the power lines stretch from the heat?" Clark said. "(The city) gave us a maximum height of 14.6, so we went 14.5, but the wires were lower than that."
That ship, and another identical to it, were just shipped to their new home with the Nigeria Ports Authority.
One of MetalCraft Marine's larger projects is an 81-foot-long catamaran to be used for firefighting in Kuwait. It travelled — in two parts — the downtown streets of Kingston this past July.
Clark said the company is painting the behemoth's hulls this fall and it should launch into the river next spring.
"It's the only one of its kind in the entire world," Clark said. "It has these towers that go up 45 feet above the sea and can shoot down into the hold of the ship. They've got water cannons that can shoot 300 metres and 5,000 gallons a minute.
"That'll be boat of the year next year, I betcha."
scrosier@postmedia.com
 
16. Kingston's Marine Museum in Talks to acquire Titanic-era Steamship
 Kingston's Marine Museum in talks to acquire Titanic-era steamship, Global News (Toronto, Ontario), November 18, 2020 (also appeared at 963bigfm).  Kingston's Marine Museum of the Great Lakes is charting a new course for the future with an ambitious fundraising campaign and a Titanic-era steamship in its sights.  Chris West, chair of the museum's board of directors, revealed to Global News for the first time that the museum is in "very close talks" to acquire the more than century-old SS Keewatin, an Edwardian passenger steamship, to become its flagship exhibit.
 
ODDS AND SODS FROM HERE AND THERE.
 Received from The Tyee, Dec 10, 2020
17. The Lancet Public Health, Dec. 7, 2020
Non-bleach cleaners can pollute the air
While cleaning products based on hydrogen peroxide are less harmful than bleach, they can still pollute the air and create a health risk, according to researchers from the University of Saskatchewan. They found that mopping a floor with a commercially available hydrogen peroxide-based disinfectant raises the level of airborne hydrogen peroxide to more than 600 parts per billion — about 60 per cent of the maximum level permitted for exposure over eight hours, and 600 times the level naturally occurring in the air. The biggest risk is for people who are repeatedly exposed, such as janitors and house cleaners. To reduce the risk, they suggest using soap and water instead of disinfectant, or opening windows and turning on ventilation systems like range hoods, which has the added bonus of also removing aerosol particles of the virus.
 
18. Environmental Science and Technology, Dec. 1, 2020
Alcohol-free sanitizers are just as good at killing the virus
Alcohol-free hand sanitizers are just as effective as alcohol-based ones at killing the SARS-CoV-2 virus. Researchers tested several common ingredients of alcohol-free sanitizers including benzalkonium chloride and found that they could wipe out at least 99.9 per cent of the virus within 15 seconds. Alcohol-free sanitizers have several advantages — benzalkonium chloride can be used in much lower concentrations and does not cause the common burning feeling of alcohol-based products, so it could be particularly useful for health-care workers and others who must sanitize frequently.
 
19. Journal of Hospital Infection, Nov. 28, 2020
Differences in the immune system and blood vessels help protect kids from virus
A stronger innate immune response and healthier blood vessels are among the factors that protect children from severe COVID-19, according to a review of previous research. The innate immune system, the first line of defence before the antibodies produced by the adaptive immune response kick in, is stronger in children. Kids' immune systems have also often been primed to react more quickly by other frequent childhood infections and immunizations. The thin layer of cells that line blood vessels tends to be damaged as we age, making adults more susceptible to the blood clots, strokes and heart attacks associated with severe COVID-19.
LOCAL CHRISTMAS PRESENT BOOK IDEAS
20. Steve Manders' New Book – The Rideau Canal
Steven Manders, local kayaker and historian, has published a new book about The Rideau Canal. It is a photo tour from end to end, side to side, all seasons, and historical photos. There are 200 pages in full colour, landscape format on premium paper. There is only one photo per page, and a short description. It is ideal for the arm chair traveler and historian. He also has books on the Napanee and Salmon Rivers, our early railways, and more. It is an ideal Christmas present for every craving to explore the great outdoors.
More info and to order?
https://thefirstspikebook.com/collections/frontpage/products/rideau-canal-bookhttps://environmentaldefence.ca/newmode/save-conservation-authorities-call-premier-ford/

21. Ken Cuthbertson's New Book – 1945: The Year that Made Modern Canada.
1945: The Year That Made Modern Canada (HarperCollins Canada )is the latest book by Kingston author Ken Cuthbertson. Ken was born and grew up on the Inner Harbour, where members of his family have lived for more than a century. (https://www.thewhig.com/2015/03/24/changing-face-of-inner-harbour/wcm/4e95f4f3-08e2-242a-1584-16123f5a0aec) His book is available at Novel Idea, at Indigo, and on-line. Lauded by a Toronto Star reviewer as "a fascinating read," this work of popular history delves into some of the momentous changes that reshaped Canada at war's end, offers vivid snapshots of some of the remarkable Canadians who were pivotal figures who helped bring about those changes, while also explaining how and why despite its shortcomings, Canada managed to become one of the world's most prosperous, peaceful, most humane, and best countries.

22. Eric Gagnon's New Book – Smoke on the Waterfront
Eric is pleased to announce the release of his seventh book, entitled Smoke on the Waterfront: The Trains, Ships and Industries of Kingston Harbour. Professionally-printed in Kingston by Allan Graphics, the book features 75 pages highlighting historic connections to the city's waterfront. One hundred photographs, most previously-unpublished, have been selected to illustrate Kingston's vital waterfront transportation links and commercial enterprises, many of which are only traces on today's downtown scene. Historians and hobbyists alike will treasure the trove of fascinating facts, plus a plethora of photos and maps curated in this book by a local author, blogger and book creator Eric Gagnon.
More info and to order:https://smokeonthewaterfront.blogspot.com/

Of course there is tons more I could add including the horrific gutting of Conservation Authorities by the Ford Government and in-depth info on all the various vaccines but this is enough for now.
Hoping you all have as good a time as possible given the COVID constraints.
WISHING YOU ALL A WONDERFUL YEAR AHEAD.

Cheers,
Mary Farrar, President,
Friends of Kingston Inner Harbour