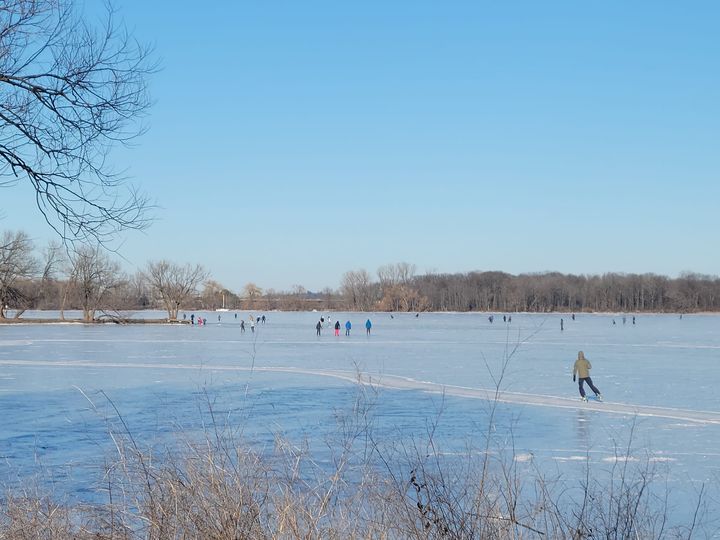 Dear Friends of Kingston Inner Harbour,
Only one more week to the end of January!
Looking forward to more skating on the river like that in the picture.
What a wonderful day that was a week ago on Sunday!
I picked up this pic on Facebook and couldn't find it again to express thanks. But THANKS to whoever uploaded it!

OF LOCAL INTEREST
1. $70,000,000 Inner Harbour Clean-Up Update
2. Promenade in Confederation Basin: City Survey: Deadline Feb 4
3. No Clear Cuts in Kingston! Facebook Page & Video + Public Exhibit in Feb
4. Stuff on Housing
5. Warming Centre now open 24/7
6. Stuff on Trees
7. Protect Your Garbage Collector
8. Excellent Short Video on Aerosol Transmission of COVID 19
9. What's Open and Closed as of Jan 31
10. The latest on N95 masks
11. Zero waste Movement Gaining Traction in Kingston
12. Clarification on Plant Based Diet Concerns

GREAT LAKES INFORMATION
13. Ice Coverage Expected to Grow
14. Deep Water Ports for Mega Container Ships
15. Global Green Fuel Transition
16. Reducing Underwater Noise Impacts on Great Lakes Mammals
17. & 18. Enbridge Line 5 Updates

MORE INTERESTING STUFF FROM ALL OVER
18. Possibly First Film Ever on Residential Schools, 1975
19. Tom Jackson's New Song on Residential Schools
20. This is Water – David Foster Wallace
21. Eating Your Xmas Tree!
22. Steven Heighton's New Song
23. It's raining "Forever Chemicals" across the Great Lakes: How to Reduce Your Exposure
24. Love this Guy! I ordered his book – 'Sand Talk" Tyson Yankaporta

OF LOCAL INTEREST
1. $70,000,000 Inner Harbour Clean-Up Update
A number of stakeholder group meetings were held in December with representatives from Golder Consultants, Public Works & Procurement Canada, Parks Canada and Transport Canada. The stakeholders that we know of include the Friends of Kingston Inner Harbour, Kingston Field Naturalists, Belle Island Caretakers' Circle, Turtles Kingston and River First YGK. If you would like to be a stakeholder to provide input the contact is KIHproject-projet@golder.com
If you are interested in my specific concerns, here is the link to my delegation with Joyce Hostyn to Council
https://www.youtube.com/watch?v=uNc74kTeUAk.
Our delegation + questions and responses is from 20:50 – 41:00.
It is especially interesting to see the expressions on the faces of Mayor and Council. Sort of a tableau!

2. Promenade in Confederation Basin: City Survey: Deadline Feb 4
Received from a FKIH member last week.
"The City has released its final concept designs for an exciting new waterfront project – a Promenade in Confederation Basin (see here). You'll notice there is Plan A (which they claim is all the City can afford) and Plan B (which is a much better and more extensive design, but they say they can't afford it). I'm hoping you can take a few minutes before February 4 to complete the short online survey about this project to say that you would like to see (a) a wider and longer pathway, and (b) improved swimming facilities.
The promenade is one the larger projects in the City's Waterfront Master Plan and will be a great way to enhance public access to and public awareness of our water. It's a critical part of trying to make Kingston a livable place for everyone, with more open public spaces. It's also a drop in the budgetary bucket, with far more public money being spent on bridges and roads for private developers. We can afford a Plan B public promenade."

NOTE: It is clearly up to you how you would like to vote on this matter. I have included this perspective for your information. From my personal perspective, I would prefer to see much more actual access to the water as well as more benches and shade.

3.No Clear Cuts in Kingston! Facebook Page & Video + Feb Public Exhibit
New Facebook Page – Grandmother Oak on River Street: https://www.facebook.com/profile.php?id=100076959134935
New Video on Grandmother Oak on River Street
https://www.youtube.com/watch?app=desktop&v=Wr2FmQst08g
What: Exhibit "Save Our Trees"
"1800 Trees, a wetland, natural shoreline, and wildlife are threatened by development on the former Davis Tannery site. Come and tour the site through photos – plus poems, prose, and posters celebrating tress and nature – our climate crisis allies."
Who: Created by No Clearcuts in Kingston!
Where: 75 Princess St. at the new Kingston Community Art and Design Gallery
When: Exhibit opens Feb 1, 2022. Tuesday – Fridays, 11 am – 5 pm daily. Closed Sundays and Mondays
NOTES: Vaccine proof, masks, and social distancing required

4. Stuff on Housing
Environmental Defence: Housing Affordability & the Provincial Municipal Housing Summit
https://environmentaldefence.ca/wp-content/uploads/2022/01/Environmental-Defence-Housing-Affordability-Backgrounder-final-Jan-18.pdf
Received from TVO, Jan 20, 2022 – Michael McGrath, TVO Staff Writer
Can Doug Ford stomach the big changes Ontario's housing task force may ask for? OPINION:
TVO.org has obtained a draft report from the housing-affordability task force — and some of its suggestions are radical
If the provincial government follows through on some of the recommendations from its housing-affordability task force, it could become dramatically easier to build new homes across the province and in its biggest cities — if the Tories are willing to make big, dramatic changes in the run-up to a provincial election.
Minister of Municipal Affairs and Housing Steve Clark struck a housing-affordability task force in December; chaired by Scotiabank executive Jake Lawrence, it's charged with making recommendations to the government about how to increase the number of new homes built in the province and to address the affordability of market-rate housing.
TVO.org has obtained the task force's draft report, which is currently being circulated around multiple ministries for their input. (Asked to confirm its validity, Clark's director of communications, Zoë Knowles, told me, "I cannot confirm the authenticity of a report you may have because we have not yet received the Task Force's final report," adding "the Task Force is expected to share their report with the Minister on January 31, 2022.")

While the draft and its contents might look different two weeks from now, the recommendations seen by TVO.org would, if implemented, mean some of the most radical changes to Ontario planning law since the 1970s and would undo some of the legacy of that era's politics, which saw greater emphasis placed on local consultation and a stronger role for communities opposing everything from new highways to apartment-tower blocks.
Those local planning politics — and the provincial rules that empower those opposed to new homes — are in the task force's crosshairs. The report recommends that municipalities with populations over 100,000 (that is, those home to the vast majority of the province's people and jobs) would be required to allow up to four units and four storeys on any single residential lot, matching a recent call by the Toronto Region Board of Trade. Underused or vacant commercial spaces could also be converted to residential or mixed residential-commercial uses without requiring prior municipal approval.
The province could also set minimum zoning standards provincewide that would prevent cities from using everything from lot size to shade impacts to control development. And projects of 10 units or fewer could be exempted from site-plan approval (an additional process many cities currently use) if they otherwise conformed with a city's zoning and official-plan policies. The report also recommends prohibiting municipalities from mandating public consultations for such projects if they need only what are called "minor variances," meaning they're mostly in compliance with a city's rules but need small adjustments to be approved.
Those measures alone would dramatically lessen the procedural obstacles facing new housing construction in Ontario municipalities, but the report goes further: it argues that the province should also restrict the use of heritage-preservation laws (in the language of the report, "prevent abuse of the heritage preservation and designation process") by dramatically reducing the scope of municipal heritage powers and requiring cities to compensate property owners for the loss of development or sales income from their land. The report also calls on the province to ensure that municipalities hit legislated timelines for approvals and that the Ontario Land Tribunal (successor to the Ontario Municipal Board) be empowered to penalize municipalities that seek to thwart timely approvals.
While the measures in the draft report would amount to dramatic changes to current law (which itself has been substantially changed since the Tories won power in 2018), they might find at least some support outside the Progressive Conservative party: the call for a lighter regulatory touch on small infill development — the so-called missing middle, which involves everything from duplexes and townhouses to small apartments — has support across the political spectrum (see the Green Party of Ontario's recent housing platform, for example).
The question is whether the government will have the stomach for these kinds of major changes in the lead-up to the election. The Tories have already attracted enormous criticism on the housing file over Clark's enthusiastic use of ministerial zoning orders, as well as other matters. In theory, the task force's recommendations would inform a housing bill Clark could bring to the legislature this spring (MPPs don't return to Queen's Park until February 22), and the law would either stand on its own or be folded into a larger bill, such as the budget bill Finance Minister Peter Bethlenfalvy will be presenting in March or early April.
In practice, the government hasn't always endorsed the most aggressive housing policies possible: it backed off some of the most controversial proposed changes to the charges that cities levy on new homes, and the Tories might decide that discretion before an election is the wiser course.
Speaking after the provincial housing summit with municipal leaders this week, Clark acknowledged that the government has what he called a "very finite window" to introduce new substantial legislation before the legislature is dissolved in time for the scheduled June election.
"There's a lot of things in motion here," Clark said Wednesday. "I'm going to do my utmost to get the policies put forward … to deal with this crisis."

5. Warming Centre Now Open 24/7
Received from the Kingstonist, Jan 21, 2022 – Jessica Foley
Emergency shelters in Kingston have been full for months, and a number of individuals and organizations have been working to provide options for unsheltered individuals, especially in light of the very cold weather the area has been experiencing this winter, according to a release from Home Base Housing.
As in many communities in Ontario, Kingston City Council requested that steps be taken to open a new centre at 218 Concession Street, according to the release. The Warming Centre opened in late December, with sporadic service due to low staff. Home Base Housing said that they worked as quickly as possible to recruit and orient new staff to work in the homeless sector, and in particular at the Warming Centre.
"Over the past three weeks, the Warming Centre has opened with the staff available on the evenings of cold weather alerts," The organization said. "On those evenings when the Warming Centre was open, there were between 13 and 16 individuals who sheltered for the evening."
Home Base has announced that, as of Thursday, Jan. 20, 2022, the centre will be open seven evenings a week. They, along with other organizations, have reported a constant struggle to maintain existing emergency services during the most recent COVID-19 surge, and this will likely continue in the weeks ahead, according to the release.
According to Home Base, Street Outreach staff work seven days a week to meet and assist homeless individuals who are unsheltered. The Warming Centre provides an additional option for Outreach staff to refer individuals to.
Street Outreach services at Home Base are working with staff from the Salvation Army, Addiction and Mental Health Services, and Street Health, who join for various outreach tours of locations around the city. Home Base has also integrated an Indigenous outreach worker who specifically attends to those who identify as Indigenous, according to the release.
Home Base Housing and Lionhearts Inc. are working collaboratively at the Warming Centre for a drop-in meal service from 8 p.m. to 11 p.m., and to staff the overnight shelter from 9 p.m. to 9 a.m. These services are made possible through the support of City Council, the United Way of KFL&A, and many other volunteers and organizations that have offered assistance, according to the release.
"The Warming Centre is a welcoming environment and a necessary option to protect people," Home Base stated.
For more information on Lionhearts Inc., including ways to help out with their programs, visit their website here.
The Warming Centre is located at 218 Concession Street. Contact the Centre at 613-542-6672 x310.
Alternate warming locations in the event of a Cold Weather Warning, include Kingston Frontenac Public Library branches during regular hours, and 362 Montreal Street (Housing and Social Services) which will open 8:30 a.m. to 12 p.m. and 1 p.m. to 4:30 p.m. for drop-in warming on weekdays.
6. Stuff on Trees
Received from Lawrence O'Keeffe, Chair, Friends of the Napanee River, www.FriendsNapaneeRiver.ca
Susan Moore, Pres., Friends of the Salmon River
www.friendsofsalmonriver.ca
Interesting information about the 50 Million Tree Program
https://forestsontario.ca/en/program/50-million-tree-program
Jim Hendry, Field Advisor for Forests Ontario in Eastern Ontario jhendry@forestsontario.ca
Steve Pitt, local Planting Delivery Agent for L&A, PEC & Quinte scpitt@gmail.com

"Jim Hendry's and Steve Pitt's presentation can be found at the following Friends of the Napanee River YouTube channel. The presentation runs until minute 56 followed by a VERY informative Q&A session.
Some valuable websites discussed during the evening are found below. See also the attached documents, which may be of help.
Please feel free to pass the link to the presentation on to family and friends. https://youtu.be/AjGZNZXwo24

Websites:
Ontario's 50 Million Tree Program: https://forestsontario.ca/en/program/50-million-tree-program
Tax Benefits: https://forestsontario.ca/en/article/plant-a-forest-and-lower-your-tax-bill
Maple Leaves Forever (subsidized) tree planting program: https://www.mapleleavesforever.ca/
Ontario Gov't Soil Maps: https://www.lioapplications.lrc.gov.on.ca/AgMaps/Index.html?viewer=AgMaps.AgMaps&locale=en-CA
Soil Map publication: https://sis.agr.gc.ca/cansis/publications/surveys/on/index.html
Somerville Seedlings for individual sales: https://www.treeseedlings.com/super-pages.php
Rehabilitating Quarries in Ontario: https://toarc.com/legacy-pits-quarries-maap/rehab-your-land/
Watersheds Canada. The Natural Edge program: Shoreline Restoration planting
https://naturaledge.watersheds.ca/"

7. Protect Your Garbage Collector
Received from the City, Jan 10, 2022
"Snowbanks and winter weather make collecting household waste more challenging for collectors
This winter, help protect your collector from injury by:
– Placing your garbage, recycling boxes, and green bins where they can be clearly seen and safely collected.
– Follow the guidelines below for setting out your waste and take two minutes to watch the City's Winter Waste Placement video.
– Keep a path from the road to your collectibles clear of snow and ice.
– Choose a safe and visible ground-level location at the end of your driveway or walkway.
– Place the collectibles on the right side (as you face the street) or on the boulevard closest to the curb. Avoid using white garbage bags for visibility as well.
– When there are large snowbanks, please shovel a ground-level "shelf" in the street side of the snowbank for your collectibles.
– Never place collectibles on snowbanks where they will be difficult and hazardous to collect.

8. Excellent Short Video on Aerosol Transmission of COVID 19
https://www.tvo.org/video/how-covid-19-is-airborne

9. What's Open and Closed as of Jan 31
Ontario to begin easing restrictions on Jan. 31
With key public health and health-care indicators starting to show signs of improvement, the Ontario government has released details of steps to gradually ease public health measures.
Beginning Jan. 31, these steps include:
– Increasing social gathering limits to 10 people indoors and 25 people outdoors.
– Increasing or maintaining capacity limits at 50 per cent in indoor public settings, including but not limited to:
– Restaurants, bars and other food or drink establishments without dance facilities;
– Retailers (including grocery stores and pharmacies) and shopping malls;
– Non-spectator areas of sports and recreational fitness facilities, including gyms; cinemas, meeting and event spaces;
– Recreational amenities and amusement parks, including water parks;
– Museums, galleries, aquariums, zoos and similar attractions; and
– Casinos, bingo halls and other gaming establishments
– Religious services, rites, or ceremonies.
– Allowing spectator areas of facilities such as sporting events, concert venues and theatres to operate at 50 per cent seated capacity or 500 people, whichever is less.Support for in-person learning
The Medical Officers of Health from Hastings Prince Edward Public Health (HPEPH) and Kingston, Frontenac, and Lennox & Addington Public Health (KFL&APH) have released a joint statement regarding the return to in-person learning for students and educators across the region.Applications open for Ontario Business Costs Rebate Program
Eligible businesses required to close or reduce capacity due to the current public health measures put in place to blunt the spread of the Omicron variant of COVID-19 can apply for the new Ontario Business Costs Rebate Program. Through the new program, the government will provide eligible businesses with a rebate payment of up to 100 per cent for property tax and energy costs they incur while subject to these restrictions.

Electricity rate relief begins Jan. 18 for 21-day period
The Ontario government is providing electricity-rate relief to support small businesses, as well as workers and families spending more time at home while the province is in Modified Step Two. Electricity prices will be held to the off-peak rate of 8.2¢/kWh for all time-of-use and tiered customers on a temporary basis, starting Jan. 18, 2022.
CLOSED
The following City facilities remain closed until Monday, Jan. 31
– All indoor recreation facilities including INVISTA Centre, Cataraqui / Kinsmen Arena, Memorial Centre, Centre 70, Rideau Heights Community Centre and Artillery Park Aquatic Centre.
– 1211 John Counter Blvd.
– City Hall administrative services, including the Payment Centre.
– Kingston Grand Theatre (Box Office will remain available by phone).
– The administrative office at Kingston Area Recycling Centre.
10. The Latest on N95 Masks
Received from MacLean's Jan 11, 2022 – Patricia Treble
It's time to switch to an N95 mask in the battle against Omicron
It's easier for the virus to move through surgical or cloth masks, experts say, while respirators filter tiny aerosols
On Sunday, Dr. Theresa Tam, Canada's chief public health officer, quietly arrived at the "Jabapalooza" vaccine clinic in her Ottawa neighbourhood to get her third dose. Noticeably, she was wearing a white respirator mask in the indoor public space, something she emphasized the next day as she swapped her old Twitter profile photo featuring her in a surgical mask for one taken at that community-run clinic. She tweeted: "If you're like me there is so much to do in a day that you haven't updated your profile pic in some time, but in real life you've upped your mask game and practice #COVIDWise 24/7 because #omicron."
Tam is one of a growing number of health care professionals who are using their social media profile pictures to send a message that N95-quality respirator masks have become an essential part of personal protection against COVID-19 for everyone, not only for those working in high-risk settings such as hospitals. Even the U.S. Centers for Disease Control and Prevention is considering updating its own mask guidance to recommend the public wear N95-quality masks, the Washington Post reports.
The upshot: People need to improve their mask game—surgical and cloth masks just aren't up for the battle with an airborne nemesis such as Omicron.
RELATED: Experts are hopeful the Omicron wave will be short, but fear for health care capacity continues
The problem with surgical and cloth masks is that the filtering and fit aren't as good as N95-equivalents. "It's easier for the aerosol to move through," says Marina Freire-Gormaly, an expert in aerosol transmission in the department of mechanical engineering at York University. "And there's a problem in getting a seal around the mask." The federal government's online comparison between respirators and surgical masks says that while surgical masks are a barrier to splashes, droplets and spit, they are not designed to seal tight against the face and do not effectively filter small particles from the air.
In contrast, when wearing a N95-type respirator, a user breathes through the fabric of the mask itself, without air escaping through gaps around the edges, such as near the nose or under the chin. The tight-fitting respirators, with their layers of synthetic material, are tested to ensure they filter aerosols to a specific standard (N95s filter 95 per cent of aerosol droplets 0.3 microns in diameter, explains the Canadian Centre for Occupational Health and Safety).
N95-like respirators include N95 (United States), KN95 (China), KF94 (South Korea), FFP2 or FFP3 (Europe) and PFE95 (Canada). People shouldn't use respirators that include valves, which allow users to potentially breathe out infectious aerosols, Freire-Gormaly explains.
RELATED: Chronic exhaustion, derailed lives and no way out. This is long COVID.
Freire-Gormaly and others suggest trying a few styles to find one that fits your face. "They may feel uncomfortable at first, but will become normal," she says. If your mask of choice has ear loops rather than straps (which go around the head and tend to offer a tighter fit), consider buying an "ear saver" that attaches to the mask's loops and goes behind the head, taking pressure off the ears. (I bought my ear saver at a dollar store for $1.50 and have worn my KN95 for up to five hours at a time without discomfort.)
Though N95-like masks cost more than surgical ones, experts say they can be used for up to around 40 hours, which is much longer than indicated on the packaging, as long as they stay in good shape. Since any virus on the surface of a mask won't survive after three days, Dr. Peter Tsai, who invented the spun material in N95 masks, devised a simple system which he wrote about in The Journal of Emergency Medicine: he uses three or four masks in rotation over the same number of days, hanging each in a dry area until needed again.
Freire-Gormaly has been wearing a KN95 mask in indoor public venues since the start of the pandemic 22 months ago. "Science was demonstrating that aerosols were the way COVID was spreading," she says. The masks offer "extra peace of mind," she says, and mean she can go into public spaces such as grocery stores and not "feel extra anxiety when someone sneezes or coughs."
Freire-Gormaly's research team is currently examining how particles and aerosols move around the room, depending on how people breathe and cough and how the HVAC system is set up. Using simulations involving an infected "index patient," they measure the risks of exposure to others. The experiments mimic life without masks, because "eventually, we're going to take our masks off," she says. And that means needing to know how to better design spaces that minimize the risk of transmission. Until then, the respirators stay on.

Received from FKIH member,Barb Schlafer, Jan 10, 2022, re N95s
"A home method of addressing the expense and limited access to N95 masks recommended for use given that Omicron is airborne, that is, hangs in the air after expiration.
https://www.sciencealert.com/new-research-suggests-you-can-use-and-decontaminate-the-same-n95-respirator-at-least-25-times?utm_source=ScienceAlert+-+Daily+Email+Updates&utm_campaign=d855e11e9d-MAILCHIMP_EMAIL_CAMPAIGN&utm_medium=email&utm_term=0_fe5632fb09-d855e11e9d-365864929
In a reply to this email that I sent out to others it was pointed out that the virus only lasts at most three or four days. One can set up a mask rotation or each mask is numbered 1 to 4, and rotate through them. Not really an option in a hospital setting but it would work for us at home and its certainly simpler. Market Place did a program about sources of legit masks.

11. Zero waste Movement Gaining Traction in Kingston
Received from the Kingstonist, Jan 18, 2022 – Jessica Foley
With climate concerns growing around the globe, there is a new consumer movement gaining traction here in the Limestone City: refilling. Refilling is a zero-waste movement aimed at increasing sustainability and offering high-quality products in the exact amount consumers need — and without all the unnecessary packaging.
While buying in bulk is not a new idea, the selection of products available at refill stores are different from traditional bulk buying. New stores have been popping up in the Kingston area over the last few months, and some established businesses have added refilleries to their current retail locations.
Zero-waste refilleries offer household and personal care products, such as dish and laundry soaps, as well as shampoos, lotions and facial care products, and much more, all with no plastic waste.
Most local refill stores operate on a BYOC platform: Bring Your Own Container and fill it with product. It's a simple concept, and allows consumers to use any containers which close firmly to take home their purchases.
Some refill stores will allow empty containers that previously contained commercial products (laundry detergent jugs, dish soap bottles, etc.) to be refilled, as long as they are clean. Containers are also available to purchase in most refill stores – as long as you have every intention of refilling them!
Jessica Collins introduced a refill section when she expanded her Artisan Made Co location on Bath Road in July 2021.
"We opened Boutique Grocer in July 2021, and it includes a refillery section," Collins stated, noting that when she expanded her store, eco-friendly products were in high demand. "Our mission is to help our community reduce single-use plastic consumption by offering the option to reuse and refill household and personal care products."
"We aim to help people embrace a 'reduce, reuse, REFILL' mindset one step at a time," she continued. "We will be launching a refillery loyalty program in February 2022 to further encourage our community to engage in a more eco-friendly lifestyle."
Some previously established stores were hit hard with pandemic restrictions. 1000 Islands Soap Company shut down their refill section in early 2020, and just got the okay to resume refillery operations. They anticipate a Feb 1 return for the service.
Jackie Marshall, owner of 1000 Islands Soap Company, reminds customers to ensure their containers are clean and dry. "The products we sell are all-natural with no preservatives. If a container isn't clean, it could contaminate [the product] or grow bacteria or mould," she said.
Marshall stated that refill stores are the perfect chance for consumers to try new products. "Buy as little or as much as you wish," she continued. "Refill shops allow customers to buy as little as one ounce of an unfamiliar product, so you can try it before you commit. If you're a first-timer, take a lap around the store and explore your options. Want to sniff a scent or test a body-care product? Ask a clerk. These stores are also the perfect place to fill travel-size containers. Even one item saved from a landfill is a win."
Harlowe Green started as a tiny refillery in Ange Defosse's home north of Kingston early in the pandemic. According to Defosse, a few months later she was receiving requests to host pop-up events and place her products in local businesses. In December 2021, Defosse took the plunge and opened a physical storefront in downtown Kingston.
"Everything in our refillery is online and can be purchased remotely and in a contactless manner," Defosse said, noting that for delivery, refill goods are placed in mason jars or compostable paper bags, so single-use plastics are eliminated.
"The mason jars and bags can be brought back to refill or be used in a myriad of other ways than most single-use plastics. In store, you can select a jar or other style of dispenser and fill it, or bring your own container (and have it sanitized) to be weighed and filled," she continued. "We suggest switching over your products one at a time by using up what you already have at home and switching when you only absolutely need to, to ensure less waste."
Laurie Davey-Quantick, owner of Verde Alternatives, shared that while they do sell products in refillable containers, the first time a customer makes a purchase of either of their refill product lines, they are required to purchase the container as well. After that, it's simply a matter of bringing that container back for a refill.
"Currently, in our store, customers must bring back the original container they purchased to refill because we do not have [the space for] the scales necessary for weighing customer containers and to ensure the correct cost is calculated for purchase of a refill," Davey-Quantick explained.
She describes her downtown storefront as "an environmental general store," and said that she is behind the refillery movement, even though it presents some challenges for merchants. Besides the requirement for space, Davey-Quantick suggested that not all refillery products are environmentally friendly, and consumers need to do their homework to ensure they are making sound and purposeful decisions with their purchasing.
Go Green Baby is another local store that joined the refillery movement in 2019. "We started the refillery in early 2019 for two reasons; the environment and local access. The big one was knowing that perfectly good containers are being used once and then discarded, even when there was nothing wrong with the container!" expressed Amanda Findley, owner of Go Green Baby.
"We knew that our customers would appreciate the convenience of being able to get refills of their favourite baby care products," she continued. "Then the pandemic hit, and we briefly paused the program. One of the less talked about supply shortages in those early days was for plastic containers. We had a number of local and Canadian product makers not able to bottle their products and ship them out because containers were nearly impossible to get. Another sign that a change was needed to our systems. Once things started to open back up, we figured out ways we could offer refills, both curbside and more safely in-store."
Plastic pollution is a very real problem, and all of these proprietors believe that zero-waste is what consumers need to prioritize. According to the Canadian government, only about 9 per cent of plastic waste is recycled in Canada. Many refill stores create a closed-loop packaging system in which the stores send their empty packages back to product manufacturers for refilling and returning to the retail locations.
"We can't wait for manufactures to be responsible for their waste," explained Jacquie Rushlow, owner of The Keep Refillery Kingston. "We must take matters into our own hands and make this super simple change. At The Keep, we hold all our manufactures/suppliers responsible for their waste — Meaning, when you refill, we refill. We don't toss a jug out the back door when it's empty (and yes, that happens even in refilleries). Instead, we will send it back and have it refilled for us. Otherwise, what the heck is the point!"
By shifting focus from recycling to refilling and reusing, consumers can change the system, one refilled bottle at a time. And with options here in Kingston expanding, keeping containers in use and out of our blue bins and landfills is becoming as simple as saying "Fill it up, please!"

12. Clarification on Plant Based Diet Concerns
RECEIVED FROM Jude Larkin – Comments on the last newsletter's piece on concerns about plant based diets. Thanks so much Jude!
"Whole Food Plant Based Diet – Not the Same as a Processed Plant Food Diet
Whole foods describes natural foods that are not heavily processed. That means whole, unrefined, or minimally refined ingredients.
Plant-based means food that comes from plants and doesn't include animal ingredients such as meat, milk, eggs, or honey.
Benefits:
Easy weight management: People who eat a plant-based diet tend to be leaner than those who don't, and the diet makes it easy to lose weight and keep it off—without counting calories.
Disease prevention: Whole-food, plant-based eating can prevent, halt, or even reverse chronic diseases, including heart disease and type 2 diabetes.
A lighter environmental footprint: A plant-based diet places much less stress on the environment.
See https://www.forksoverknives.com/how-tos/plant-based-primer-beginners-guide-starting-plant-based-diet/"
GREAT LAKES INFORMATION.
13. Great Lakes ice coverage forecast to grow in coming weeks, St. Thomas Times-Journal, January 12, 2022. While temperatures plunged recently, there's less ice than normal for this point in the winter on the Great Lakes waterways around southwestern Ontario, an official with the Canadian Ice Service says. But, overall, the Great Lakes are "right on target" with ice cover at more than five per cent in early January, Brad Drummond, senior ice forecaster with the federal agency said.

14. The US is spending billions of dollars deepening port harbors to make room for 'mega' container ships that are only getting bigger, Yahoo News, January 10, 2022. The Ever Ace, the world's largest cargo ship, is as long as four football fields and can carry over 23,000 containers. Container ships like this one have more than doubled in size over the past decade. While the massive vessels can hold more Amazon orders than you can imagine, the rapid growth presents a problem for US ports — the ships can't fit into most harbors. In response, the Army Corp of Engineers has allocated billions of dollars to deepen ports across the US.
15. Shipping and Renewable Energy bodies join forces to advance global green fuel transition, International Chamber of Shipping (ICS), January 17, 2022. The International Chamber of Shipping (ICS), representing over 80% of world's merchant fleet, has signed a Partnership Agreement with the International Renewable Energy Agency (IRENA) to support the decarbonisation of the shipping sector and its role in the transition towards a global energy sector based on renewables. The partnership will provide a framework over the next two years for ICS and IRENA to assist with the decarbonisation of the shipping sector and the use of renewable technologies on this key sector of the global economy. It will also enable the industry to work closer with IRENA's global membership of more than 160 countries and territories on issues related to the increasing role of renewable energy in decarbonising shipping.
16. Canada supports three projects to help reduce underwater noise impacts on marine mammals, Mirage News, January 19, 2022. Protecting vulnerable marine mammals is a priority for the Government of Canada. Marine mammals, including the Southern Resident killer whale, are particularly vulnerable to the impacts of underwater vessel noise. Protecting the health of our marine environment also ensures that Canada's oceans economy can continue to grow in a sustainable, environmentally responsible way. Through Innovative Solutions Canada challenges from Transport Canada, the Government is funding three research projects to develop new technologies to reduce underwater vessel noise.
17. New year, old issues: Enbridge, state of Michigan renew Line 5 hostilities in court, BOE Report, January 18, 2022. Enbridge Inc. and the state of Michigan are facing off in court once again in the latest chapter of the ongoing Line 5 pipeline saga. In new court documents, state Attorney General Dana Nessel is reprising her argument that the dispute over the cross-border gas line belongs in state court. And Calgary-based Enbridge says Michigan's effort to shut down the pipeline is an international issue that should be heard by a federal judge.
18. Line 5 tunnel could be a 'stranded asset' in 20 years, report says, MLive, January 20, 2022. Critics of a plan to relocate the Line 5 pipeline into a tunnel beneath Great Lakes waters argue Enbridge's own federal filings prove there's no need for the infrastructure to be built. Opponents of the Canadian company's plan to build a $500 million tunnel through the bedrock beneath the Straits of Mackinac said the project would become a "stranded asset" by the end of 2040.

MORE INTERESTING STUFF FROM ALL OVER

18. Possibly First Film Ever on Residential Schools, 1975
https://www.nfb.ca/film/cold_journey/
19. Tom Jackson's New Song on Residential Schools
Lost souls Tom Jackson
https://www.youtube.com/watch?v=C9gOBtGfvaE
20. This is Water David Foster Wallace
Don't know how I could have missed this for so long.
https://www.youtube.com/watch?v=PhhC_N6Bm_s
21. Eating your old Xmas Tree!
https://practicalselfreliance.com/edible-pine/
22. Steven Heighton's New Song
https://www.kingstonist.com/culture/music-arts-culture/new-year-new-year-song-kingstonian-steven-heighton-releases-latest-track/
23. Edward Burtynsky to Collaborate with Queen's on Large Scale Public Art Piece
Received from the Kingstonist, Jan 18, 2022 – Jessica Foley
Queen's University has partnered with world-renowned Canadian photographer, and Queen's Honorary Doctorate recipient (2007), Edward Burtynsky to help realize his new public art piece titled Standing Whale.
According to a release from the university, the partnership will engage the expertise and innovative thinking of students in multiple programs across the Faculties of Engineering and Applied Science, and the Faculty of Arts and Science. As part of the 2021-22 curriculum, special projects in these programs will be designed to tackle structural and conceptual challenges with the aim of bringing this artwork to life in a public setting.
"My hope is that this public art sculpture, Standing Whale, will become a true Canadian statement: one that symbolizes our commitment to protecting the environment, our cultural institutions and heritage, as well as our efforts to ensure that our planet experiences a positive Anthropocene instead of a negative one," said Burtynsky.
On the heels of the critically acclaimed and highly successful Anthropocene project, Edward Burtynsky is continuing to push his artistic practice into the third dimension with the creation of his first large-scale public sculptural work, according to the release. Standing Whale, a true-to-size, 75-foot artistic re-imagining inspired by the retrieved skeletons that washed ashore in 2014, becomes an acknowledgement to the power of telling our human stories, the university said, only this time as a three-dimensional sculpture rather than a two-dimensional image.
"Through the duration of this partnership with Queen's University and the deployment of these multidisciplinary special projects, students will have an opportunity to engage with this artwork in a tangible way and work towards achieving feats of both engineering and storytelling alongside Canada's most prolific contemporary photographer," said Dean Barbara Crow, Faculty of Arts and Science.
Based on the story of a pod of North Atlantic Blue Whales that perished in an unprecedented ice event off the coast of Newfoundland in 2014, Standing Whale is a thematic continuation of Burtynsky's 40-year artistic practice looking at the impacts of humans on the planet. When the bodies of these whales washed ashore following their demise, there were only an estimated 250 left of the population. This pod represented 4 per cent of the population at the time. The North Atlantic Blue Whale, like so many other species worldwide, is at risk of becoming a casualty of the climate crisis and Standing Whale acts as an homage to and lament for this loss, according to the release.
"Edward Burtynsky creates compelling, passionate calls to action on climate change," said Dean Kevin Deluzio, Faculty of Engineering and Applied Science. "Contributing to Standing Whale represents an opportunity for our faculty and students to take on unique engineering challenges that span the disciplines of engineering but also rely on collaboration with our colleagues from the arts and sciences."
Learn more about the partnership here.

23. It's Raining "Forever Chemicals" Across the Great Lakes: Why PFAS Is Now a Public Priority for Elimination Across Canada
https://cela.ca/wp-content/uploads/2021/11/RTK_PFAS_Toolkit-1.pdf
24. Love this Guy! I ordered his book – "Sand Talk". Tyson Yankaporta
https://www.youtube.com/watch?v=S-3ESBzGg4Q
So that's it for now,
Cheers,
Mary Farrar,
President, Friends of Kingston Inner Harbour