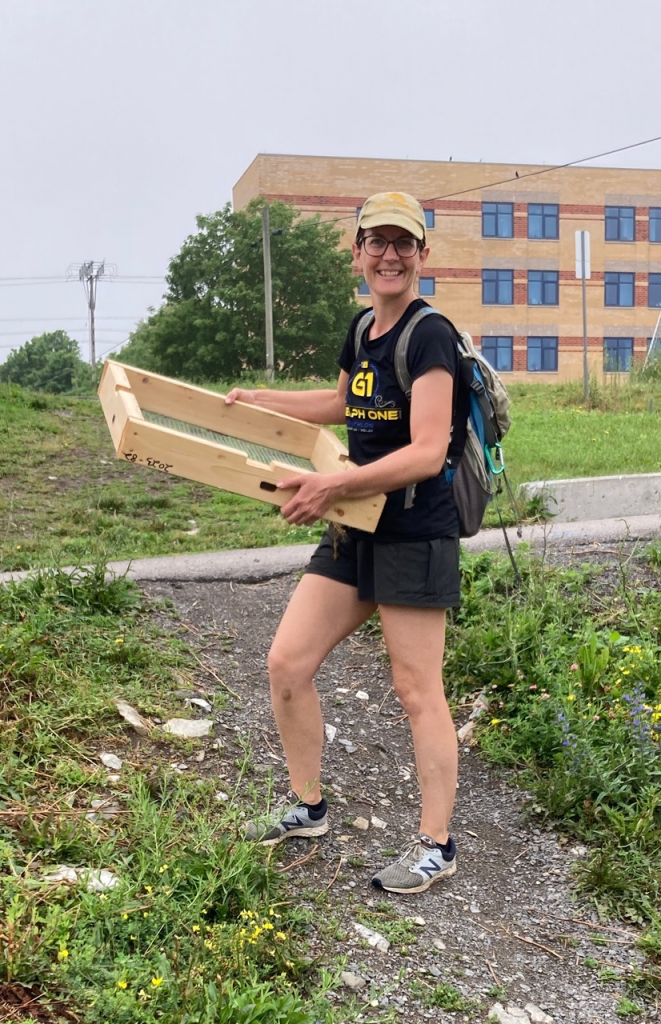 Dear Friends of Kingston Inner Harbour,
First of all  thanks so much Lesley Rudy for all the work she has been doing to look after Inner Harbour turtles.  Here she is with one of her nest covers. If you see turtles nesting you should text Lesley at 613-453-8281. Second best option is to phone. Third is to e-mail at lesley_rudy@hotmail.com. Lesley is now the key organizer. So well qualified after receiving her MSc. on Inner Harbour Northern Map Turtles with Dr. Steve Lougheed at Queen's. Thanks too to Ken Fisher for the great picture.
 
LOCAL ISSUES AND FUN
1. Canada Day in Downtown Kingston!
2. Community Gardens Survey, 99 York, Stuff Around Town + Future of North King's Town Survey
3. ATVs on the K&P Trail?
4. Strong Mayor Powers? Co-op Housing Project, Gerard Hunt Memorial Park and more…
5. We Are on Fire – Big Protest at City Hall
6. Memorial Bench honouring David Bull of the Frontenac Heritage Foundation.
7. Green Burials Kingston Update
8. Parks Canada's "On the Road Again" Initiative – for KINGSTON'S endangered turtles too?
 
FROM FARTHER AFIELD
9. EPA Collecting Data to Assess Health of Lake Ontario
10. Most Canadians On Board with Government Cash for Zero Emission Shipping
11. 1500 Shipwrecks in the Great Lakes – Why is  Exploring Them So Alluring?
12. Canada Clamps Down on Cruise Liners Dumping Sewage, Outlines Big Fines
 
INTERESTING STUFF FROM FAR AND WIDE
13. Microplastics in Laundry
14. Groundwater Extraction is Changing the Earth's Gravitational Pull
15. How Can Canada Transition Away from Forestry?
16. What your Skin Actually Needs. Who knew?
 
LOCAL ISSUES AND FUN
1. Canada Day in Downtown Kingston
 Received from Downtown Kingston's Facebook page, June 27
Celebrate Canada Day in Downtown Kingston! There will be fun activities, live performances, exclusive deals and more to enjoy downtown this Saturday, July 1st!
Canada Day is the official launch of Up On Sydenham:
Sydenham Street between Queen and Princess St has gotten a special summer makeover.
This is the place to be for fun this Canada Day!
Kingston MINI Putt is having an exclusive Canada Day deal with Balzac's Coffee! Show your Kingston Mini-Putt receipt at Balzac's Coffee and receive a free small coffee OR show your Balzac's Coffee receipt at Kingston Mini-Putt and get $1 off your game.
Enjoy Face Painting by First Impression by Danielle on Sydenham Street from 11:00 a.m. to 4:00 p.m.
Be amazed by Comedy Magician Rob Driscoll beginning at 11 a.m.
Kick back on at a bistro table and enjoy live music the whole day with performances by Mark Bergman, Kate and Scott Duo, The Retro-Fits and the Garvin Brothers.
Canada Day in Confederation Park:
Children's entertainers Panache Eh will kick off a full day of live music at 11 a.m. followed by an Ollin's Drum Circle, Kakaow and Limestone City Jazz Collective.
Canada Day Fireworks:
We all know the best spot in Kingston to catch the Canada Day Fireworks is Confederation Park! Make sure you get there a little early with a lawn chair and cozy blanket to grab a prime spot.
Fireworks begin at 10 p.m.

'Art Blooms' in City Park on Canada Day weekend,10 am – 6 pm, July 1-3
Received from The Kingstonist, June 23, Jessica Foley
Artfest Kingston returns to City Park on Canada Day Weekend. This year's 'Art Blooms,' promises to immerse attendees in a vibrant and inspiring atmosphere, featuring an impressive lineup of activities, exhibitions, and performances.

City Park will be filled with over 150 talented artists from across Canada, offering a one-of-a-kind experience for art enthusiasts of all ages. Those young and young at heart will enjoy art and activities at Artfest Kingston. 
Artfest visitors can expect the following features, as provided in the release:
150+ Artists' Exhibits: Artfest Kingston proudly showcases the work of more than 150 talented artists from various regions of Canada. From breathtaking paintings to intricate sculptures, visitors will have the opportunity to explore a diverse range of artistic styles and mediums.
Jay Redbird Indigenous Arts Pavilion: The festival honours and celebrates Indigenous art and culture through the Jay Redbird Indigenous Arts Pavilion. Visitors will have the chance to engage with Indigenous artists, learn about their heritage, and admire their stunning creations.
Live Music: Attendees will be treated to an outstanding lineup of live musical performances, filling the air with delightful melodies throughout the event. From soulful ballads to energizing rhythms, the music at Artfest Kingston will enhance the overall ambiance and create an unforgettable experience.
Spearhead Beer Garden: Artfest Kingston recognizes the importance of great refreshments while enjoying the festival. The Spearhead Beer Garden offers a selection of locally crafted beers, providing visitors with the perfect opportunity to relax, mingle, and savour the flavours of the region.
BikeBrush: Pedal Powered Art: Combining art with sustainability, the BikeBrush initiative allows visitors to create unique hand-painted bicycles. This interactive feature adds an element of creativity and physical activity to the festival, making it a truly engaging experience for everyone involved.
Gourmet Food: Culinary delights await visitors at Artfest Kingston, with a wide array of gourmet food options to satisfy every palate. From artisanal snacks to delectable meals, the festival ensures that attendees can indulge in a memorable gastronomic adventure.
KCAD Kids Art Central: Artfest Kingston values the importance of nurturing young artistic talents. KCAD Kids Art Central offers children the opportunity to engage in hands-on art activities, fostering their creativity and encouraging their passion for the arts.
Poets @ Artfest: Celebrating the power of words and the beauty of poetry, Artfest Kingston features Poets @ Artfest. Attendees can listen to captivating poetry readings by talented local poets, take an Intuitive Writing workshop with Bruce Kauffman and create fresh poetry lines for the Art Blooms project. A harmonious blend of art and literature!
ParticiPaint Mural: Visitors can become a part of the artistic process by contributing to the Participant Mural. This collaborative project encourages attendees to add their personal touch to a large-scale mural, creating a meaningful and visually striking artwork, led by Ottawa mural artist Arthur II.
Seniors Silver Social Hub: Artfest Kingston aims to create an inclusive and welcoming environment for all attendees. The Seniors Silver Social Hub provides a dedicated space for seniors to relax, connect, and enjoy the festival's activities and entertainment. Spin the wheel to win prizes!
Live Dance Performances: The festival embraces the art of dance, showcasing captivating performances by talented dancers. Attendees will have the opportunity to witness an array of dance styles, ranging from contemporary to traditional, and be mesmerized by the beauty of movement. Featuring the Kingston School of Dance Youth Ensemble.
Live Theatre: The Barefoot Players, Kick & Push Festival, Blue Canoe Theatre, and Theatre Kingston bring live theatre to Artfest Kingston. These theatrical performances will transport visitors to captivating worlds and leave them enthralled by the power of storytelling.
Art Guardian Package Concierge Service: To enhance visitors' experience, Artfest Kingston offers the Art Guardian Package Concierge Service. This exclusive service allows patrons to have their art purchases safely stored, enabling them to continue enjoying the festival without the burden of carrying their valuable acquisitions. Drive-by pick-up is available.
Ride to Artfest: Artfest Kingston encourages sustainable transportation options. The Ride to Artfest initiative promotes biking and public transit, providing attendees with convenient and eco-friendly alternatives to reach the festival.
Volunteering at Artfest Kingston: Artfest Kingston thrives on the support and dedication of volunteers. Individuals interested in contributing to the success of the event can sign up to volunteer and be a part of this exceptional celebration of art and culture.
Volunteers are welcome to help out at the festival. 
Organizers noted that Artfest Kingston is a not-to-be-missed event that promises to inspire, engage, and entertain art enthusiasts, families, and visitors of all ages. For further information and updates, visit the Artfest Kingston website at https://shop.artfestontario.com.

Details and Scheduling Impacts for Canada Day Celebrations in Kingston
Received from Kingston Herald, June 29
https://kingstonherald.com/release/23-canada-day-2010331420
 
For further info on what's up and coming in Kingston in July including dates for Buskers visithttps://www.facebook.com/downtownkingston

2. Community Gardens Survey, 99 York, Stuff around Town + Future of North King's Town Survey
Received from McBurney Park Neighbourhood Association, June 27, 2023

Community Gardens City Survey: There is a policy on file with the City for Community Gardens, it is outdated and the City wants your feedback for bringing it up to date.
https://getinvolved.cityofkingston.ca/community-gardens-policy-review?utm_source=ehq_newsletter&utm_medium=email&utm_campaign=ehq-Get-Involved-Public-Engagement-Evaluation-Community-Gardens-Policy-Lancaster-Drive-Sidewalk-and-more&utm_source=ehq&utm_medium=email&utm_campaign=website
Deadline is July 7th. The existing policy is included, take a look. They only ask 2 questions, basically what works/doesn't and what do you suggest.
One might say:
* City should cover cost of insurance, cost of water and cost of soil testing (should it be required). We have been able to source funding for our costs, not all Community Gardens can. 
* City could easily mow between the beds, although Arlo is doing a great job.   
* Community Gardens section needs to be in the Climate Action or Environment and Sustainability of City documentation, not Parks and Rec. 
* Every Park and Community Centre should have/encourage a Community Garden.
* City should make it easy for there to be pre approved Gardens around town.
One might say – If you haven't already completed the Survey, please do so, Gardens are Community building, food sustaining and environmentally a no brainer. Not that I'm passionate about it or anything.
99 York Street – One of my favourite places to gather. Opened in 1982 by 4 visionary women for community events and support, it has stairs all over the inside and out. This is changing! The current Board is moving mountains, (I'm sure it feels like it to them) to finally make an accessible entrance and meeting spaces. www.kingstoncommunityhouse.org for more information about renting space and helping with this yeoman's project.
Stuff around town – CITY'S STRATEGIC PLAN MATCHING CITY ACTION? – I try really hard not to get too political in this missive, however, Housing is such a huge concern and it connects to where we put our housing and how, which touches on trees and canopy and diversity and affordability… and the list goes on. We are being trounced by developers and by a council who says one thing and does another. The pillars of the Strategic Plan for the coming years notes – Support housing affordability, Lead environmental stewardship and Climate Action, Build an active and connected community, and drive inclusive economic growth. Yet they cut down 100sof trees, plan for 100s more, take away bike lanes, deny any affordable housing in back room negotiations for 15 story housing which will shadow our park. Check out No Clearcuts Kingston – https://www.facebook.com/search/top?q=no%20clearcuts%20in%20kingston

City survey about future of North Kings Town:
Please care enough to fill out the survey. This is our home.
https://getinvolved.cityofkingston.ca/north-kings-town

3. ATVs on the K&P Trail?
Received from Barb Schlafer, June 26, 2023
Subject: Vote against expanding ATV access to the K&P trail
 https://www.change.org/p/keep-the-k-p-motor-vehicle-free?recruiter=1309705559&recruited_by_id=12da18e0-03ae-11ee-8611-f73b2954d4f3&utm_source=share_petition&utm_medium=copylink&utm_campaign=petition_dashboard
If this petition strikes a chord with you, please sign and pass it on!
Barb Schlafer

4. Strong Mayor Powers?, Coop Housing Project + Gerard Hunt Memorial Park and more…
Mayor's YouTube video summarizing the June 20 Council meeting. https://www.youtube.com/watch?v=vDy9gjkgaVE

More Info? Here are some selected pieces from the Kingstonist.
Do consider subscribing for timely reporting on all sorts of local issues.
https://www.kingstonist.com/news/kingston-police-apologize-to-indigenous-languages-nest-for-negative-interaction/

https://www.kingstonist.com/news/kingston-city-council-takes-stance-against-strong-mayor-powers/

https://www.kingstonist.com/news/kingston-city-council-approves-development-review-changes/

https://www.kingstonist.com/news/kingston-council-approves-seed-funding-for-limestone-city-co-operative-housing/

5. National Day of Action's Urgent Message: "We Are On Fire!"
Received from the Kingstonist, June 28, 2023 – Michelle Dorey Forestell
Over 60 people attended the downtown Kingston protest on Wednesday, June 28.
Promoted in Kingston by Seniors for Climate Action Now (SCAN), No Clearcuts Kingston & 350 Kingston.
Rallies held in 30 cities demanding the phase-out of fossil fuels.
https://www.kingstonist.com/news/national-day-of-actions-urgent-message-we-are-on-fire/

6. Memorial Bench honouring David Bull of the Frontenac Heritage Foundation.
Received from Jan of the FHF board – contact@frontenacheritage.ca, June 30, 2023
On Saturday, July 15, about 4 p.m., we invite you to a gathering to honour David Bull, dedicate a memorial bench to him, and have a picnic in his memory.
Many of our FHF members and members of the Thousand Islands Area Residents Association will remember David Bull, who worked first for TIARA and then for the Foundation. This year makes six years since he passed.
The Foundation and TIARA and a number of others made donations to fund a memorial bench and plaque to honour David, and the bench has now been installed. His family members agreed that locating the bench on Howe Island where he spent his summers would be most fitting.

We will make this an old-fashioned potluck picnic, which David would have loved. Some of you may be travelling some distance, so we will provide the barebones of cold sliced meat, salads, drinks, paper plates and cutlery. We are assuming that the fire bans will continue. Others can bring desserts and anything else you'd like to round out the menu. You will need to bring folding chairs if possible. This event will be held rain or shine, as members of David's family are travelling some distance to attend.

There are two ferries to access Howe Island – the westerly ferry runs back and forth all day, and carries about 8 vehicles. It costs $8 Canadian for a roundtrip passage. (The easterly ferry is much smaller.) If you want to bring your bike, you can park on the mainland, and take your bike for $2 roundtrip.

The Park is located 4 km (2.5 miles) along the paved Howe Island Drive, and as you go around a big bend, the Park is on your left. See the circle on this link. The bench is located near the playground.

Please let us know if you plan to attend, and how many will be in your party. We want to honour David with a festive event to properly dedicate the bench in his memory. He was a very good friend to many of us, and his is a life which should be celebrated.
contact@frontenacheritage.ca

7. Green Burials Kingston Update
Green Burial Kingston (known as GBK) began in 2017 as an advocacy group for green or natural burials in Kingston.
In 2020 City Council was asked to investigate the possibility of some GB plots in the Kingston area as at that point in time Cobourg was our nearest option. GBK approached the City of Kingston under the Climate Leadership Action Plan.
Pine Grove cemetery was selected as a possibility and is the only cemetery under the care of the City of Kingston. Progress is being steadily made and we are nearly there. However, to support this venture GBK is asking anyone who is interested to do one or more of these three things:
1. Visit the GBK website www.greenburialkingston.ca and become a member or a newsletter subscriber.
2. Call or email Derek Ochej at City Hall and ask to be on the list of people who want to be informed when the City opens a natural burial section at Pine Grove Cemetery.
Derek Ochej 613-546-4291 ext. 1252 or dochej@cityofkingston.ca
3. Write to your Councillor (Greg Ridge represents the Inner Harbour area: gridge@cityofkingston.ca) and ask them to vote in favour of the bylaws being presented to Council in July.
Also please emphasize that your councillor should be sure that the new plots on the south side of the path are included in the plan. It is hoped that this will be a natural burial meadow.
More Info? Sue Lyon greenburialkingston@gmail.com

8. Parks Canada's "On the Road Again" Initiative – for KINGSTON'S endangered turtles too?
Received from the Kingstonist, June 29, 2023 – Owen Fullerton
Parks Canada is drawing attention to its On The Road Again conservation project, which aims to improve reptile and amphibian habitats in eastern and central Ontario.
The conservation effort is focused on the areas in and around Georgian Bay Islands National Park, Bruce Peninsula National Park and Thousand Islands National Park (about 50 minutes east of Kingston) and is particularly focused on turtles and their nesting season throughout May, June, and early July.
Project Coordinator Katherine Welch said On The Road Again started officially in 2020 in response to the population decline of reptiles and amphibians due to dramatically altered landscapes. Through the project's $1.8 million in funding, actions to be taken include installing new under-road animal passageways, that will help species safely cross roadways, supporting habitat restoration, and implementing large-scale public engagement initiatives.
Through this program, Parks Canada has partnered with municipalities, local stakeholders, and Indigenous community groups to protect the species at risk from habitat destruction and the dangers they face near roads.
Welch says while the efforts of Parks Canada staff are mainly focused on the parks themselves, collaborating with other partners is meant to inspire that awareness to reach further than just the park limits."It's very important to protect these species," Welch said.
"We're trying to do that within our boundaries but also outside of our boundaries… we want to try and be a resource for other groups so that we can work together for conservation and collaboratively improve the corridors that these animals use so that hopefully we can reduce the impact on their populations."
All species of turtles in Ontario are considered at risk, ranging from species of special concern to endangered, and are considered "keystone" species – meaning their role in the food web of their ecosystem is integral and without them the ecosystem could collapse.
Welch says that the areas that house these three parks hold some of the greatest numbers of species at risk. Turtles also play a pivotal role in transferring seeds, as well as keeping wetlands clean – and by doing so are key to keeping water systems in general clean. As populations grow and cities expand, many wetlands are shrinking and wildlife face more danger than ever with roads all around them.
"There's more roads, there's more habitat fragmentation and habitat loss," Welch said. "Habitat loss is the biggest threat to turtles and snakes and then the next is road mortality."
Welch stated that one of the biggest steps people can take to help protect wildlife is simply to slow down and be alert while driving. Prime nesting spots often tend to be near roads, inherently putting already at risk species in more danger.
"I think the biggest thing is slow down, especially during this time," Welch said.
"If you're driving… take a look at what's on the road ahead of you, slow down and pay attention to those small things that are on the road."
Welch said that other ways to help are joining local community science groups to work for nest protection, reporting turtle sightings through apps like INaturalist, and if you see an injured turtle on the road stopping and calling the Ontario Turtle Hotline at 705-741-5000 for directions on how to help.
Owen Fullerton is a Kingston-based reporter with the Local Journalism Initiative (LJI).
Editor's Note: Funding opportunities for Kingston turtles are potentially a possibility here.
More info? Katherine Welch – Katherine.welch@canada.ca

FROM FARTHER AFIELD
9. EPA collecting data to assess health of Lake Ontario, Lockport Union-Sun & Journal, June 20, 2023. The U.S. Environmental Protection Agency is collecting data to assess the health and quality of Lake Ontario. According to EPA regional spokesman Mike Basile, the agency is using its two largest research vessels, Lake Guardian and Lake Explorer II, to collect data on water quality and plant and animal life in the lake. The work is part of the binational 2023 Cooperative Science and Monitoring Initiative, whose priority themes are nutrient pollution, chemical contaminants, habitat and species, and invasive species. Data collection began in April and will continue until September.

10.Most Canadians on board with government cash for zero-emission shipping, National Observer, June 22, 2203. Canadians are generally pretty foggy about how much shipping emissions are fuelling the climate crisis. But as soon as they learn that the sector produces a billion tonnes of carbon dioxide each year, the majority are on board with government investment in zero-emission ports, an Abacus Data poll indicates. More than 80 per cent of Canadians surveyed believe it's important for Canada to invest in zero-emission ports, vessels and shipping routes, the poll finds. Quebec is a hot spot of support, with 72 per cent saying such funding is extremely or very important.

11.There are roughly 1,500 shipwrecks in the Great Lakes — Why is exploring them so alluring?, Audacy, June 21, 2023. Six thousand ships have gone missing across the Great Lakes, while only1,500 sunken vessels have been discovered. On this Daily J, WWJ's Brian Fisher explores how these ship wrecks are found, and what makes their exploration so thrilling.

12.Canada clamps down on cruise liners dumping sewage, outlines big fines, Reuters, June 23, 2023. Canada on Friday banned cruise ships from dumping sewage and dirty water close to shore and said it would impose fines of up to C$250,000 ($190,000) for offending vessels. A range of anti-pollution measures introduced on a voluntary basis in April 2022 will become obligatory with immediate effect, Transport Minister Omar Alghabra said in a statement.

INTERESTING STUFF FROM FAR AND WIDE
13. Microplastics – in Laundry!
Received from Eko.org – Allison Johnson
Our oceans are drowning in microplastics. 14 billion tons of tiny, toxic particles that cannot be recovered and will NEVER biodegrade.
And a full third of microplastics come from somewhere you wouldn't expect…laundry!
But France just became the first country to require a simple washing machine filter on all new machines that will stop these particles from entering our water sources.
It's a game changing solution, but our oceans can't wait for other countries to slowly follow their lead. So our team is ready to launch a massive campaign to roll out the filters fast – pressuring major laundry manufacturers to include them on all models anddemanding all our governments get on board.
We've done this before by pushing McDonald's to stop using plastic straws – we created such a buzz that the rest of the industry soon followed. Now let's do it again on microplastics – are you in?
If you've saved your payment information with Ekō (formerly SumOfUs), your donation will go through immediately:
https://actions.eko.org/a/chip-in-to-clean-up-plastic-pollution?akid=123330.55845.-zK9e2&amount=40&currency=CAD&one_click=true&rd=1&recurring_default=only_one_off&source=fwd&t=2
As our clothes tumble around in washing machines, microfibers made of non-biodegradable material like polyester, nylon, or spandex are shed off of them. When the dirty water goes down the drain, the microplastics go with it – and wastewater treatment plants do not have filtration systems capable of filtering them out before the contaminated water heads toward our rivers and oceans.
One longer-term solution is to make clothes with plastic-free fabrics. But that won't help stop the clothes already in our closets from leaching more plastic into our fragile ocean ecosystems. That's why it's so amazing that there is now a simple filter that would keep 90% of the microplastics from our laundry from draining out of our homes in the first place!
It's a game changing solution, but we know change won't happen fast enough without major pressure on companies and our governments to act. And that's where we come in.
If we can raise enough to launch this campaign, we'll start with the biggest washing machine manufacturer, Electrolux, which claims to pride itself for its sustainability efforts. We'll take out newspaper ads, fund reports, and stage attention grabbing stunts calling on them to act. And when we force them to include these filters in all models, it will create a domino effect in the whole industry.
Then, we'll pressure the European Commission to adopt the French law across the EU. And once laundry machine manufacturers have to include the filter in their models to sell in Europe, we'll pressure them to roll it out across the globe.
https://actions.eko.org/a/chip-in-to-clean-up-plastic-pollution?akid=123330.55845.-zK9e2&amount=40&currency=CAD&one_click=true&rd=1&recurring_default=only_one_off&source=fwd&t=2
Thanks for all that you do,
Allison and the Ekō team
More info?
Microplastics found in ocean samples across the world
BBC. 7 June 2023.
Our clothes shed microfibres – here's what we can do…
Fashion Revolution.
Worried about your laundry releasing microplastics? A filter could be a simple solution
The Guardian. 22 May 2023.
Your Laundry Sheds Harmful Microfibers. Here's What You Can Do About It.
The New York Times. 5 August 2021.
Washing machines filters to tackle microplastic
Textile Technology. 27 April 2023.

14. Groundwater Extraction is Changing the Earth's Gravitational Pull
Received from CNN's Wonder Theory Science Newsletter June 27, 2023
https://www.cnn.com/2023/06/26/world/pumping-groundwater-earth-axis-shifting-scn

Humans' unquenchable thirst for groundwater has sucked so much liquid from subsurface reserves that it's affecting Earth's tilt, according to a new study.
Groundwater provides drinking water for people and livestock, and it helps with crop irrigation when rain is scarce. However, new research shows that persistent groundwater extraction over more than a decade shifted the axis on which our planet rotates, tipping it over to the east at a rate of about 1.7 inches (4.3 centimeters) per year.
That shift is even observable on Earth's surface, as it contributes to global sea level rise, researchers reported in the study published June 15 in the journal Geophysical Research Letters.
"Earth's rotational pole actually changes a lot," said lead study author Ki-Weon Seo, a professor in the department of Earth science education at Seoul National University in South Korea, in a news release. "Our study shows that among climate-related causes, the redistribution of groundwater actually has the largest impact on the drift of the rotational pole."….

15. How Can Canada Transition Away from Forestry?
Received from the National Observer, June 27 – Tori Fitzpatrick
Climate change, pests and unsustainable harvesting have left the Canadian forestry industry vulnerable. But as wildfires across the country decimate large swaths of Canada's remaining forests, a Vancouver non-profit is helping companies find alternatives to pulp and paper-based packaging in an effort to ease the pressure on Canada's trees.
In order to meet its climate targets, Canada must transition away from its heavy reliance on forestry, which contributes $34.8 billion to the country's nominal GDP and provided 177,693 Canadians with jobs in 2021. The logging industry is one of the highest greenhouse gas emitters in Canada, according to a 2022 report from the Natural Resources Defense Council and Nature Canada. It accounts for more than 10 per cent of Canada's total emissions, on par with oilsands production.
The report also found the Canadian government has failed to precisely report the logging industry's emissions and has not yet adopted a management plan to reduce them. Without a clear strategy from the federal government, Canada risks missing its 2030 climate targets leaving its boreal forest — one of the largest sections of intact forest on Earth — vulnerable to unsustainable harvesting.
Nicole Rycroft is not waiting for an action plan from the government. She is taking forest protection into her own hands by helping companies across the globe transition away from the logging industry. Rycroft is the founder and executive director of Canopy, an international Vancouver-based environmental non-profit that has worked with over 900 companies worldwide, including Nike, H&M and Zara, to implement circular supply chains and reduce deforestation. Canopy aims to help companies transition away from single-use paper packaging and cellulosic fabrics that are sourced from logging and instead use recycled, discarded materials and sustainable alternatives.
"Between today and about 10 years from now, we'll have 60 million tonnes of next-generation products on the market globally," said Rycroft. "That will displace one-third of the trees that are currently cut down to make pulp and paper packaging and disposable clothing. It will enable us to ensure that absolutely no ancient and endangered forest fibre is being cut to disappear into a pulp machine."
The pulp and paper industry uses 33 to 40 per cent of the industrial wood traded globally. This wood is often sourced in an unsustainable manner that involves clear-cutting, illegal harvesting and human rights abuses. Many of the forests that are being clear-cut also have high conservation value due to the diversity of species that call these forests home and the amount of carbon they can sequester, preventing the greenhouse gas from accumulating in our atmosphere and contributing to climate change.
"When you cut down forests, the carbon that has been stored in the trees and in the soil gets released into the atmosphere, leading to more impacts of climate change," said Rycroft. "[Climate change] leads to more forest fires and more pest infestations, so you then lose more forests, which leads to more carbon dioxide in the atmosphere. You end up with this very negative cycle."
https://www.nationalobserver.com/2023/06/27/news/how-can-canada-transition-away-forestry-industry?nih=83b12c7d5f1bc35f22e866f5fcef9bc3&utm_source=National+Observer&utm_campaign=468026509d-EMAIL_CAMPAIGN_2023_06_27_01_43&utm_medium=email&utm_term=0_cacd0f141f-468026509d-%5BLIST_EMAIL_ID%5D
16. What your Skin Actually Needs. Who Knew?
Received from the National Geographic, June 27, 2023 – Hannah Docter-Loeb
As the body's largest organ, it makes sense that the skin should be kept healthy and clean. Plus, vanity is a strong motivator—humans may have evolved to analyze others' skin to determine their health (and attractiveness).
It makes for a booming business. The skincare industry was worth $133.9 billion in 2018, and is projected to reach $200.25 billion by 2026.
With an ever-growing list of skincare products boasting a litany of buzzy ingredients, it can be hard to sort out what we actually need to take care of our skin.
Experts explain how our skin protects us, how to keep it intact, and what's nice (but not strictly necessary) to add to your routine.
The biology of the skin
The "skin barrier" is made up of skin cells and the linked system of proteins and lipids that surround and connect them. This wall serves as the first line of defense against outside threats, whether those are irritants like toxic chemicals or infectious agents like bacteria.
"The bricks are the skin cells and the mortar is the skin barrier made of proteins and lipids," says Mona Gohara, an assistant clinical professor of dermatology at Yale School of Medicine.
The skin barrier does more than just keeping undesirables out––it also is crucial for keeping certain essentials, like water, in. If the skin barrier doesn't have enough water, it dries out, damaging the lipid links that connect skin cells. This can allow unwelcome material to get in, and cause skin conditions like dermatitis and psoriasis.
We mess with our skin barrier every day, through routines like long showers (which can dry the skin) and shaving (which can abrade the barrier).
Should you supplement your diet or water intake for healthy skin?
An average person's water intake and diet are enough to keep the skin healthy.
Supplements like biotin are marketed to help protect your skin, but Devina Mehta, a dermatology resident at Cornell University says most people don't need them—a well-rounded diet that supports your mental and physical health will support your skin health too.
You don't need to chug water all day, either—you just need enough to not be dehydrated.
"I do not advise any amount of water for strong skin," says Jules Lipoff, adjunct associate professor at Lewis Katz School of Medicine's department of dermatology. "You would have to be super dehydrated for it to really affect the skin."
What skin products do you actually need?
The only thing that average people without any skin problems actually need to do is to keep the skin barrier intact. This can usually be accomplished through the use of three products: cleanser, moisturizer, and sunscreen.
"We do have mechanisms in our skin that are self-moisturizing and self-exfoliating and protective," Gohara says. "But you still have to take care of it. It's not something that's going to happen by itself. You have to make a proactive effort to maintain the natural mechanisms in the skin that already exist."
Gohara recommends a gentle non-soap cleanse, which gets rid of irritants like dirt without the harshness of normal soap. As she explains, soaps have a high pH that can weaken the skin barrier, allowing irritants in and causing inflammation. Non soap cleansers are often labeled with things like "non-soap," "soap-free," "sulfate-free," or "pH neutral".
To feel clean, individuals may be inclined to scrub every inch of their body while in the shower, but that can do more harm than good. "Letting the water flow is sufficient," Lipoff says. "You don't need to exfoliate. Exfoliation happens by itself, it doesn't need to be helped along."
Moisturizing is also a key part of keeping the skin barrier intact, as it limits water loss. The skin has ways of naturally maintaining moisture, but when we dry it out with a hot shower or exposure to cold and dry weather, we need to help it out, Gohara explains. Lipoff advises his patients to apply moisturizer to wet skin to strengthen its effectiveness.
You should also use sunscreen, as unprotected exposure to UV light can dry out the skin and increase the risk of skin cancer. By using sunscreen, "you're going to minimize a lot of damage in a lot of ways to your skin," Gohara says. It's a low hanging fruit."
(Answering your sunscreen questions.)
Dermatologists acknowledged that not everyone's skin is created equally, and some people may have skin barrier impairments like acne, eczema, or rosacea. "Oftentimes people who suffer from them will need additional therapies or products to help them with that," Angelo Landriscina, a board-certified dermatologist in New York, says.
Some topical treatments, such as those containing benzoyl peroxide targeted for acne, can irritate the skin further—requiring an even more heavy duty moisturizer to restore and strengthen the barrier, says Gohara.
What are helpful additions to your skincare routine?
Once the skin barrier is intact and protected, secondary concerns like anti-aging can be addressed.
Hyaluronic acid, for example, is a valuable but nonessential ingredient to look out for. It helps hold onto water and make the skin look more plump. "It's an ingredient I really like and it's buzzy for good reason," Landriscina says. "It's just a nice-to-have sort of ingredient."
People often seek anti-aging products once their skin shows wrinkles or dark spots. But the most effective anti-aging practices start before damage occurs, especially with protection from the sun, says Landriscina.
Outside sunscreen and other sun protection, retinol (vitamin A) and retinoids (derivatives of the same vitamin) are also helpful additions for discoloration or wrinkles. "They've been at the forefront of the skin care zeitgeist for a long time because they're very effective and very well studied," he says. "But it is by no means necessary."
For those looking to reduce the effects of sun damage, Mehta recommends vitamin C serum in the morning and retinol at night. "These products serve to help brighten the skin, lighten dark spots and boost collagen production," she says.
Though beneficial, these ingredients can also cause damage if not used appropriately. Mehta encourages speaking to a dermatologist to see if the products are right for you.
"You don't want to just go out buy something because it's new or buzzy or because your friend likes it or you heard about it on social media," Landriscina advises. "You should constantly be taking inventory of your skin and what you're doing for it, and the changes and choices you make should be based on the result you're trying to achieve."
17. Canada Day Thoughts on Colonization and the Country We Love
Received from Wellington Water Watchers, June 30, 2023 – Arlene Slocombe
I write this after just closing all the windows in my house because we are experiencing yet another high risk air quality index day here in southern Ontario due to ongoing forest fires raging across the country. On a day when children would normally be running and playing outdoors, our children are staying inside during lunch and recess because of these risks.
The climate crisis continues to unfold right before our eyes, and our elected governments of all levels have shown us time and time again that they're not interested in taking the climate crisis with the seriousness needed to mitigate the impacts we are seeing everywhere we look.
As we approach the first of July, the date recognized as the colonial founding of this nation, I take pause for reflection on the path that has led us to this current reality. I find myself deeply considering the root causes of the multiple crises we are facing, the world view that got us here, and the systems and structures that have caused the injustices which surround us. Many of us continue to benefit from these systems at the expense of others.
As the crisis deepens, we too will feel the impacts increasingly.
Since the 'founding' of this nation, many of us have learned about the treaties and promises that were made and broken time and time again.

More and more often, we are hearing and seeing the phrase "so-called Canada " as a call to recognize and reflect on the history of these lands and to be transparent that this land was not always called Canada. The journey to calling this land Canada was filled with much violence & injustice against the Original Peoples who had their own, relationally imbued names for their home. This injustice is evidenced in the genocide of many Indigenous Peoples during the settlement of these lands we now call Canada, in the Indian Act, in the residential school system, in on-going lack of access to clean water for many Indigenous peoples, ongoing resource extraction & development against the will of Indigenous peoples, and so much more.
Overall, "so-called Canada" is a term used to recognize the unthinkable realities Indigenous peoples have faced because of the creation of Canada, as well as to take steps to reconcile this harm through our actions as neighbours in the present.
So there is a tension many of us experience as we both try to see and celebrate what is good and beautiful about this nation and reconcile our violent history and ongoing complicity. Many of us have realized that we are living on stolen land – that colonialism is not just something that happened in a historical context – that it is an ongoing process. Many of us have embraced the need to build mindfulness of our present participation in this ongoing process.
I have come to appreciate that the climate crisis isn't a technological problem or an economic problem. It is at its core a relationship problem, resulting from a breakdown in our relationships with each other and with the lands & waters that sustain us. It is a colonial worldview that positions us as exploiters of the natural world which has led us to this current climate reality. It has resulted in an economy structurally ill-equipped to respect land, labour, and human dignity. It has created a country symbolizing prosperity for some and potential annihilation for others.
This crisis we find ourselves in might be best addressed through a worldview different from the one I was raised in and that got us here. Instead, a relational worldview – a worldview characterized by the concept of the circle, interconnectedness, and connection to place - based on Respect, Reciprocity, Responsibility, and Relationships could lead us forward and through this crisis. This is embodied in Indigenous cultures across Turtle Island and beyond.
There are many ways we can build a future based on these principles.
This July 1, I will be reflecting with my family and friends on what it means to be 'Canadian'. What are our values? What do we hold dear, and what do we also hold dear for all our relations – both human and not? And how does this relate to a national identity? How can we build a better future here for all?
I invite you to join me in this practice with you and yours.
For our precious waters,
Arlene Slocombe – ED, Water Watchers
P.S. On our Water Watcher website, we have a resources page that offers some different ways to explore what solidarity might mean to you and what personal actions you can take towards reconciliation.
https://www.wellingtonwaterwatchers.ca/solidarityresources?utm_campaign=canada_day_2023&utm_medium=email&utm_source=wellingtonwaterwatchers

So that's it for now.
Wishing you Happy Canada Day and a happy July,

Mary Farrar,
President,
Friends of Kingston Inner Harbour