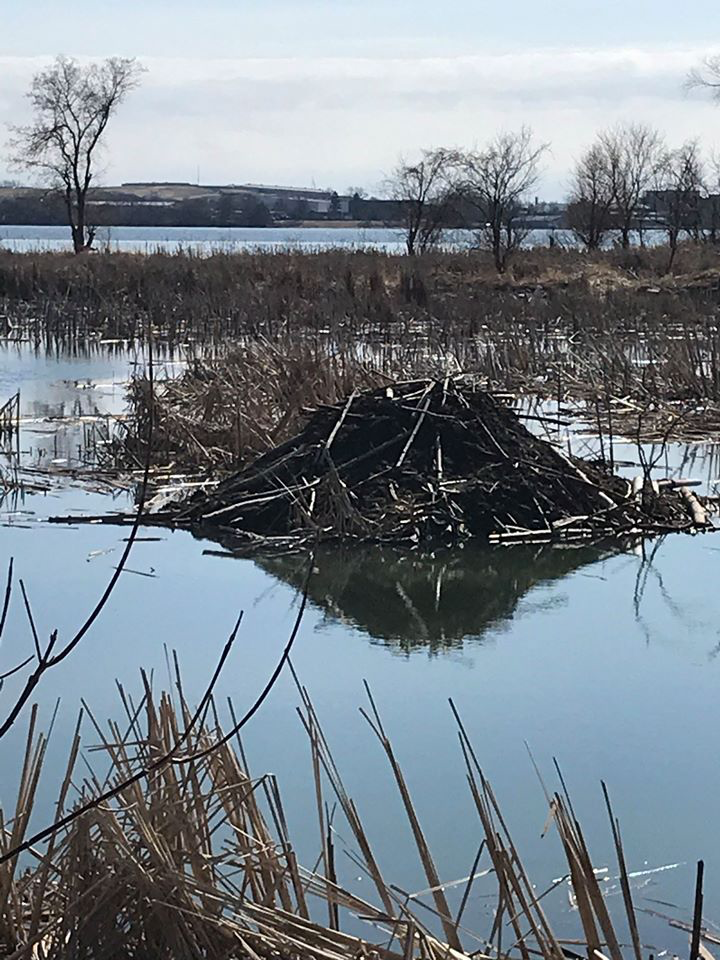 Dear Friends of Kingston Inner Harbour,
Difficult times!
Trust you are home, self isolating as much as possible, and discovering interesting things about yourself in the process.
Perhaps you might even have time to read this mid-March update – lol
Thanks so much to Randy Cadue for this photo.  Beavers alive and well!

1. Invitation to individually clean up the park and trail
2. Hatchlings already!
3. Postponing Canoe Build until September!
4. City's latest COVID19 waste disposal update
5. Pedestrians International
6. Summer Recreation Guide
7. Home Ownership and Home Repairs with help from City
8. GeoThermal work in Kingston East
9. Fraud Prevention Tips
10. Parking Changes Planned: Court St. and Bagot St.
11.  More on Water Level Issues + City's Financial Assistance for Flooding
12. More COVID19 Advice – Some New Suggestions
13. Third Crossing March Update
14. Celebrating MetalCraft Marine's Glass Bottom Boat
15. Engage for Change Update and Calendar

1. Invitation to individually clean up the park and trail
If you are sitting around bored with nothing to do here is a way to get out of social isolation safely and enjoy some sunshine.  A thoughtful mom and her kid recently made this suggestion.  Bring gloves and a garbage bag and stay with one another (but 2 metres apart).  Warn children not to pick up any sharps – although the liklehood is very rare at this point.  If many of us pick up one garbage bag full it will do wonders.  Thanks so much for considering this.

2.  Hatchlings already!
Eight hatchlings were seen on March 9.  Very early.  Keep your eyes open.
If you happen to see any, e-mail harbourturtles@gmail.com with a clear description of where you saw them.  Community observations are an important public record.

3. Postponing Canoe Build until September!
Sadly due to COVID19 and other concerns we have decided to postpone the Community Build of a Traditional Algonquin Birch Bark Canoe until September.  In the meantime here is a wonderful article with pics of what to expect from Chuck Commanda, Algonquin Traditional Knowledge Keeper. He really is amazing.
https://windspeaker.com/news/windspeaker-news/canoe-build-moves-reconciliation-along-by-leaps-and-bounds?fbclid=IwAR1R17uVobTzOhFWVsVa-mA2RpOP86tKluIGIr83SG2gVgOWK7vHx-61N1s
And here is another poetic canoe feature for you to enjoy
https://www.spottedfawnproductions.com/how-to-steal-a-canoe

4. City's latest COVID19 waste disposal update
Received March 16, 2020
"The City of Kingston has developed some safe waste-disposal guidelines for residents to help protect collectors and the wider public from the risk of spreading COVID-19.
'Please protect your collector. Do NOT place used tissues and napkins in the Green Bin – these items often become wind-blown when the collector opens the lid or when emptying the bin into the truck. Review the other guidelines below with your household so everyone knows how to safely handle waste,' says Heather Roberts, Director, Solid Waste Services.
Roberts wishes to emphasize that these guidelines are being put in place as a precautionary measure to protect the health of collectors who each handle thousands of receptacles a week. Proper disposal of potentially contaminated items is also a good safeguard to have in place to protect the general public before the pandemic reaches Kingston.
Guidelines for safe waste disposal during global COVID-19 pandemic:
Place used tissues and napkins in the garbage. Wash your hands afterwards.
Use liners for food waste placed in the Green Bin.
Bag all waste. Do not place waste loosely in garbage containers
If you're sick: place ANY item that has come into contact with your mouth, nose or eyes into the garbage – even items that you normally place into your Blue or Grey box (eg. water/beverage bottles, pop cans, milk/juice cartons, etc.).
Find answers to your COVID-19 questions from KFL&A Public Health.

5. Pedestrians International
Suggestion received from Justin Connidis.
Free UN sanctioned site. Looks interesting
http://www.pedestrians-int.org/en/
6. Summer Recreation Guide
Received from the City March 10, 2020 before pandemic restrictions.
The City's 2020 Spring & Summer Recreation & Leisure Guide has been delivered to households in Kingston This Week and is available for download at www.CityofKingston.ca/PLAY.
Dozens of programs to inspire active summer fun for you or your family, including day camps, neighbourhood parks programs, woodworking for kids and adults at the MacLachlan Woodworking Museum, skating skills development and swimming lessons.
Registration Begins March 26 at 6 p.m. If the class is full, sign up for the wait list – wait lists work!
You will need a PLAY account to register for your programs (creating an account is free).
To register online:www.CityofKingston.ca/PLAY.
Create or login to your account. Click "Program Registration" to search and browse for programs.
To register in-person keep your distance and visit:
Artillery Park Aquatic Centre, 382 Bagot St.,
INVISTA Centre, 1350 Gardiners Rd.,
Rideau Heights Community Centre and Library, 85 MacCauley St.
NOTE: Funding for increased access to municipally-run recreation and arts programs, camps, fitness memberships and drop-in activities is available to eligible families through the My Kingston Municipal Fee Assistance program.
More Info? 613-546-4291 ext. 1900

7. Home Ownership and Home Repairs with help from City
Take advantage of the Homeownership Program or Kingston-Frontenac Renovates program to improve your housing.
"These City and County of Frontenac programs are aimed at making housing more affordable so that residents can achieve homeownership – and/or make upgrades that will help them stay in the homes they love," says Mitchell Grange, Acting Manager, Housing and Early Years.
Homeownership Program: Down Payment Assistance
The Home Ownership Program helps Kingston and County of Frontenac renters with low-to-moderate incomes purchase a home by offering down payment assistance up to a maximum of 10 per cent off the purchase price. Twelve households were able to buy homes through this program in 2019.
Kingston-Frontenac Renovates: Home Repair Assistance
The Kingston Frontenac Renovates program offers low-to-moderate-income households up to $10,000 for emergency repairs and up to $5,000 for renovations to make their home accessible. In 2019, the program helped 23 households in Kingston and Frontenac County. Eligible repairs may include, but are not limited to, furnace or window replacement, roof repair and accessibility ramp or lift installations.
How To Apply
Homeowners – or soon-to-be homeowners – can find eligibility criteria and application forms for both the programs at CityofKingston.ca/Housing.
Kingston-Frontenac Renovates applications are now being accepted and Home Ownership applications will be accepted starting March 16. Funding is awarded on a first-come, first-served basis.
Applications may be submitted:
By mail – to City of Kingston, Housing and Social Services at 362 Montreal St., Kingston, ON, K7K 3H5
In person – to main reception on the second floor at 362 Montreal St.
More Info?housing@cityofkingston.ca or 613-546-2695, x 4949.
Increasing housing affordability is one of Council's strategic priorities.

8. Geothermal work In Kingston East
Received March 4, 2020
Drilling of geothermal wells begins for the Kingston East Community Centre's heating and cooling system – an important step in building this near Net-Zero carbon footprint recreation and leisure facility. The planned greenhouse gas reduction measures will reduce emissions from 73 tonnes to 10 tonnes per year representing an 86 per cent reduction compared to constructing the facility to meet the Ontario Building Code.
Noise disruption is expected to be minimal during this construction activity and mitigation measures have been put in place at the construction site. Motor vehicle and pedestrian disruptions are not anticipated.
Once completed, the facility will provide LED lighting, rooftop solar photovoltaic technology, full-sized gymnasium, fitness centre, community kitchen, multi-purpose rooms, meeting rooms, splash pad, outdoor rink and act as an emergency reception centre. The $13.5 million, 22,000 sq. ft. community centre is expected to be complete by the end of 2021.
Project updates and information can be found on the Kingston East Community Centre project page.
Demonstrating leadership on climate action and fostering healthy citizens and vibrant spaces are two of the City's strategic priorities.

9. Fraud Prevention Tips from Utilites Kingston and Kingston Police
March is Fraud Prevention Month.
"Utility customers are targets for scams at the door, over the phone and through the Internet. When in doubt, don't be afraid to shut the door, hang up the phone, delete the email or close your Internet connection. You can always call us to confirm the truth of any sales pitch," cautions Chief Customer and Technology Officer of Utilities Kingston, Kevin McCauley.
Kingston Police receive and investigate numerous complaints regarding suspicious door-to-door salespeople, phone calls and emails for many promotions and services.
Learn how to recognize, reject and report fraud with the following tips.
RECOGNIZE:
New consumer protection rules came into effect in 2018, to protect consumers at the door:
a) Products and services that can no longer be offered or sold at your home (unless you initiate the transaction) include: furnaces, air conditioners, air cleaners, air purifiers, water heaters, water treatment devices, water purifiers, water filters, water softeners, duct cleaning services, or any good or service that performs or combines one or more of these functions.
b) If you sign a contract, for a restricted product and service, as a result of door-to-door marketing, or due to misleading marketing materials left at your home, the contract will be considered void and you can keep the goods or services without obligation.
c) Be extra cautious about any unsolicited calls, emails or mailings.
d) A door-to-door salesperson may falsely imply they are working with your utility company. Representatives from Utilities Kingston and Kingston Hydro do not go door-to-door for sales purposes. Utilities Kingston employees and contractors carry identification and you should always ask to see it.
e) Scammers claiming to be from your utility company may call and threaten to disconnect utility services unless immediate payment is made. Utilities Kingston does not collect payment over the phone. View the ways to pay your utility bill.
REJECT:
a) Don't be afraid to shut the door, hang up the phone, delete the email or close your internet connection.
b) Don't purchase a product or service without carefully checking out the product, service and company.
c) Don't disclose personal information about your finances, bank accounts, credit cards, utility bills, social insurance and driver's licence numbers to any business that can't prove it is legitimate.
d) At the door, always make sure you get a business card and look at the salesperson's ID badge first. Ask to see their City-issued licence to sell door-to-door in Kingston.
e) Remember, you have the right to ask salespeople to leave your property.
REPORT:
a) If someone comes to your door to sell restricted products and services, don't be afraid to shut the door and call Consumer Protection Ontario at 1-800-889-9768.CC
b) Report incidents to the Canadian Anti-Fraud Centre at 1-888-495-8501.This agency collects information on fraud and works closely with police to solve these crimes.
c) If you receive a suspicious phone call or visit at your door from someone claiming to represent Utilities Kingston, hang up and call to let us know. A customer service representative is available Monday to Friday from 8 AM to 5 PM by calling 613-546-0000.
d) If people refuse to leave your property or you become a victim of fraud through monetary loss, call Kingston Police at 613-549-4660.
Get involved with the conversation online by tweeting to @kingstonpolice and @utilitieskngstn using the hashtag #FPM2020.
Fraud Prevention Month is spearheaded by the Competition Bureau.

10. Parking Changes Planned: Court St. and Bagot St.
Received March 9, 2020
Proposed changes, to be presented to City Council this spring, will address the need for more short-term parking around City Park and Bagot Street including:
Adding metered parking along Court Street.
Adding metered parking spaces on Bagot Street, including two accessible spaces.
Get Involved: Residents are invited to review and comment on the proposed locations of the accessible parking spaces on Bagot Street at GetInvolved.CityofKingston.ca by 4 p.m. March 25.

11. More on Water Level Issues
IJC to begin review of Plan 2014 in hopes of averting lake flooding, Buffalo News (Buffalo, New York), March 3, 2020 (also appeared in the Quinte News and at WWNY). Flood-weary residents of the Lake Ontario shoreline may have received a break Tuesday when the international body that aims to control water levels announced that it would review a controversial water-management plan that many lakeshore residents blame for the high waters. The International Joint Commission, the U.S-Canada joint effort to manage the two nation's shared waters, said it had received $1.5 million from the U.S. government and $1.5 million from Canada to begin a study that could lead to changes in Plan 2014. The Great Lakes-St. Lawrence River Adaptive Management (GLAM) Committee, a subcommittee to the IJC's International Lake Ontario-St. Lawrence River Board, will conduct the study.

Despite decline, 'exceptional volume of water remains' in Great Lakes, Soo Today (Sault Ste. Marie, Ontario), March 3, 2020 (also appeared in the Lake Superior News). Conditions across the Great Lakes were drier this past month and the water levels of both Lake Superior and Lake Michigan-Huron declined more than they typically do in February. Nonetheless, an exceptional volume of water remains in the system and all of the Great Lakes remain near or above record-high water levels for this time of year. Water levels are expected to remain high over at least the next several months and further record-highs are possible if wet conditions continue in 2020. As a result, there will continue to be a significantly increased risk of flooding.
Great Lakes water levels break monthly records for February, WBAY (Green Bay, Wisconsin), March 7, 2020 (also appeared in the Holland Sentinel, at WXYZ, at WZZM 13 and at WHBL News). Officials say water levels on the Great Lakes will continue to stay high going into spring after record levels were reached in February. Four out of the five lakes – Huron, Michigan, Erie and Superior, all set new monthly records for February. The records that were previously on lakes Superior, Michigan and Huron were set in 1986, while Lake Erie's record was set in 1987.

Received from the Government of Ontario:
"Ontario is taking action to protect people and property by strengthening the province's preparedness for flooding because the safety of the public and the protection of our communities is our number one priority.
In response to Ontario's Special Advisor on Flooding report released last November, and the call from the communities around the province to address the issue of flooding, Ontario has released Protecting People and Property: Ontario's Flooding Strategy, available here. The Strategy introduces a series of new and enhanced actions that will help Ontario better prepare for, respond to, and recover from significant flood events.
You can also visit our updated webpage, ontario.ca/floods to find emergency preparedness information, including safety and flood mitigation tips for homeowners.
We look forward to continuing to work with you to build a more resilient Ontario.
Water Resources Section
Policy Division, Ontario Ministry of Natural Resources and Forestry, mnrwaterpolicy@ontario.ca

Utilities Kingston offers financial assistance and public education to help prevent basement flooding:
Received March 2, 2020
For the ninth year, Utilities Kingston is offering the Preventative Plumbing Program for financial assistance and the Flood Facts public education campaign. These initiatives help residents prevent basement flooding and sanitary sewer back-ups in their homes and neighbourhoods.
"Our very first Flood Fact is that every neighbourhood is at risk of basement flooding, even if it's never happened before," says Jim Miller, Chief Operating Officer for Utilities Kingston. "By offering education and financial assistance, we're helping our customers adopt preventative measures that will reduce the likelihood of sewage backups and basement flooding in their neighbourhoods."

Financial Assistance Offered
Homeowners: get up to $3,000 through Utilities Kingston's 2020 Preventative Plumbing Program. You may use the funds to install sump pumps, backwater sanitary valves and other eligible measures, including disconnection of illegal plumbing connections.
Participants benefit from a free in-home visit that provides advice to reduce the risk of basement flooding. Interested? Find details and an easy-to-use online application, email preventativeplumbing@utilitieskingston.com or call 613-546-0000.
Did you know? Since the Preventative Plumbing Program began in 2012, $3 million in financial assistance has helped nearly 2,000 Kingston homeowners, including with the removal of more than 200 illegal connections to the sanitary sewer.

Know Your "Flood Facts" to Prevent Basement Flooding
The Flood Facts public education campaign consists of a comprehensive information package (available online), and traditional and social media that offer residents a series of 18 "Flood Facts" that explain how to reduce the likelihood of sewer back-ups in your neighbourhood. These include the following:
Having a plumber regularly inspect your sewer lateral.
Disposing of kitchen fats, oils and greases (FOGs) in your Green Bin and not down your drain. TIP: Utilities Kingston, in partnership with Kingston Fire & Rescue and City of Kingston, is offering free, fully-compostable FOG cups to local residents.
Checking your sump pump and sanitary backwater valve for proper operation and following the manufacturer's maintenance recommendations.
Ensuring your downspouts are clear of debris so water routes safely away.
Reducing your use of water on rainy days
See Utilities Kingston's "Flood Facts" for more tips to help reduce the risk of basement flooding.

12. More COVID19 Advice – Some New
Received from Cycle Kingston, March 2, 2020
"Dear Colleagues,
As some of you may recall, when I was a professor of pathology at the University of California San Diego, I was one of the first molecular virologists in the world to work on coronaviruses (the 1970s). I was the first to demonstrate the number of genes the virus contained. Since then, I have kept up with the coronavirus field and its multiple clinical transfers into the human population (e.g., SARS, MERS), from different animal sources.
The current projections for its expansion in the US are only probable, due to continued insufficient worldwide data, but it is most likely to be widespread in the US by mid to late March and April.
Here is what I have done and the precautions that I take and will take. These are the same precautions I currently use during our influenza seasons, except for the mask and gloves.:
1) NO HANDSHAKING! Use a fist bump, slight bow, elbow bump, etc.
2) Use ONLY your knuckle to touch light switches. elevator buttons, etc.. Lift the gasoline dispenser with a paper towel or use a disposable glove.
3) Open doors with your closed fist or hip – do not grasp the handle with your hand, unless there is no other way to open the door. Especially important on bathroom and post office/commercial doors.
4) Use disinfectant wipes at the stores when they are available, including wiping the handle and child seat in grocery carts.
5) Wash your hands with soap for 10-20 seconds and/or use a greater than 60% alcohol-based hand sanitizer whenever you return home from ANY activity that involves locations where other people have been.
6) Keep a bottle of sanitizer available at each of your home's entrances. AND in your car for use after getting gas or touching other contaminated objects when you can't immediately wash your hands.
7) If possible, cough or sneeze into a disposable tissue and discard. Use your elbow only if you have to. The clothing on your elbow will contain infectious virus that can be passed on for up to a week or more!
What I have stocked in preparation for the pandemic spread to the US:
1) Latex or nitrile latex disposable gloves for use when going shopping,using the gasoline pump, and all other outside activity when you come in contact with contaminated areas.
Note: This virus is spread in large droplets by coughing and sneezing. This means that the air will not infect you! BUT all the surfaces where these droplets land are infectious for about a week on average – everything that is associated with infected people will be contaminated and potentially infectious. The virus is on surfaces and you will not be infected unless your unprotected face is directly coughed or sneezed upon. This virus only has cell receptors for lung cells (it only infects your lungs) The only way for the virus to infect you is through your nose or mouth via your hands or an infected cough or sneeze onto or into your nose or mouth.
2) Stock up now with disposable surgical masks and use them to prevent you from touching your nose and/or mouth (We touch our nose/mouth 90X/day without knowing it!). This is the only way this virus can infect you – it is lung-specific. The mask will not prevent the virus in a direct sneeze from getting into your nose or mouth – it is only to keep you from touching your nose or mouth.
3) Stock up now with hand sanitizers and latex/nitrile gloves (get the appropriate sizes for your family). The hand sanitizers must be alcohol-based and greater than 60% alcohol to be effective.
4) Stock up now with zinc lozenges. These lozenges have been proven to be effective in blocking coronavirus (and most other viruses) from multiplying in your throat and nasopharynx. Use as directed several times each day when you begin to feel ANY "cold-like" symptoms beginning. It is best to lie down and let the lozenge dissolve in the back of your throat and nasopharynx. Cold-Eeze lozenges is one brand available, but there are other brands available.
I, as many others do, hope that this pandemic will be reasonably contained, BUT I personally do not think it will be. Humans have never seen this snake-associated virus before and have no internal defense against it. Tremendous worldwide efforts are being made to understand the molecular and clinical virology of this virus. Unbelievable molecular knowledge about the genomics, structure, and virulence of this virus has already been achieved. BUT, there will be NO drugs or vaccines available this year to protect us or limit the infection within us. Only symptomatic support is available.
I hope these personal thoughts will be helpful during this potentially catastrophic pandemic. You are welcome to share this email. Good luck to all of us! James Robb, MD;
Judy Glass, M.D., FRCPC, DFAPA,
Director, Emergency Psychiatry, Jewish General Hospital
Assistant Professor, McGill University, Dept. of Psychiatry"

13. Third Crossing March Update
Building temporary in-water access roads and a trestle bridge
Work on the temporary rock causeway – which is the first step in building a permanent bridge as it provides access for crews to work from – began on the west shore in late December 2019 and will continue into the Summer. Work on the temporary rock causeway on the east shore commenced in January and was completed in February. The east shore rock causeway will transition to a temporary trestle bridge.
In February, work started on building a temporary trestle bridge. Made by using a framework of steel pipe piles, the trestle bridge is built closer to the east shore of the Cataraqui River. The temporary trestle bridge will maintain public marine access through the navigation channel during the boating season with the bridge raising up and down to allow boats to pass underneath.

Photos of temporary rock causeway being built on the west shore
Placing wildlife passages
The care and protection of wildlife is a central consideration of the project. Two of five wildlife passages have been placed in the Cataraqui River. These passages allow for the safe and active passage of turtles and wildlife through the temporary rock causeway during construction. Crews will be installing the remaining three passages in the rock causeway throughout the Spring. Once the bridge is complete, the wildlife passages will be removed as aquatic wildlife will be able to pass freely under the bridge.

Photo of the installation of the second wildlife passage
Installing the east side noise wall
Residents along Gore Rd. closest to the east shore project site and visitors to the Pittsburgh District Library will have seen crews installing a permanent noise fence. This is an important aspect the team wanted in place before the start of heavy construction and it's on track to be complete by the end of March.
Continuing the abutment work
Over the next couple of months, crews will also be installing the footings at the ends of the bridge otherwise known as 'abutment work'. The abutments connect the bridge to the east and west shore embankments. This work is significant as it's really marks the beginning of the first permanent part of the bridge being built.
Photos showing the west abutment drilling
New aerial video highlights construction work through February
An aerial video of construction work on the east and west shores and in-water work building the temporary rock causeway and the first of five wildlife passages.

14. Celebrating MetalCraft Marine's Glass Bottom Boat
You Can See Ancient Ship Wrecks From A Glass-Bottom Boat In Ontario This Spring, Narcity, March 2, 2020. The ice will soon be melting away on Ontario's gorgeous waters, and you can explore so many dreamy pools and lakes this spring. This unique water adventure won't just bring you stunning views from above, it will reveal what lies beneath the turquoise waves as well. The best part is, you won't even need to get wet to explore the deep blue lake. Ontario's glass-bottom boat cruise will take you over ancient shipwrecks this spring. Tobermory has become one of Ontario's prized gems, with its magical grotto and bright blue waters. The area is also home to sunken ships, and you can hop on board a clear-bottomed boat to get an up-close view. Blue Heron Cruises offers a one-and-a-half-hour adventure around Tobermory, and it will take you over two 19th century shipwrecks. You can observe the historic drowned boats from the transparent floor, so you can take in all the incredible views without getting wet.

15. Engage for Change Update and Calendar
Received from Jenn Campbell, early March, 2020
"Hello to everyone,
I would like to personally thank you for your support, interest and ongoing involvement in the Engage for Change project. As many of you know the second phase of this shared initiative concluded at the end of 2019. The report overviews phase II and coming out of the community discussions last year it proposes several next steps for phase III. The report can be found here: https://www.cityofkingston.ca/documents/10180/38456179/City-Council_Meeting-10-2020_Report-20-060_Engage-for-Change_Phase-II-and-Phase-III.pdf/0b2363f1-e90c-e994-239b-084cf108b5d5?t=1582915857149.
Once the report has been reviewed by Council, we will be reaching out to the community for additional input and guidance on phase III and most immediately on the selection of an interim community gathering space.
Also, in conversations, circles and meetings over the course of 2019 many people expressed a need for a centralized website with a community events calendar. The calendar was described as a space to see upcoming community events and gatherings. The Engage for Change website has now been expanded to include such a calendar. This calendar allows anyone to submit upcoming Indigenous community events and provides links to external event pages and/or websites. The calendar can be found here: https://www.engageforchange.ca/community-calendar. I hope that you can help to share this calendar with others and will consider submitting your own upcoming events. It would also be great to receive any feedback about the calendar so that it be as open and easy to use as possible
More Info? Jenn Campbell – jlcampbell@cityofkingston.ca"
So that's it for now. Enjoy the sunshine.
Mary Farrar, President, Friends of Kingston Inner Harbour
www.friendsofinnerharbour.com