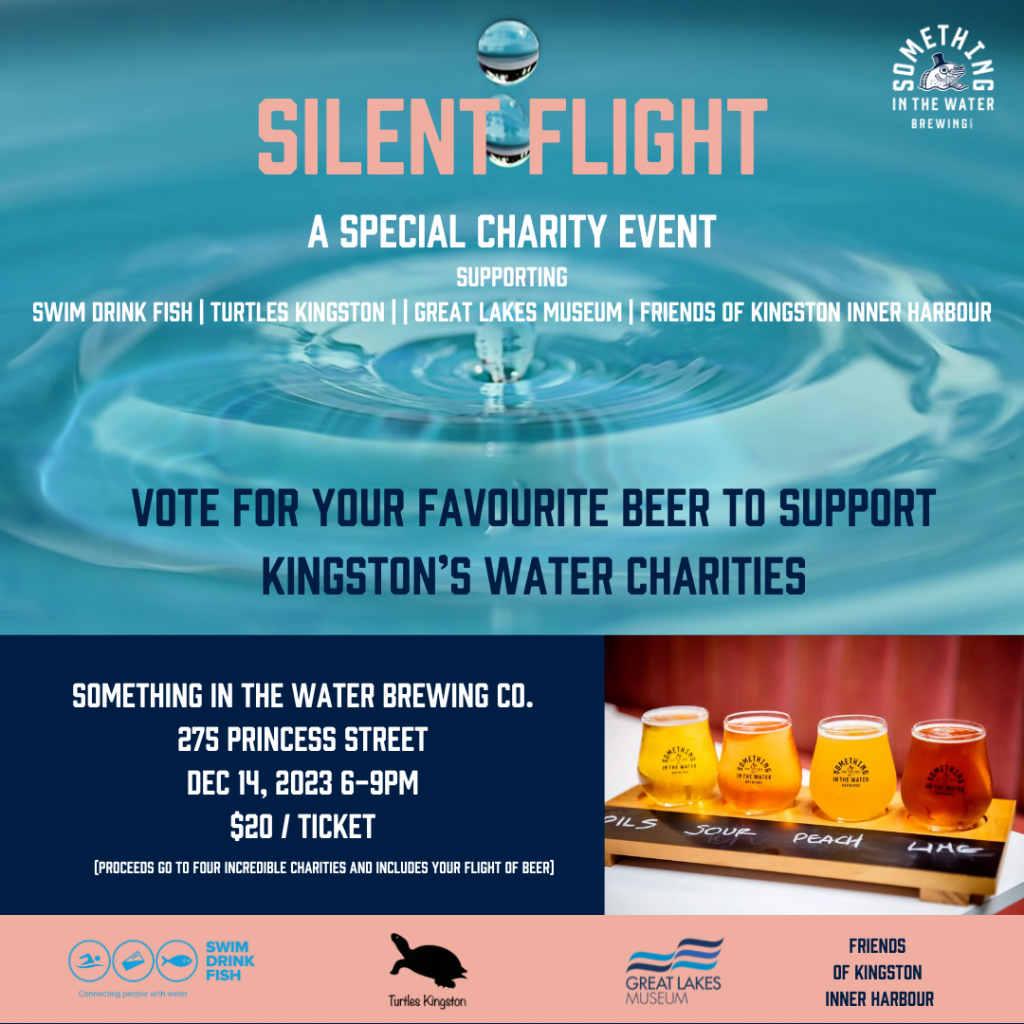 Dear Friends of Kingston Inner Harbour,
FUN FUND-RAISING EVENT DEC 14.
SO MUCH FUN! 
Register now.  Help support the Friends of Kingston Inner Harbour
https://www.eventbrite.com/e/silent-flight-tickets-757902054447
See you there!
LOCAL EVENTS AND ISSUES
1. Friends of Kingston Inner Harbour AGM, Thurs, Nov 16, 6:30 p.m.
2. Sleeping Cabins
3. Shoreline Alteration Policies
4. Kingston to Continue "Weather-based" Overnight Winter Parking Pilot Program
5. Councillor Voices Support for Community Standards By-law.
6. Council Votes to Regulate Salvage Yards to Better Control Copper Market
7. Lots of Fun Stuff Happening at the Library
8. Santa Claus Parade Nov 18
9. Keewatin to Marine Museum of the Great Lakes at Kingston

INTERESTING STUFF FROM FARTHER AFIELD
10. Company Transforms Great Lakes Plastic into Clothing
11. Earth Warming Faster Than Expected – due to Reduction in Ship Pollution
12. Looking for a Fix: Canadian Bill Boosts Right to Repair Movement

CHRISTMAS IS COMING
13. Handicraft and Skills-based Gifts for Kids?

LOCAL EVENTS AND ISSUES
1. Friends of Kingston Inner Harbour AGM, Thurs, Nov 16, 6:30,
Frontenac Village Condo Party Room
We are happy to announce our 2023 Annual General Meeting. As usual, it will take place at the Frontenac Village Condo at 1 Place d'Armes. To get there, go as far north as possible on King St. to the entry to the parking garage. Directions will be there to guide you to the entry to the party room. The agenda will include development concerns, issues related to the federal government's proposed sediment clean-up, and possible ways forward for 2024. Light refreshments provided. If wheelchair access is needed, contact Mary beforehand at 613-544-1246.
ALL WELCOME!

2. Sleeping Cabins
Received from the Kingstonist, November 10, Dylan Chenier
NOTE: Do consider subscribing directly to the Kingstonist for excellent local news coverage.

Sleeping cabin advocates, residents speak out after council's decision to end program
Days after Kingston City Councillors voted to end the City's sleeping cabin project, two years after the project's inception, advocates for the program are speaking out and voicing their displeasure regarding the decision. Chrystal Wilson of Our Liveable Solutions (OLS), who has run the sleeping cabin program since 2021, said staff and residents were "blindsided" by the result.
In addition to disappointment with the decision reached by council, Wilson said she was particularly displeased with some of the comments made by councillors and members of the public.

"More disturbing than the decision that was made were the words that were said in that [Council] Chamber and the accusations about our residents that were said by people who've never visited our site and never talked to our residents," she remarked.Wilson was particularly disappointed in the way Pittsburgh District Councillor Ryan Boehme characterized the sleeping cabins as "sheds," as he noted, "We would not condone this type of living for a dog during the winter."
In response to Boehme's comments, Wilson said, "The words that came out of Councillor Boehme's mouth were disgusting. He's never been to our site, he's never interacted with our residents, and, he clearly hasn't seen the horrors that happen when someone else is homeless."
During Tuesday night's meeting, councillors heard from more than 20 delegations in total, with several community representatives speaking out against the various proposals to maintain or permanently relocate the sleeping cabins. A number of residents expressed concern over having the cabins relocated to their neighbourhood, which included representatives near Rodden Park and Rideau Marina— the two locations staff had identified as possible long-term homes for the project.
Of all the delegations, Wilson was most concerned with members of the so-called "Kingston Community Research Group," who spoke out against the continuation of the project. According to Wilson, presentations from group members contained "false information." She remarked, "They use their PhDs as credentials, but they didn't actually provide accurate information. They've never met our residents. Their 'research report' is not a research report… It has to be vetted by an ethics committee; they didn't even put their name to the report."
While several delegations on Tuesday night claimed to represent this research group, including Victoria Robinson, it is unclear where or how members of the group ascertained the information included in their report. Despite questions surrounding the academic integrity of the research group's findings, Wilson said it was clear that members of council put significant weight into the comments of these alleged "experts."
"They presented information that was misleading and the councillors knew it and accepted it anyway," she claimed.
During his remarks, Councillor Boehme noted, "None of the experts recommended continuing the sleeping sheds program." However, Wilson argued that academics should not be considered the only true "experts" in the field.
"The experts aren't the ones with PhDs who are parading around pretending to know what they're talking about. The experts are the people who are suffering in the cold, and they know what's best for them," she said.
Wilson added she wished more councillors would have taken to heart the testimonies of actual sleeping cabin residents. "We had residents at the meeting standing at the microphone, and councillors didn't even bother to ask them questions. They didn't want to hear the truth," she reasoned.
Ron Durston was one of the sleeping cabin residents who attended the City Council meeting on Tuesday night. In an interview with Kingstonist later in the week, Durston explained that he left the meeting early after he grew tired of the rhetoric he was hearing from community members and City Councillors.
"I didn't stay for the whole thing. I sat there and listened to the professional people who were doing research… I swear, some of the crap that was coming out of [Victoria Robinson's] mouth, about the cabins and what it's doing for people. I couldn't believe what was coming out of her mouth," he said, referring to the first delegation representing the Kingston Community Research Group.
As delegates and councillors spoke about issues related to safety, accessibility, fire risk, and the cabins' impact on the neighbouring community, among others, Durston said it felt like representatives had already made their minds up before the meeting began: "I'd say it was set out to be going that way because nobody wants to deal with it. In order to shut things down, you've got to make it sound worse than it really is."
Durston explained that he didn't initially plan to take one of the sleeping cabins, aiming to ensure that others with more critical needs would have access to shelter. However, he noted that once the winter weather arrived, the cabins provided an ideal alternative to living in his car or on the streets.
"I [first thought] 'I'm going to stay here until the winter's over,' and then I kind of ended up staying a little longer than I was going to. It was a lot better than staying in my van, not knowing if I was going to wake up the next morning," he said.
Despite the small nature of the cabins, Durston noted they contain the essentials for residents to feel safe and secure.
"I'm happy with what I've got in the cabin. I don't have very much, but it doesn't matter to me because it's a roof over my head. I can keep warm in the winter and I was given an air conditioner in the summer… It really disappoints me that they would think that these are nothing but sheds that they wouldn't even keep their dog in," he remarked.
When asked what he would like to say to those who voted to end the program, Durston urged councillors to see things from the residents' perspectives.
"I would ask them to give up their lifestyle for one whole month. Come down to our level, take off their clean suits and go without food for a while, go without heat for a while, go without [air conditioning], and see what it's like being on the street," he said.
"Eventually, what's going to happen is society is going to go down and they're going to be one of us… and they're going to be looking for help."
During Tuesday's council meeting, members had four different options to choose from regarding the future of the sleeping cabin program. Wilson said the option to move the cabins to Rideau Marina in the city's east end would have made the most sense for everyone involved.
"We should have gone to Rideau Marina, that should have been a no-brainer. There's nothing wrong with that site. It's a great site, and it hits all of our needs," she explained.
The Rideau Marina property first emerged as a potential site for the sleeping cabins back in 2022, when property owner Homestead Land Holdings offered to lease the site to the City for $1 and provide an additional $750,000 in funding for the project. During Tuesday's meeting, residents pointed to a steep driveway, with a 14 per cent grade, as one of several reasons the marina was not a suitable location for the cabins.
Rodden Park in Portsmouth District was another potential location, but residents near that site took issue with the fact the cabins would be located in close proximity to a public park and surrounding homes. If neither permanent location was a suitable option for councillors, Wilson said she hoped representatives would support the option to continue transferring the cabins between Portsmouth Olympic Harbour and Centre 70, as the City had done for the last two years.
Wilson said, "I thought, worst case scenario, they're going to bounce this back and forth until we find another site. We've given City staff over 40 places that we felt were acceptable, but none of them made the list. I'm not really sure why."
As councillors voted to wind down the sleeping cabin program, City staff are supposed to work with the team at OLS to come up with a transition plan to move residents to other supportive housing options in the city. However, Wilson explained she has her doubts over how successful that transition will be, given what she described as a lack of support from the City toward cabin residents.
"Our residents are supposed to be given a Housing First Case Manager. City staff would not allow our staff to train as Housing First Case Managers, so we're dependent on case managers from Home Base Housing and the Salvation Army… Some of our residents have been with us for a long time with no case managers, and we've seen it take over 18 months to get a case manager," she alleged.
"I don't know what the transition plan will look like from the City, we just know we'll be fighting tooth and nail for residents to make sure they don't end up in the streets."
Since Tuesday's meeting, Wilson said she's received an outpouring of support from members of the community as well as people connected to sleeping cabin projects in other municipalities: "I've been overwhelmed with messages from people saying, 'What the heck?' And people from outside the city as well who we've been consulting with to help them build their communities. [As well as] people who have had success building sleeping cabins."
As for what he hopes to see happen in the future, Durston advised that officials should spend less time worrying about the financial implications of the program and more time focusing on the needs of some of the city's most vulnerable people.
"Stop worrying about how much it's going to cost because you can't put a price on a person's life, no matter how [troubled] they are," he said.
It remains to be seen what will happen to the 17 individuals currently residing in the cabins, or the 300-plus people who had been on a waitlist for one of the cabin spaces. When the program was first approved back in October of 2021, there were 195 individuals on the City of Kingston By-Name List of people experiencing homelessness. In the two years since the program began, that number has climbed to 531.
It is also unknown what will happen with the cabins as the program "winds down."
3. Shoreline Alteration Policies
Received from Cataraqui Conservation Authority, Nov 3, 2023
A Cataraqui Conservation Permit is required for any marine development (e.g. docks, boathouses, boat ports, marine railways, etc.) and alterations to shorelines. http://ow.ly/DzRu50G1cjg
NOTE: It will be interesting to see how much of this applies when we finally get the promised report from Golder Associates on the proposed $70,000,000 Inner Harbour "clean-up" project.

4. Kingston to Continue "Weather-based" Overnight Winter Parking Pilot Program
Received Nov 8, 2023 from the Kingstonist – Michelle Dorey Forestell
"Kingston residents will again be allowed to park on the street overnight during December and March unless the City declares a weather event….
Before March 2022, on-street parking was prohibited between 1 a.m. and 7 a.m. from December 1 to March 31 on most streets throughout the city. That ban will continue to be in effect in January and February when snowfall is typically heavier….
If an overnight parking ban is declared during December and March, the City notifies residents, typically by 4 pm or earlier, through social media, via City news releases on the "Winter Parking" page of the City's website and with electronic sign boards on high-traffic thoroughfares."
Full article?https://www.kingstonist.com/news/kingston-to-continue-weather-based-overnight-winter-parking-pilot-program/

5. Councillor Voices Support for Community Standards By-law.
Received from the Kingstonist, Nov 8, 2023 – Opinion, Greg Ridge, Councillor, King's Town District
"On Labour Day, my wife was verbally accosted as we were unloading our young son from our car. The person screamed at her, calling her terrible misogynistic names while walking menacingly towards us. She asked that I do or say nothing, so we moved off the sidewalk, got our son strapped into his stroller in the road, and tried to make the best of our day. She and I were shaken.
I share this story with you because, as the Councillor for King's Town District, an area stretching from downtown Kingston north to the Waaban Crossing, I have heard stories like mine, and far worse, repeatedly. People have told me they feel unsafe.
There needs to be a change and it needs to be systemic in our policies and approach to these problematic behaviours."
Full article?https://www.kingstonist.com/culture/opinion/opinion-councillor-voices-support-for-community-standards-bylaw/
6. Council Votes to Regulate Salvage Yards to Better Control Copper Market
Received from the Kingstonist, Nov 10, 2023 – Tori Stafford
The motion, seconded by Councillor Gregory Ridge, pertained to the "dramatically increased" instances of reported metal thefts — particularly the theft of copper wire from telecommunications wires. The motion sought to have councillors approve of creating a licensing system for salvage yard businesses as "part of the ongoing staff review of City of Kingston Bylaw Number 2006-213, A Bylaw To License, Regulate And Govern Certain Businesses."
As previously reported, the motion also sought to:
direct Mayor Paterson to discuss options to regulate salvage yard business throughout the region with the Regional Mayors Council "in an effort to diminish the profitability of the sale of stolen metals."
have City Council call on the provincial government to enact legislation to regulate salvage yards "to limit cash transactions and require strict record keeping to assist police in locating and prosecuting offenders."
have City Council express concern over the treatment of copper wire theft in the courts, "which routinely grant bail to repeat offenders, given the serious implications these acts have on the safety of community members."
have City Council call on the Ontario government to invest more resources into the provincial court system "to prioritize public safety and to ensure that offenders are held accountable for the offences they commit."
have a copy of the full motion sent to Premier Doug Ford, Attorney General Doug Downey, and Minister of Municipal Affairs and Housing Paul Calandra.
Since the motion was moved by Paterson, procedurally he had the first opportunity to speak to it, which meant Deputy Mayor Gary Oosterhof, Councillor for Countryside, took the chair to read the motion and turn the floor over to Paterson. As expected, Paterson reiterated a number of the points that led to this motion, which were covered in Kingstonist's initial coverage of this matter. These included the recent events involving theft and vandalism at the Belle Park landfill site — which cost the City around $1.5 million — as well as incidents of inter-municipality metal thefts and sales regionally, such as the theft of bleachers at Loyalist Township's J. Earl Burt Memorial Park ball diamond, which were recovered and flagged by Kingston's ANS Scrap Metals. Paterson also referred to the in-depth discussions about metal thefts at the most recent Kingston Police Services Board meeting.
"We all know that copper theft has been an issue for a while, but it's clearly getting worse. And the fact that the effects of it are spreading, I think it calls for action," Paterson said to the councillors seated around the horseshoe.
"I am keenly aware and very hesitant to regulate if not needed, but in this case, a simple licensing would be enough to require all salvage yards to do the best practice that some salvage yards are already doing," he continued.
Paterson went on to note that regulations at salvage yards alone, even if across the region, won't address the second part of the issue: "There is a problem with the way that this has been dealt with in the courts."
"There is one individual who is involved in copper theft here in Kingston who has been caught 125 times and yet continues to be released on bail without facing any consequences for their actions," the mayor said. "I'm sorry, that's ridiculous. There has to be a change."
Full article? https://www.kingstonist.com/news/kingston-council-votes-to-regulate-salvage-yards-further-address-metal-thefts/
7. Lots of Fun Stuff Happening at the Library
https://calendar.kfpl.ca/events?r=thismonth
8. Santa Claus Parade Nov 18
https://downtownkingston.ca/blogs/upcoming-events/nighttime-santa-parade

9. Keewatin to Marine Museum of the Great Lakes at Kingston
SS Keewatin: Requiem for a CP Steamship, Railway Age, October 30, 2023. A survivor of Canadian Pacific's once vast marine operations has received a new home in Kingston, Ontario. The ship is the SS Keewatin, built in 1907, makes it one of the oldest surviving passenger steamships in the world. The Keewatin served from 1907 until 1965 on Canadian Pacific Steamships' Great Lakes service, between Port McNicoll and Port Arthur-Fort William (now Thunder Bay), Ontario. By 2024 the public should again be able to visit the Keewatin at Kingston.

INTERESTING STUFF FROM FARTHER AFIELD

10. Company transforms Great Lakes plastic into clothing, KTVZ, November 8, 2023. The mission to reduce, reuse, and recycle is on the mind of many nowadays. At just 17 years old, Jackson Riegler started a project that transformed plastic into clothing. Jackson founded Oshki in 2017. Oshki is a local business that transforms plastic from the Great Lakes and United States into durable, sustainable apparel. Oshki means "fresh" in Ojibwe, which is a tribe native to the Great Lakes. According to the Oshki website, Jackson chose the name to honor the Ojibwe people's sustainable lifestyle and their commitment to preserving the Great Lakes for future generations.

11.Scientists warn Earth warming faster than expected — due to reduction in ship pollution, CBC, November 3, 2023. A new study published in Oxford Open Climate Change, led by renowned U.S. climate scientist James Hansen, suggests one of the main drivers has been an unintentional global geoengineering experiment: the reduction of ship tracks. As commercial ships move across the ocean, they emit exhaust that includes sulfur. This can contribute to the formation of marine clouds through aerosols — also known as ship tracks — which radiate heat back out into space. However, in 2020, as part of an effort to curb the harmful aerosol pollution released by these ships, the International Maritime Organization (IMO) imposed strict regulations on shipping, reducing sulfur content in fuel from 3.5 per cent to 0.5per cent. The reduction in marine clouds has allowed more heat to be absorbed into the oceans, accelerating an energy imbalance, where more heat is being trapped than being released.

12. Looking for a Fix: Canadian Bill Boosts Right to Repair Movement
Received from CBC What on Earth, Nov 9, 2023
"When Wendy Jang's freezer wouldn't close, she went to great lengths to try to fix it. The manufacturer told her the part she needed — a magnetized piece on the inside of the door — couldn't be replaced. But Jang, a retiree living in Toronto, didn't want to give up.
"I did all kinds of silly things: I glued magnets to the door, but then I couldn't get that tight seal," she told What On Earth. "So I ended up dumping my fridge, because the magnet stopped working. That's it — a magnet."
It's a common frustration these days: Flimsy appliances and devices that can't be repaired. New and proposed legislation in Canada and around the world aims to address the problem of "planned obsolescence" — albeit from different angles.
The twin problems of affordability and sustainability have drawn attention to the issue of appliance durability lately, said Alissa Centivany, an assistant professor of information and media studies at Western University in London, Ont.
"We see lots of really extreme climate-related events happening here and elsewhere in the world," she said. "I think it's really causing many people to take notice of how their own … consumption habits are tied into these questions around environmental sustainability."
But Centivany, who's been researching product repairability since 2017, said that while individuals can do their best to keep their appliances working, manufacturers are ultimately responsible for their quality and fixability.
She said the quality of goods has been declining in the last several decades because of business strategies that prioritize turnover rather than durability. In recent years, the problem has become worse for another reason.
"Things that we normally wouldn't expect to be highly sophisticated or computerized, things like home appliances, our cars … are now full of little bits of computer code," she said. That embedded code is protected by copyright, she said, which prevents independent repair companies from being able to fix those products.
A bill that passed unanimously in the House of Commons in October could change that. Bill C-244, an act to amend the Copyright Act, is now before the Senate. If it passes, it would allow individuals or third-party repair companies to break digital locks in order to make software fixes.
This change is part of what's known as "right to repair" legislation, a broad spectrum of laws aimed at making goods more durable and fixable. In March, the federal government announced as part of Budget 2023 that it would work to implement a right to repair framework in 2024.
In an email to CBC, the Department of Innovation, Science and Economic Development said the government is doing pre-consultation work and that the right to repair in Canada could consist of different measures, including at the provincial and territorial levels.
Some provinces aren't waiting for federal direction. In early October, the Quebec government passed Bill 29, which is aimed at protecting consumers from planned obsolescence and promoting the durability, repairability and maintenance of goods.
Centivany said Quebec's law and the federal bill are a good start, but more is needed, including changes to competition law that could ensure that replacement parts, schematics and tools are more widely available.
Restraints on competition, she said, also block devices from being able to work with third-party parts. Recent legislation in Europe, which will force companies to use the same USB-C charging port for a variety of devices, including cellphones and tablets — a move aimed at reducing e-waste — is "a step in the right direction," Centivany said.
Kyle Wiens, founder of the online repair community iFixit and a longtime repair advocate, said the USB-C legislation demonstrates Europe's different approach to laws around repairability.
He said the U.S. and Canada tend to focus on making repair parts and information more available. For example, Wiens's home state, California, passed a right to repair act in October that will require manufacturers to enable individuals and independent experts to repair products themselves.
Europe, however, is more interested in forcing manufacturers to change the design of products to make them last longer. Wiens offered the example of cellphones with glued-in batteries, a design feature he compared to car companies selling vehicles with the tires welded on.
"None of us would put up with that with cars, but we do with cellphones," he said.
Europe is in the process of banning glued-in batteries — a move Wiens said could affect the rest of the world, since companies are unlikely to design two versions of devices for sale in different places.
Wiens hopes these different approaches underway around the world have a "ratcheting effect" that helps push repairability forward.
"We need to go back to a default assumption that things are going to be fixed," he said. "A circular economy based more around services and maintaining the products that we've already got would be much better for everyone."
— Rachel Sanders

Handicraft and Skills-based Gifts for Kids?
Received Nov 8, 2023
13. https://littlepinelearners.com/skills-based-gifts-for-children/
So that's it for November.
Cheers,
Mary Farrar, President,
Friends of Kingston Inner Harbour