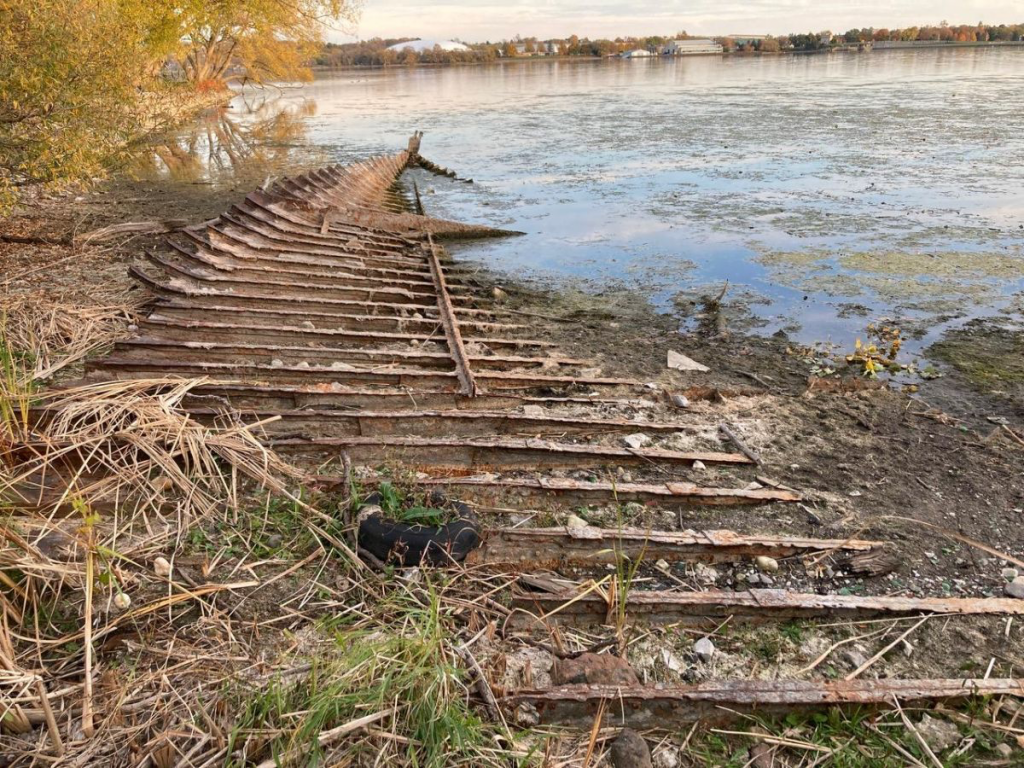 Dear Friends of Kingston Inner Harbour,
Trust you all had a fun Hallowe'en.
Such fun in McBurney Park and its surroundings!
And now it's November 1 – All Saints Day. The saints have dispatched with all the evil spirits of the previous night!
Thanks Ken Fisher for the pic of the skeleton of the barge in the Inner Harbour – so much more visible with the low water level. It is the only metal barge. There are also 13 wooden barges that were sunk in the bay in the early years of the twentieth century – sometimes visible if the ice conditions are just right in winter. Here's hoping for those conditions this winter.

LOCAL STUFF
1.  Quick Background Descriptions of Kingston's New Council
2. Sensient Technologies invests $400k in Inner Harbour Expansion
3. Are You Interested in Serving on One of the City's Boards?
4. UNESCO World Heritage Status Concerns
5. Sleeping Cabins Debate
6.Youth Imagine the Future – A Festival of Writing and Art
7 New Organization "Democracy in Kingston" Calls for More Transparency re Donors to Campaigns
8. Coalition of Kingston Communities pleased with Election Meetings
9. Message from KFL&A Public Health re Vaccinations for Flu and COVID
10. Utilities Kingston May Be Replacing your Water Heater
 
FROM FURTHER AFIELD
11. Real COVID Information from the Ontario Health Coalition
12. Cruise Ship Industry Basking in Banner Year for Great Lakes.
13. Happy 50th Birthday to the Clean Water Act.
14. IJC looks at how well governments are protecting the Great Lakes
15. Lake Ontario water levels lower than average this fall
16. Hydrogen call to action from Canada's port authorities
17. Ballast Water Management Reduces Flow of Invasive Species
18. Great Lakes Plastic Pollution Clean-Up Tech Robots
 
SOME FUN STUFF
19. What Chuck Commanda is up to these days with Lee Valley
20. Fun Stone Activities for Kids
 
LOCAL STUFF
1. Quick Background Descriptions of Kingston's New Council
Received from SpeaKingston via Facebook following the election
· 
"Congratulations to the municipal election winners!
Mayor: Bryan Paterson, incumbent mayor, and professor of economics, Royal Military College Kingston
Countryside: Gary Oosterhof (acclaimed), incumbent councillor, co-owner of Oosterhof Electrical Services Ltd.
Loyalist-Cataraqui: Paul Chaves, a soon-to-be-retired employee of Correctional Services of Canada
Collins-Bayridge: Lisa Osanic, incumbent councillor and executive assistant for the Ontario Ministry of Health
Lakeside: Wendy Stephen, elementary school teacher at Bayridge Public School and past NDP candidate for MPP
Portsmouth: Don Amos, executive director of the Seniors Association Kingston Region
Trillium: Jimmy Hassan, Pizza Pizza franchisee and CEO of the Canadian Colours Foundation
Kingscourt-Rideau: Brandon Tozzo, local OPSEU president and Trent University instructor
Meadowbrook-Strathcona: Jeff McLaren, incumbent councillor and property manager
Williamsville: Vincent Cinnani, web developer
Sydenham: Conny Glenn, kinesiologist and ergonomist
King's Town: Greg Ridge, finance officer at Queen's University
Pittsburgh: Ryan Boehme, incumbent councillor and journey person with Utilities Kingston.

2. Sensient Technologies invests $400k  in Inner Harbour Expansion
Received from the Kingstonist, Oct 17, 2022 – Jessica Foley
NOTE: Sensient Technologies occupies the large red brick building behind the rowing club.

"Members from Sensient Colors Canada and the Kingston Economic Development Corporation at the Sensient Food Colors Canada facility..On Monday, Oct. 17, 2022, Sensient Technologies Corporation announced the expansion of Sensient's natural colour production capabilities at the company's River Street facility here in Kingston.

According to a release from the company, Sensient invested more than $400 thousand dollars in advanced natural colour dispersion equipment to meet the growing demand for higher-performing natural colours.
"The expansion in Kingston allows Sensient to further strengthen its natural colour capabilities, and better serve key end markets including bakery, ice cream, confectionary categories in North America. Our Kingston site was the logical choice for this investment because of the high skill level and flexibility of our production team," stated Mike Geraghty, President of Sensient Colors.
Sensient Technologies Corporation is a leading global manufacturer and marketer of colours, flavours, and other specialty ingredients, headquartered in Milwaukee, Wisconsin. According to the release, Sensient uses advanced technologies and robust global supply chain capabilities to develop specialized solutions for food and beverages, as well as products that serve the pharmaceutical, nutraceutical, cosmetic, and personal care industries. Sensient's customers range in size from small entrepreneurial businesses to major international manufacturers representing some of the world's best-known brands.
This expansion will see the company adding new jobs over several phases to support growing production. Over the past three years, Sensient has doubled production volume at its Kingston site, and services food manufacturers across Canada and the United States, according to the release. The new production line expands Sensient's leading portfolio of natural colour dispersions, especially vibrant blues and greens.
Sensient Colors Canada and the Kingston Economic Development Corporation celebrated the commissioning of the new production line with a formal ribbon cutting at the Sensient Food Colors Canada facility.
"It has been rewarding to watch Sensient establish a strong presence in Kingston and continue to grow and increase their workforce," said Donna Gillespie, CEO of Kingston Economic Development Corporation. "This expansion marks a milestone for Kingston's thriving food processing sector and we will continue to support their growth and success in Kingston."

3. Are you interested in serving on one of the City's boards?
Received from the City of Kingston in October 
"Great minds don't think alike – they think together. 
We are seeking passionate people in the community to volunteer for City of Kingston advisory committees, boards and commissions and we'd love your help to share the message below with residents in your neighbourhood. 
Volunteering on a City of Kingston advisory committee, board and commission is an opportunity for residents to share their lived experiences and knowledge to make a difference on important issues in the community.
From Oct. 31 to Nov. 11, eligible residents are encouraged to submit applications to serve on the following committees:
 
Appeals Committee
Arts Advisory Committee
Committee of Adjustment
Equity, Diversity and Inclusion Advisory Committee
Housing and Homelessness Advisory Committee
Kingston Environmental Advisory Forum
Kingston & Frontenac Housing Corporation Board
Kingston Frontenac Public Library Board
Kingston Police Services Board
Municipal Accessibility Advisory Committee
North King's Town Community Working Group
Rural Advisory Committee
Kingston Area Taxi Commission
Planning Advisory Committee
 
Specific mandates for each of the committees are available at www.CityofKingston.ca/Committees.
As part of a one-year pilot program approved by City Council, public members of the Housing & Homelessness Advisory Committee who are not serving as representatives of organizations or businesses where they are employed will be eligible to receive an honorarium of $100.00 per meeting attended. The pilot program will include all meetings held in 2023.
Submit your application
Online at www.CityofKingston.ca/Committees
By calling 613-546-0000 to request a paper application. We will provide a postage-paid envelope to return the application to City Hall.
At City Hall, 216 Ontario St. in the City Clerk's Department.
Applications are due by 4 p.m. on Friday, Nov. 11."
More info? Iain Sullivan, Committee Clerk, City Clerk's Department
613-546-4291, x 1864 or isullivan@cityofkingston.ca
| | |
| --- | --- |
| 4. UNESCO World Heritage Status Concerns re Tannery and Inner Harbour "Clean-Up". | |
NOTE: Although this is old, from 2019, it is a bit of a glimpse into some of the concerns that should be considered when it comes to both the Tannery development and the radical dredging in the Inner Harbour proposed by Transport/Parks Canada. As Kerry Hill has pointed out so brilliantly, there is a difference between contamination and pollution. Yes, there are contaminants but they do seem to be mostly inert. Dredging and capping could reactivate them causing more damage than good in addition to making a mess of the Inner Harbour during the process. We will be examining these issues further in subsequent updates.
"Culture Sector World Heritage Centre Ref.: CLTNVHC/EUR/19/12234 H. E.
Ms Elaine Ayotte Ambassador Permanent Delegate of Canada to UNESCO
UNESCO House 4 November 2019
Subject: State of conservation of the World Heritage property 'Rideau Canal'

Dear Ambassador,
I wish to inform you that ICOMOS has reviewed the two proposed development projects of Chateau Laurier and the Rideau Marina in the direct vicinity of the World Heritage property 'Rideau Canal'.
Please note that ICOMOS concludes in its review that the proposed Chateau Laurier and Rideau Marina developments could have a significantly negative impact on the Outstanding Universal Value (OUV) of the property and should not proceed until their full impacts have been assessed. ICOMOS therefore advises the State Party to undertake a Heritage Impact Assessment as well as a Visual Impact Assessment (HIAIVIA) for both the Chateau Laurier and Rideau Marina development projects individually.
The State Party is invited to share these assessments with the World Heritage Centre for review by the Advisory Bodies before adopting its conclusions. I would be grateful if you could share the enclosed ICOMOS Technical Review (see Annex I) with your relevant national authorities for their consideration and keep the World Heritage Centre informed of ways by which these comments are being taken into account.
Please note that ICOMOS remains at the disposal of the State Party to respond to any requests for clarification or further technical assistance. Furthermore, I wish to inform you that the World Heritage Centre continues to receive third party concerns regarding the state of conservation of this World Heritage property, and in particular concerning the proposed development of Chateau Laurier. We are enclosing this information (see Annex II) in accordance with paragraph 17 4 of the Operational Guidelines to enable us to verify, with your authorities concerned, the source and content of the information that we have received.
Thanking you for your support and cooperation in the implementation of the World Heritage Convention,
I remain,
Yours sincerely,
Mechtild Rossler
Director cc: Canadian Commission for UNESCO National Focal Point for World Heritage ICOMOS

5. Sleeping Cabins Debate
NOTE: We at FKIH take the liberty of posting some items directly from the Kingstonist.
There is much more on their site. We encourage you to subscribe directly for a minimal fee.
Here is their plea:
---
…Can we take two minutes of your time?
More Kingstonians than ever are relying on Kingstonist for their local news. But we need your help to keep it going.
A few years ago, two big media conglomerates, Torstar and Postmedia, "swapped assets" and promptly shuttered one of Kingston's main newspapers. We saw talented journalists displaced and years of recorded Kingston history destroyed by a decision made in another city, with interests not grounded in what was best for the Kingston community.
And we resolved that we would not permit that to happen again.
That's when we decided to take the Kingstonist, at that time a popular Kingston community blog, and reimagine it as the dedicated, independent local news provider you see now.
Today, businesses everywhere are struggling under the burdens of COVID-19, and we are no different. So we're asking you to support us. Help us in our mission to: hold our local governments accountable; provide voices for those fighting against social injustice; fight against misinformation; and provide news not censored by the influence of corporate bias.
We believe that access to news is an integral component of a healthy community. If you believe the same, click here to subscribe to Kingstonist.

Received from the Kingstonist, Oct 17, 2022
Kingstonist Editorial note: The following is a submitted opinion piece.
The views and opinions expressed do not necessarily reflect those of Kingstonist.

"For the past year, Kingston has been debating 'sleeping cabins' for people who are homeless, the funding from the City, and where the cabins should be located. We seem to be no closer to resolving basic questions posed last Fall (2021) when cabins were first approved with funding for the Portsmouth Harbour location in the winter. At that time, it seemed that 'heated' sleeping cabins were to provide a warmer place to sleep for some homeless people living outdoors during the winter, possibly as a form of 'harm reduction' (such as freezing to death).
Homeless people have used the cabins at Portsmouth Harbour and then at Centre 70 for the summer. Now, the cabins have been moved back to Portsmouth Harbour and Council already approved adding more cabins. City Council asked staff to find a 'permanent,' year-round location with nearby bathroom and kitchen facilities. So, it seems that the cabins will provide permanent, year-round living if people choose to stay there rather than moving back to tents or encampments.
We may be losing sight of the fact that these cabins are not 'housing,' 'homes,' or 'tiny homes,' nor 'shelters, transitional or supportive housing.' The Social Planning Council of Kingston & District (SPCK&D) suggests that we need to discuss the purpose of cabins and the question 'Where do people in cabins go next?' Only then can we determine if this is a cost-effective way for the City and the community to create alternatives for some people experiencing homelessness.
The full costs for the existing cabins have not been clear. These direct costs include: the actual cost of a cabin structure outfitted with a bed, the moving and set-up cost for the cabins, utility costs to heat them and the nearby building with bathroom and kitchen facilities, insurance costs, staffing costs to run the cabins, and all the food and other items donated by the community. Rental costs for the actual sites have been avoided by using City-owned property, but the costs of property maintenance and upkeep are the City's responsibility. The costs for City staff time to work with the cabin operators and prepare reports to Council have also been considerable. Volunteer time from community groups helped enhance services and make cabins more useful.
However, if the full costs to the City and the community were known, it may have been less costly to provide some 'rent top-up' money to help the same number of people obtain some actual housing.
When we asked some of the people in the cabins where they expect to go next, their answers were that they do not expect to find places to live. In their words, the cabins are not intended to help them find housing – cabins are simply an alternative to living outdoors in tents or encampments. For people who adapt to cabin-life, this becomes a final destination for as long as Kingston covers the costs for a few permanent cabin residents.
This poses difficult questions for the cabins no matter where the buildings are located. The SPCK&D would highlight four broader questions for the community to consider.
First, like other Canadians, people in the cabins have the 'right to housing,' according to the new federal housing act and under the National Housing Strategy. As cabins do not fit any definitions of housing or homes, the rights of the residents are not being addressed. Likewise, the cabins are not aligned with provincial tenant rights laws or municipal by-laws for residential buildings. So, how can the cabins be aligned with all these basic rights?
A second dimension relates the purpose of the cabins. It appears that cabins may help create communities with mutual support. If groups of residents could move together to housing, could this make way for other homeless people in dire need next winter?
Thirdly, is 'harm reduction' in winter a strong enough goal for cabins? Other alternatives include goals for 'recovery' or reintegration into the community. Could cabins also help support pathways to housing and assist people who stay in cabins to consider other alternatives?
Lastly, do people in the cabins have access to other assistance such as 'housing first' offered to people who use shelters? Could community support workers help improve access to housing alternatives for cabin residents? Then, cabins could be part of the larger network of services for people who are homeless.
Until these questions are resolved, sleeping cabins may remain an isolated, self-contained entity, operating on the fringes for a distinct, small group of homeless people with no right to housing or any alternative. As such, the associated costs to the City and the community could be difficult to justify on a sustainable track.
Patricia Streich
Chair
Social Planning Council of Kingston and District

Letter in Response
Kingstonist Editorial note: The following is a submitted letter to the Editor in response to a recently-published submitted op/ed article entitled 'Opinion: Kingston's Sleeping Cabin debate' (Monday, Oct. 17, 2022). The views and opinions expressed do not necessarily reflect those of Kingstonist.

We would like to thank the Social Planning Council for taking interest in our sleeping cabin community and in solutions to homelessness in general. We believe in transparency and accountability, especially when public funds are involved. In 2021, I helped instigate and contributed towards the first ever Value-for-Money Audit by Ontario's Auditor General of Ontario. (https://www.auditor.on.ca/en/content/annualreports/arreports/en21/AR_Homelessness_en21.pdf) It is hoped that the continued review of programs and funding through the Auditor General will help lead Ontario towards more effective and successful solutions for those experiencing homelessness.
When we advocated for a cabin community with people experiencing homelessness, we had hoped that an existing social agency would accept the challenge and take the risk of trying something completely new for Kingston, designed by those looking for support. Unable to find a willing agency, we accepted the challenge ourselves and built the cabin community and our not-for-profit organization. Providing a safe, warm place to rest and stabilize for people often left behind is very rewarding work but this effort has not been without hiccups, and has created a number of learning opportunities for our residents, staff, advisors, Board, neighbours and the city.
The cabin community is considered 'Transition Housing' in the continuum of homelessness supports, as is Dawn House, Ryandale, and Tipi Moza. Our cabin community is the lowest barrier and most accessible transition housing option for those experiencing homelessness. Residents have 364 days to stabilize, rebuild themselves and find permanent housing. The supports surrounding each resident are individualized and determined by the resident's self-identified needs. We coordinate access to other agencies for housing, addiction and mental health, physical health, Indigenous medicine, dental services, counselling, legal services, court issues, probation, identification, and income, and we have assisted most residents in reconnecting with family members. Enabling all of these kinds of supports can only happen with collaboration with many other partner agencies such as Addictions and Mental Health Services (AMHS-KFLA), Home Based Housing, Trellis, Ongwanada, Kingston Community Health Centre (KCHC), Street Health, KFL&A Public Health, Partners in Mission Food Bank, Salvation Army, Community Friends in Motion, Martha's Table, Home and Community Care Support Services, Service Canada, Service Ontario, the Government of Ontario, and the City of Kingston.
Like all transition housing, our cabins do not fall under the Residential Tenancies Act. Despite this, we try to operate as close as possible to an environment residents should expect once they're in permanent housing. Residents sign a Participation Agreement, which is written in plain language and includes information about their rights and responsibilities. Policies and written behaviour warnings refer to relevant sections in the signed Participation Agreement. At our own instigation, we have undergone an independent program review by Queen's Faculty of Health Sciences, which has been released to the City of Kingston, the first of its kind for Kingston. We have also just completed an internal program review, which included confidential interviews to gather feedback from both residents and staff, and we are currently conducting a governance review. In less than a year of operations, we have participated in three self-instigated evaluations to ensure we are operating in a way which honours our residents and our objectives.
Our sources of funding have been well documented within City of Kingston and Kingston City Council public records, limitations on allowed expenses are outlined in our contract with the City of Kingston, and, like all social agencies receiving funding through the City of Kingston, our financials will be reviewed and reconciled with the City of Kingston. Also, like all not-for-profit agencies, end-of-year tax auditing by an accountant will be conducted and, once completed, we will be able to release our financials publicly. Due to the use of municipal properties, there are some expenses not visible to our organization — it will be up to the City of Kingston to release this information.
In less than a year, we have established ourselves as a source of guiding information and documentation for other communities interested in building similar cabin initiatives. We have lent our model cabin — which exists thanks to Cancoil's team and their friends and family — to Peterborough and Cobourg, and shared as much as we are able with groups in Woodstock, Guelph, Hamilton, Northumberland, Niagara, Kitchener, Belleville, and Toronto. We invite anyone interested to come visit our community, speak with our residents and staff, and gather as much information as they would like. The Social Planning Council is also most welcome to spend some time at our cabin community to have their questions answered directly.
We are challenged with unacceptably low social incomes, scarce attainable, accessible, and supportive housing, and extremely long waitlists for long term care residences. While our residents wish for a permanent place to call home, the reality is that we are operating in a housing environment which is not keen to fulfill wishes. We are also challenged with overburdened and underfunded support agencies with long waitlists to receive needed supports. Especially with the current challenges facing the people we support, it is important to continuously evaluate the entire homelessness continuum to ensure those who need our support the most are being served with dignity and respect with diverse programs which offer the best possibility of success while supporting individual needs.
I'd like to add kudos to the team, three of whom have have eliminated their own dependency on social income/ODSP. All of those on the team have various forms of lived experience. It's a strong team with a wealth of knowledge and compassion, and their hard work has helped the cabins — and those who live in them — find stability and success.
We hope the Social Planning Council opens discussion to consider the entire homelessness continuum. It's our opinion that one of the missing pieces is an individual or agency who understands all of the moving parts and can recommend changes to fill gaps and eliminate duplications. The Social Planning Council may be well positioned to participate in this kind of endeavour.
Chrystal Wilson
Executive Director
Our Livable Solutions

6.Youth Imagine the Future – A Festival of Writing & Art
Received from Jerri Jerreat, mid October, 2022
"Looking for local artists to be on a jury for the
"Youth Imagine the Future – A Festival of Writing &Art.
This is a volunteer position. The jury will be needed in November.
Criteria list/Rubric for jury members to use is posted on the website under "Criteria List".
See website:youthimaginethefuture.comStudents, aged 13-18 in the region covered by the Limestone and Algonquin School Boards will research green solutions to the climate crisis in one place in the world, and create a piece of art (50 cm wide) to show us their imagined future in that place.
There will be loads of prizes.
If you have teens do pass this on and ask them to spread the word too.
Contact: Jerri Jerreat – jjerreat@gmail.com
News article:https://www.kingstonist.com/news/festival-asks-local-students-to-imagine-a-world-without-fossil-fuels/

7 New Organization "Democracy in Kingston"
Calls for More Transparency re Donors to Campaigns
Received from the Kingstonist Oct 21, 2022 – Dylan Chenier
NOTE: Although the election is over, in our opinion this issue is still worth considering.
Earlier this week, Democracy in Kingston — a grassroots citizen-led organization dedicated to strengthening democracy in the city of Kingston — called on candidates in this year's municipal election to release the names of their financial donors ahead of next Monday's election day. "Democracy in Kingston believes that electors need to know that candidates will be accountable to all the voters, not just those who have no problem writing big cheques," the organization said in a press release signed by 13 local residents, including several former City councillors.
By law, municipal candidates are required to file a list of donors who contribute more than $100 to their campaign. These lists are to be finalized once the election period is over. For the 2022 municipal campaign, candidates have until March 31, 2023 to file their initial financial statements with the City. While this process establishes official lists of campaign contributions, it does not give voters a sense when they go to cast their ballot on election day of who is supporting the various candidates, Democracy in Kingston and pro-transparency consituents argue.
In past campaigns, some candidates have chosen to release the names of their donors ahead of time, providing updated lists of contributions throughout the election period. "I was glad to have my donations made public," said food security activist Elaine Power of her contributions to campaigns, who was quoted in Democracy in Kingston's media release. "That's because we should know before we vote which candidates will work in the best interests of everyone. Not just realtors, developers, and other special interests."
In their press release, Democracy in Kingston noted several local candidates who have committed to sharing their donor lists ahead of next Monday's election: current Councillors Lisa Osanic (Collins-Bayridge) and Jeff McLaren (Meadowbrook-Strathcona), as well as new candidates Annette Burfoot (Williamsville), Paul Chaves (Loyalist-Cataraqui), and Gregory Ridge (King's Town).
Of the candidates included in the organization's release, Osanic, McLaren, Burfoot and Ridge have added donor lists to their website, while Chaves noted a single $200 donation on his campaign Facebook page.
"I think the initiative is important because it is another level of information that voters can review, allowing them to make a more informed decision about who they vote for," Ridge said in a statement to Kingstonist. "Transparency is important to the democratic process, and increasing that transparency can empower voters."
Since the group issued its call to action, a number of additional candidates have begun to publicize their donor lists. Portsmouth District Candidate Oren Nimelman shared a list of his contributors to the r/KingstonOntario subreddit. In a statement posted online, Nimelman said, "The call for candidates to make their normal disclosures during the race was spurred by the fact that there was a pattern during the 2018 race where several developer-landlords systematically donated to candidates whom they clearly thought would act in their best financial interests," referring to information shared by Democracy in Kingston, which shows specific donors and their contributions.
Other candidates who have publicly shared their donor lists include Vincent Cinanni (Williamsville), Ian Clark (Williamsville ), Tom Gingrich (Kingscourt-Rideau), Conny Glenn (Sydenham), Michael Judd (Kingscourt-Rideau), Rami Maassarani (Sydenham), Colleen Murphy (Portsmouth), Brandon Tozzo (Kingscourt-Rideau) and Zachary Typhair (Portsmouth).
It should be noted that of the four candidates for mayor of Kingston, Tina Fraser is the only one to respond publicly to Democracy in Kingston's release. On her website, Fraser states, "I have zero donors and did not ask for any donations (financial or in-kind) as I am not buying anyone's vote."
Any candidates who have disclosed their donor/contribution lists publicly who are not included in this article can contact Editor-in-Chief Tori Stafford via email directing to where that information can be found, and this article will be updated to include those candidates.
Democracy in Kingston Members:
Susan Belyea, Resident of Kingscourt Rideau District
Helen Cooper, Former Mayor of Kingston, resident of Sydenham District
Pamela Cornell, Resident of King's Town District
Roberta Hamilton, Resident of Sydenham District
Pat Hodge, Former city councillor, resident of Williamsville District
Tara Kainer, Resident of Williamsville District
Samantha King, Resident of Kingscourt Rideau District
Margaret Little, Resident of Kings Town District
Allan Manson, Resident of Pittsburgh District
Beth Pater, Former city councillor, Resident of Sydenham District
Kip Pegley, Resident of Kings Town District
Elaine Power, Resident of Meadowbrook-Strathcona District
Jamie Swift, Resident of Kings Town District
For more information on Democracy in Kingston, visit their Facebook page, or contact the organization via email at democracykingston@gmail.com.

8. Coalition of Kingston Communities Pleased with Community Meetings
The Coalition of Kingston Communities is pleased to report that the all-candidates meetings held throughout the city were a tremendous success, thanks to the candidates who participated and addressed a range of important issues, the moderators who did an excellent job running the meetings to ensure they were fair, and of course, the public, who came out, listened, and asked excellent questions.

In total, there were 13 meetings throughout Kingston.
Community organisations hosted 6 in-person meetings for their districts.
The Coalition organised 7 meetings, holding them on Zoom for the first time, to ensure that voters could engage with candidates in every election race.
All candidates participated in the meetings, with the exception of Bryan Paterson, who is running for Mayor, Ryan Boehme, running in Pittsburgh, and Joel Thompson in Collins/Bayridge.

Issues discussed at the different meetings included:
– poor condition of roads and sidewalks
– unsympathetic infill projects with adverse consequences for neighbours, e.g., drainage
– how best to increase the tax base and issues of intensification
– traffic and speeding problems
– how to make Kingston truly inclusive of all generations, racial and ethnic groups
– truth and reconciliation with Indigenous peoples

9. Message from KFL&A Public Health re Vaccinations for Flu and COVID
Received from the Ontario Ministry of Health, Oct 24, 2022
COVID-19 Booster Dose
I am writing to you as your Chief Medical Officer of Health to strongly recommend that you get your COVID-19 booster doseas soon as possible, as an individual at higher risk of severe COVID-19 illness due to your age.
The bivalent booster currently available in Ontario better protects against the circulating COVID-19 variants and can help restore protection that may have decreased since your last dose. This will help ensure you have the best protection as the cold weather sets in and you spend more time indoors. Please note that if you have had COVID-19 recently, you should wait until three months after symptom onset or a positive COVID-19 test before getting a booster dose.
You can book your booster dose through:
– the Provincial Vaccine Contact Centre at 1-833-943-3900 (TTY for people who are deaf, hearing-impaired or speech-impaired: 1-866-797-0007), for appointments that are three months or more since your last dose
– the COVID-19 vaccination portal at https://www.ontario.ca/book-vaccine/, for appointments that are six months or more since your last dose
– public health units using their own booking system https://www.phdapps.health.gov.on.ca/phulocator/
– participating primary care providers
– participating pharmacies at https://covid-19.ontario.ca/vaccine-locations
– Indigenous-led vaccination clinics
– the GO-VAXX bus and mobile or pop-up clinics (for ages five and older)
– hospital clinics (for ages five and older, visit your local hospital or public health unit for booking details, if available in your region)
Flu Shot
I also strongly recommend you get a flu shot as soon as possible. This will provide additional protection this respiratory illness season. As an individual at higher risk of severe illness from flu, due to your age, you are eligible to receive your flu shot now. Please contact your local pharmacy or primary care provider to get your flu shot. COVID-19 doses and flu shots can be received at the same time, where available.
Learn more at https://www.ontario.ca/page/flu-facts
Antiviral Medications and Testing
If you are eligible (https://www.ontario.ca/page/covid-19-testing-and-treatment) for PCR or rapid molecular testing, you should seek out testing as soon as possible if you develop COVID-19 symptoms. Free rapid antigen tests are still available to the general public through participating retailers.
Antiviral medications such as Paxlovid are available at no cost, by prescription, to symptomatic, COVID-19 positive individuals at higher risk of severe COVID-19. Treatment must be started within five days of your symptoms starting.
For more information, visit https://www.ontario.ca/page/covid-19-testing-and-treatment
Together we can work toward protecting you and your loved ones this fall.
Thank you,
Dr. Kieran Moore, Ontario's Chief Medical Officer of Health

10. Utilities Kingston May Be Replacing your Water Heater
Received from the Kingstonist, Oct 28, 2022 – Jessica Foley
Utilities Kingston wants customers to know that Neptune Technology Group will visit homes and businesses in Kingston in order to replace end-of-life water meters, according to a release from the City of Kingston.Affected homeowners will receive a pamphlet in their mailbox.
The City said that the utility company thanks customers for their support of its water meter replacement project. Since October 2015, Neptune and Utilities Kingston have worked together to replace 16,000 end-of-life water meters in Kingston, ensuring the continued accuracy of metering equipment, according to the release.
Neptune will replace 3,532 water meters in 2022, the City stated, noting that the technicians will always be in uniform and carry photo identification. In addition, all Neptune technicians will be issued with Utilities Kingston contractor ID.
According to the City, most of the meter replacements will take place on an appointment basis. Customers are asked to watch their physical mailbox for a coloured pamphlet from Neptune. According to the release, when you receive the pamphlet, it means that meter installers are in the area, and you have two weeks to schedule an installation appointment with Neptune. The communication will include details on how to book and prepare for the appointment.

The City provided the following notes:
TENANTS: Tenants are encouraged to either follow the instructions to book an appointment, or to notify their landlords that they have received a notice.
LANDLORDS: Landlords are ultimately responsible to ensure these mandatory water meter replacements are completed in their buildings.
Customers who don't receive a communication from Utilities Kingston or Neptune in their physical mailbox will not be impacted by this program at this time, and don't need to take any action, the City explained. According to the release, Neptune will go door-to-door when attempts to make an appointment are unsuccessful. Customers are encouraged to always ask people going door-to-door for identification.
Learn more about what to expect with the water meter replacement program by visiting www.utilitieskingston.com, or by calling Neptune at 1-800-667-4387 or Utilities Kingston customer service at 613-546-0000.

FROM FURTHER AFIELD
11. Real COVID Information from the Health Coalition
Received Oct 21, 2022 from theOntario Health Coalition via <ontariohealthcoalition@list.web.net>
New report on the spread of COVID, LTC outbreaks, hospitalizations & deaths raises red flagsdespite the Ford government's suppression of COVID Data

Toronto – The Ford government has ceased regular reporting on the spread of COVID-19. Public Health no longer publishes daily and weekly epidemiologic reports and it has become steadily more difficult to get accurate numbers. Not only are the government and Public Health not reporting much of the data previously available, they have also cut testing and abandoned trace and isolation measures. Regardless, there is some data available and infectious disease specialists have taken up the challenge of identifying transmission of the virus using wastewater, serology and other evidence.The Ontario Health Coalition released a report today in plain language to give the public a clearer idea of the risks. The data the Coalition found on long-term care and hospital outbreaks, hospitalizations, community spread and deaths should raise red flags. The abandonment of all public protections against the transmission of the virus is resulting in loss of health and death for a significant number of Ontarians.

On December 31, 2021, the Ontario government heavily restricted access to public PCR testing. This meant that a very small percent of the population could get access to PCR testing resulting in a significant underreporting of positive cases. The end of public testing has ushered in a new era of data suppression in which regular Ontarians had no way of knowing how prevalent and dangerous the spread of COVID-19 was in our communities.

From the week of Oct 2- Oct 8, there were only 66,177 tests done resulting in 8,929 confirmed cases. For context, there were 435,213 tests performed from the week of Dec 26, 2021-Jan 1 2022, the last week prior to the strict rationing of public testing.

Dr. Tara Moriarty of Moriarty Labs, an infectious diseases research laboratory studying blood borne pathogens, and a group of doctors and researchers created COVID-19 Resources Canada in order to provide more information to Canadians. They have used the best available data to calculate the spread of COVID-19 including wastewater surveillance, seroprevalence and in some provinces, self-reporting to give an accurate depiction of COVID-19 in our communities.

Their key findings include:

There were 68,910 new COVID-19 cases in Ontario on October 14, the most recent day reported. That is 68,910 new cases in one day. That is 44 percent of the new daily infections in Canada. (Note: Ontario has 39 percent of Canada's population but 44 percent of daily new infections on the most recent date reported.)

COVID-19 remains a serious and potentially fatal pathogen:
· 7,235 of those infected on October 14 will have significant symptoms that will last more than 4-weeks and will limit their daily activity.
· 389 Ontarians are predicted to have been hospitalized for COVID-19 on October 14.
· As of October 14, 1 in 32 Canadians either have COVID-19 or are still suffering from symptoms of COVID-19 and 3.5% of Ontarians have COVID-19 or are still suffering from COVID-19 symptoms.

Long-Term Care COVID-19 Outbreaks Update

On October 12, the Ontario government COVID-19 website reported 152 active outbreaks with 1,526 active resident cases and 480 active staff cases. 11 long-term care residents died from COVID-19 on that date. There are 626 long-term care homes in Ontario, which means that approximately 1 in 4 homes are in outbreak.

Deaths in Ontario's LTC homes for the previous week:
October 12: 11 deaths
October 11: 1 death
October 10 1 death
October 9: missing data
October 8: 10 deaths
October 7: 4 deaths
October 6: 9 deaths

The Ministry of Long-Term Care statistics have always been lower than Public Health Ontario data (for which they recently stopped reporting detailed breakdowns). It is evident that they are still underreportingbecause on October 8, Public Health reported 161 active outbreaks compared to the 152 active outbreaks reported by the provincial government. This may be the last update with reliable information in LTC because as of October 14, the Ministry of Long-Term Care has issued new guidance limiting testing to symptomatic residents, removing the requirement for testing on admission, and changing the definition of an outbreak to two or more residents with a known epi-link. Staff infections will no longer contribute to an outbreak and homes are now going to be self-reporting their cases.

Large Outbreaks in Long-Term Care
Most Public Health Units are not listing the cases and deaths in LTC anymore. In our research we found that only Sarnia-Lambton, Chatham Kent, Southwestern, York, Huron-Perth, Waterloo, Windsor Essex, Peel and North Bay Parry Sound Public Health Units (PHUs) report the number of cases associated with outbreaks.
NOTE from FKIH: We have not included the data from across the province. It took up too much space.

Hospital Update
As of October 20, there are 121 active outbreaks in Ontario's 141 Hospitals according to the Ontario government. This includes multiple outbreaks in some hospitals.

Local Public Health Unit Updates
NOTE from FKIH: We have not included data from the entire province. Again, it took too much space.
COVID-19 Cases in our Communities
On average 19 active outbreaks per day.

Ottawa: As of October 16, there were 873 active confirmed cases of COVID-19, 36 of which are currently getting treatment in a hospital. There are currently 68 active outbreaks.

Hastings Prince Edward: As of October 18, there were 189 active confirmed cases, 35 of whom are currently hospitalized with COVID-19 and 3 are in ICU. There are 14 active outbreaks in Hastings-Prince Edward's long-term care, hospitals and retirement homes.

Leeds, Grenville and Lanark: As of October 18, there were 226 new confirmed cases, 15 people were hospitalized with COVID-19, 5 were in ICU and 1 was on a ventilator. There are 15 active outbreaks with 242 cases associated with them in the area's hospitals, congregate care and community living facilities.

Kingston Frontenac Lennox & Addington: As of October 18, there were 415 active confirmed cases, 24 of whom were hospitalized with COVID-19 and 6 were in ICU. There were 11 active outbreaks in KFL&A's hospitals, long-term care, retirement homes and group homes.

Eastern Ontario: As of October 18, there were 16 people hospitalized for COVID-19, 3 of whom were in ICU. There were 12 active outbreaks in Eastern Ontario's facilities.
—
We are proud of the difference we make and we hope you are too. This work is only made possible by people who care like you. Please do become a member or donate. It matters!
If you can, please CLICK HERE to donate or become a member.

Ontario Health Coalition, 15 Gervais Drive, Suite 201, Toronto, ON M3C 1Y8
Facebook, Twitter, Instagram, , www.ontariohealthcoalition.ca, 416-441-2502
NOTE: There is so much valuable information from the Ontario Health Coalition it really is worth subscribing directly! I really wanted to include several other of their recent posts but simply didn't have the space.

12. Cruise ship industry basking in banner year for Great Lakes, CTV News, October 8, 2022. The cruise industry is experiencing a banner year after one of the busiest seasons it's ever had in the Great Lakes. "This was the strongest year on record, in the last twenty years that I've been involved with cruise ships on the Great Lakes," Bruce O'Hare, president of Lakeshore Excursions, told CTV News.

13.. Happy 50th birthday to the Clean Water Act, State of Michigan, October 18, 2022. Today marks the 50th birthday of one of the most important environmental laws in the nation's history, the federal Clean Water Act (CWA). The CWA took effect October 18, 1972, regulating discharges of pollutants into U.S. waters and setting quality standards for surface waters. Now, 50 years later, Michigan is celebrating the anniversary of this landmark legislation with several activities including a proclamation by Governor Gretchen Whitmer that the year beginning October 18, 2022, is the Year of Clean Water in commemoration of the 50th anniversary of the CWA.

14. IJC looks at how well governments are protecting the Great Lakes, Blackburn News, October 20, 2022. The International Joint Commission (IJC) is looking for public input into the efforts of the Canadian and American governments to improve water quality in the Great Lakes. IJC Public Affairs Specialist Allison Voglesong Zejnati explained that, once every three years, governments issue their own progress reports and it is the International Joint Commission's responsibility gather public input on those reports.

15. Lake Ontario water levels lower than average this fall, WRVO, October 24, 2022. Lake Ontario currently has lower water levels than the past two years, but officials say there is no need to worry. Lake Ontario's levels are currently just below the historical average, and just about a foot lower than at this time last year.

16. Hydrogen call to action from Canada's port authorities, The Hill Times, October 27, 2022 (subscription required). The global energy transition is well upon us, and it seems many countries are knocking on Canada's door. Decarbonization, market forces, and geopolitical upheaval are driving this generational shift. All eyes are on ports, with many of these foreign delegations and private entities approaching ports to partner and move energy. For Canada Port Authorities (CPAs) – the 17 federally owned ports operating at arm's-length of government – they would likely have a central role to play in terms of storing, loading, and even producing the hydrogen, ammonia and liquid natural gas (LNG) that foreign markets are seeking.

16. Comment: Transport firms are stuck on the runway on climate action. We need lift-off, Reuters, October 31, 2022. As one of the highest carbon emitting sectors globally, contributing 37% of end-use CO2 emissions, it is critical for the transport sector to accelerate their progress on decarbonisation. Yet worryingly, our new research finds that only six out of 90 (less than 7%) of the most influential transport companies around the world have committed to phasing out fossil fuels. Such limited progress is alarming.

17. Ballast Water Management Reduces Flow of Invasive Species
https://theconversation.com/ballast-water-management-is-reducing-the-flow-of-invasive-species-into-the-great-lakes-190880?utm_medium=email&utm_campaign=Latest%20from%20The%20Conversation%20for%20October%2013%202022&utm_content=Latest%20from%20The%20Conversation%20for%20October%2013%202022+CID_e5db1eda608cb2ce25a0d801a7a98eea&utm_source=campaign_monitor_ca&utm_term=Ballast%20water%20management%20is%20reducing%20the%20flow%20of%20invasive%20species%20into%20the%20Great%20Lakes

18. Great Lakes Plastic Pollution Clean-Up Tech Robots
https://www.theverge.com/2022/10/14/23401381/great-lakes-plastic-pollution-cleanup-tech-robots
SOME FUN STUFF
19. What Chuck Commanda is up to these days with Lee Valley.
https://www.leevalley.com/fr-ca/decouvertes/des-artisans-passionnes/lesprit-des-onkwehon-we-chuck-commanda

20. Fun Stone Activities for Kids
10+ Simple and Beautiful Stone Activities for Kids • Little Pine Learners
So that's if for the time being.
Truly horrifying stuff that is happening with housing, health care, the environment, and not wanting to pay Educational Assistants a decent living wage.
More anon…
In the meantime let's enjoy this great weather while it lasts.
Cheers,
Mary Farrar, President,
Friends of Kingston Inner Harbour