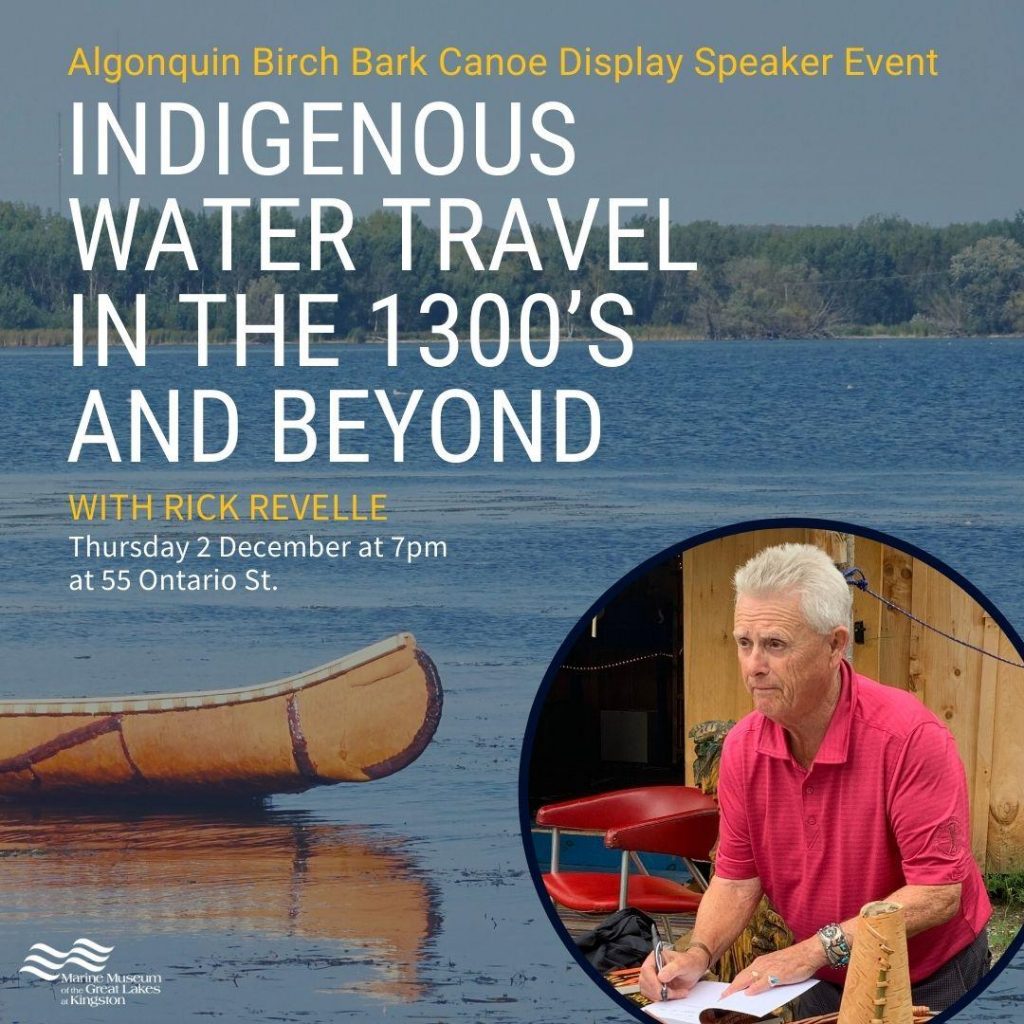 Dear Friends of Kingston Inner Harbour
We are especially delighted for a couple of reasons:
First is our recent collaboration with the Marine Museum to share the beautiful community birch bark canoe, created in 2020 under the leadership of Chuck Commanda, Master Canoe Builder and Algonquin Traditional Knowledge Keeper, in collaboration with the Friends of Kingston Inner Harbour and members of Kingston's Urban Indigenous community.
As part of that exhibit, Rick Revelle, Algonquin Writer, is giving a talk about importance of the canoe in Indigenous life and water travel in the 1300s and beyond. Should be wonderful.
Second is the ongoing success of Aaron Forsyth, Kingston street artist par excellence.  Aaron was involved from the beginning with our ON THE WALL street art festivals.  Yey Aaron!

LOCAL HAPPENINGS:
1. Best info link for COVID status in Kingston
2. Canoe Update – Inspiring Short Video + Exhibit at Marine Museum
3. New Kingston Street Art – Shout out for Aaron Forsyth!
4. Inner Harbour Public Message Boards – Desired locations?
5. Queen City Oil Company (9 North St.) Update
6. Third Crossing Final Design for West Shore
7. Follow up: Scary Stuff on Recent Car Thefts – How to Protect your Car.
8. Recent Hotel Scam
9. Inner Harbour Proposed 70 million dollar Clean-Up Update
10. For the Love of Tannery Trees – Beautiful Video + Advocacy Group "No Clear Cuts in Kingston"
11. Friends of Kington Inner Harbour AGM, Nov 30, 7 pm
12. Coalition of Kington Communities AGM, Dec 1
13. Kingstonist Opinion Piece: Kingston Needs a New Green Deal
14. Rejean's Really Beautiful Pics of the Inner Harbour Wreck
15. Frontenac Heritage Foundation & McKendry's Talk, Nov 25
 
FROM THE CHAMBER OF MARINE COMMERCE
16. Proposed Green Shipping Corridors
17. Stopping International Financing of Fossil Fuels
18. Data on Great Lakes Shorelines
19. Purchase of Icebreaker for Great Lakes
20. Inuit to have say in Arctic Shipping Frenzy
 
INTERESTING STUFF FROM FARTHER AFIELD
21. When Malaria was a Fact of Life in Ontario
22. Municipal Natural Assets Initiative
23. Fascinating Details of Tollund Man's Last Meal
24. How Tides May be Linked to the Rise of Life
25. Green Roofs and Growing Food
26. The Latest on Gypsy Moths: Effects on Lake Quality and Carbon Emissions
27. Darwin's Fascinating Observations about Trees
 
LOCAL HAPPENINGS:
1. Best info link for COVID status in Kingston
At the end of this piece is the great link!
Received from the Kingstonist, Nov 17 – Michelle Dorey Forestell Do consider subscribing!
We can do this,' Oglaza says amid community spread, high case numbers
After Dr. Piotr Oglaza, Medical Officer of Health (MOH) for Kingston, Frontenac, Lennox and Addington (KFL&A) Public Health, released the news that there had been community spread of COVID-19 in the region, he met virtually with members of the press for his regular COVID-19 update on Tuesday, Nov. 16, 2021. His main message: it is important to remain committed to the basics (handwashing, masking, social distancing), and especially getting tested for the virus if you feel unwell.
With case numbers currently at an all-time high for the region, Oglaza said, "Be mindful that there's no such thing as 'just a cold' — it may not be just a cold. In order to prevent that further spread of COVID-19 in the KFL&A region, if you have any symptoms, do not delay seeking testing and stay isolated from others." 
Dr. Piotr Oglaza, Medical Officer of Health for Kingston, Frontenac, Lennox and Addington (KFL&A) Public Health at a virtual press conference, Tuesday, Nov. 16, 2021.
"We're looking at data starting from October 21, and these clusters of cases in households where we see the spread, we often don't see the initial source of the exposure for that one household. So, this is one of the reasons why I thought it's important to look at this and declare that community spread to alert. The community that action is needed to curtail that further spread and help us get through that fourth wave."
Complacency, Oglaza said, is not an option.
"Fortunately, a large proportion of our population, 90.2 per cent of [those] 12 and over, have received the first dose of COVID-19 vaccine. And 86.8 per cent of the population has received two doses of the vaccine and is fully protected. We also had a number of third-dose administered in long-term care facilities for the residents. So, really the key message to the public at this point is to continue their efforts, continue to maintain these Public Health measures, [and] those who haven't got immunizations, please do get vaccinated as soon as possible."
The MOH explained what Public Health is doing in tandem with the confirmation of community spread in the KFL&A region.
"To address this surge in cases, we have communicated with businesses and workplaces and we are urging them to act immediately by focusing efforts on Public Health measures that are intended to help slow down the region's rising numbers. And by following these current measures, businesses and workplaces can help our community avoid the need to reintroduce any additional restrictions, such as capacity limits," he pointed out.
"And as a reminder, some of these measures include things like active screening that is required for patrons of meeting or event spaces, restaurants, personal care services, businesses that provide teaching and instruction, sports and recreational facilities, photography studios, etc. So, that's all taken straight out of the Reopening of Ontario Act, for the current stage of reopening that we have."
"In terms of the case updates," he said, emphasizing " this is really where the nuts and bolts are and where we are in terms of our local epidemiology." 
We are currently at 61 cases per 100,000 population, he said and, "This is our historic maximum. We've last seen it before on April 10. And we actually hit a new maximum over the weekend where, based on the calculations and that seven-day case rate per 100,000 population, we were at 69.9 over the course of the weekend. So, that's really something telling."
He also pointed out that, similarly, "Our percent positivity of testing, that also continues to hit the new maximum, and currently, we're at 2.73 per cent."
As for children aged four to 12, their percent positivity has dropped to 1.9 per cent, he said, "which is good news because it's lower than the whole population percent."
"However," he noted, "the testing rate in this age group is approximately three times higher than the testing rate of the general population. So, that's something really important and it is important to note that the parents of children are doing the responsible thing and testing their children at that rate, and that does help us prevent the spread in this population." 
Currently, the region has 184 active cases and 686 active contacts, Dr. Oglaza said, "So, this number of active cases has again far exceeded our historic high of active cases, which was 150."
He added that it is important to point out that the rate of cases among the vaccinated versus unvaccinated population differs significantly, "it is five and a half times higher in the unvaccinated population than the vaccinated population. So, it does speak to the effectiveness of the vaccines. [The vaccines] are not 100 per cent effective, but they do provide significant protection."
Those who are fully vaccinated should not become apathetic, though, Oglaza expressed, "because we still do see spread from vaccinated individuals. The risk is significantly lower, but it's not zero — it's not completely eliminated." 
"We can do this," he assured, "We've been through very tough times in this community and this is the fourth wave, this is this one more time that we're asking everyone to do their part. And we can do this, we can beat this. We have vaccination now, a lot of people are immunized. And, if we add to that immunization additional measures and tools in terms of staying home when sick [and] getting tested, that's going to really significantly improve the situation."
For the most up to date data on COVID-19 in the KFL&A region updated daily, visit the Kingstonist COVID-19 guide.

2. Canoe Update – Inspiring Short Video + Exhibit & Event at Marine Museum + Upcoming TV Show
Here is a truly wonderful short video of the grade 1-4 students at the Limestone Board's Bridge Program for Indigenous students. They have adopted the canoe, named Ozaagi'aan (One Open to Another) as a fellow classmate in traditional Indigenous fashion. https://youtu.be/r8_xSGxbOFE
We are also grateful to the Marine Museum for agreeing to exhibit the canoe this November and December and for organizing a related talk by Rick Revelle, Algonquin author. -Here is the Facebook Event link:
https://www.facebook.com/events/1453713378359323/?acontext=%7B%22event_action_history%22%3A[%7B%22mechanism%22%3A%22discovery_top_tab%22%2C%22surface%22%3A%22bookmark%22%7D]%2C%22ref_notif_type%22%3A%22event_aggregate%22%2C%22source%22%3A%2229%22%7D
Rick Revelle's public talk (in person and on Zoom) "Indigenous Water Travel in the 1300s and Beyond" focuses on Indigenous trade routes, warfare and the role of the canoe – THURS, DEC 2 AT 7 PM
More info and to register:  Michelle Clarabut, Education Co-ordinator – (613) 542-2261, or  education@marmuseum.ca
Michelle Webb and I will also be featured on the YOURTV (Channel 13) show Limestone Lens on Wed, Nov 24 talking about how the idea of the build came together in the spirit of Truth and Reconciliation. The show will be rebroadcast several times throughout the week.
3. New Street Art in Kingston
Received from The Kingstonist, Nov 2, – Zoha Khalid
We are totally delighted with Aaron Forsyth's success. Since 2014 his work has been featured on the wall behind Rideaucrest in Doug Fluhrer Park in Kingston's Inner Harbour. He was one of the featured artists in our award winning ON THE WALL street art festivals in 2014 and 2017! Congrats Aaron!
The artist behind the murals on the former Kingston Coal Dock
For a look at Tommy Vallier and Will Britton's's pictures of Aaron's work all over town check out – https://www.kingstonist.com/culture/art-arts-culture/the-artist-behind-the-murals-on-the-former-kingston-coal-dock/
The eye-catching cityscape mural on the former Kingston Coal Dock, located on Lake Ontario near the former Rockwood Asylum, is the work of Kingston artist and creative professional Aaron Forsyth.
A section of the murals along the waterfront at the former Kingston Coal Dock, a site which will now become the first deep-water dock in the City.
Forsyth, also known as EronOne, specializes in vibrant, custom murals and design work. He showed an interest in arts and illustration at an early age, filling books with sketches, and later pursued an education in animation, developing a strong foundation in technical drawing skills.
Then Forsyth changed course, transitioning into the world of retail, eventually co-founding a lifestyle boutique in 2005. Through this venture, he began offering custom designs for apparel and in-house products sold at the shop. As well as being a small business owner, Forsyth was taking commissions for custom canvas work. Many of these clients were interested in larger-scale artwork, leading to residential, institutional, and commercial art projects.
The mural at the Kingston Coal Dock – which is becoming a temporary deep-water dock, allowing Great Lakes cruise ships to stop in Kingston – was commissioned by the City of Kingston's Tourism department and Tourism Kingston. The theme behind the dockside mural is iconic Kingston imagery.
"It is a busy location, and I enjoyed getting all of the positive feedback that I did from the public while I was painting there," Forsyth said.
Forsyth explained the process of designing the dockside murals.
"To get started, I sketch my rough ideas on paper, using photos I have taken and others for reference. I was granted access to the city's photo library, where I selected various images to represent the city," he said.
"I also included nature imagery and some of the activities that I saw taking place there daily, from kayaking to dog walking. I then take pictures of the blank wall and superimpose my artwork on it to make it easy for the client to visualize my ideas."
The artist was provided with a color scheme to go with the overall dockside theme. He then got the artwork approved and started the painting process using his medium of choice: spray paint.
"To make everything come together on the wall, I try to balance my use of colors, patterns, and selected imagery to create my final piece," Forsyth said.
Forsyth is also on the City of Kingston's teaching roster and has held art workshops within the Limestone District School Board and the larger Kingston community. He has been an active member of the arts community and, and also involved with large-scale events, such as Montreal's Under Pressure live painting exposition.
But for those who frequent the Kingston waterfront, it's not just the old Coal Dock where you'll see Forsyth's work bringing art into the urban landscape. Apart from his mural work featured at Frontenac Cycle Sport on Barrie Street and Daft Brewing on Princess Street (as well as near the waterfront on the public art walls behind Rideaucrest Home), the blue-grey commissioned work at the Coal Dock also carries over to the waterfront pedestrian walkway at the Delta Hotels by Marriott Kingston Waterfront, adjacent to Confederation Park and Basin.
Today, Forsyth works as a full-time artist. For information on murals and custom artwork, contact his EronOne website or find him on Instagram at @eronone.

4. Inner Harbour Public Message Boards – Desired locations?
Received from Del Stowe, Project Manager, Facilities Management and Construction Services, for the city, Nov 15, 2021.
The City of Kingston is interested in installing community message boards and is wondering about possible locations. Where would you like to see one in the Inner Harbour area?
Please get back to me asap with specific suggestions –
inverarymary@yahoo.com and I will pass them on to Del.

5. Queen City Oil Company (9 North St.) Update
Received from the Doornekamp newsletter, Nov 17, 2021
The Doornekamp Team is progressing on the 9 North St site. Servicing is underway. The team is erecting center walls on the 2nd Floor of the building the retaining wall near Rideaucrest.https://www.facebook.com/profile.php?id=100064056070930

6. Third Crossing Final Design for West Shore
Received from the city, Nov 3, 2021
The final designs for connections to the Third Crossing bridge from the west shore of the Cataraqui River are now available. They include new and improved active transportation elements for all ages and abilities, including cyclists, pedestrians, and multi-modal users. View the designs and ask questions of the project team at Get Involved Kingston until November 24 at 4:00 p.m.
The final designs for John Counter Boulevard between the bridge and Ascot Lane aims to achieve the following:
– Enhance safety and connectivity for pedestrians and cyclists of all ages and abilities
– Increase pedestrian facilities with new sidewalks, multi-use pathways, and crosswalks
– Provide new cycling facilities including multi-use pathways and cycle tracks
– Provide new signalized 4-leg intersection at Ascot Lane provides access to Riverpark neighbourhood to the north and Skyline apartments to the south
– Improve entrance/exit for vehicles accessing commercial businesses located on south side of John Counter Blvd
– Maintain full access for emergency service vehicles.
– Allow for future expansion of transit service along John Counter Boulevard

7. Follow-Up: Scary Stuff on Kingston Car Thefts + How to Protect Your Car.
In a recent article by Kevin Donovan in the Toronto Star, (https://www.thestar.com/news/investigations/2021/11/13/kevin-donovans-car-was-stolen-from-his-driveway-in-toronto-it-was-tracked-to-a-halifax-port-bound-for-the-middle-east.html?source=newsletter&utm_content=a01&utm_source=ts_nl&utm_medium=email&utm_email=C2DC149D63666E2CCEC3DF1E9C241C82&utm_campaign=tmh_85759), he outlines how easy it is for criminals to override your key FOBs.
Here are a few paragraphs from that piece:
"My blue Toyota Highlander SUV was in our driveway in Toronto at 3:01 a.m. on Thursday, Sept. 30.
At 3:02 a.m. someone used a high-tech device to unlock the door and start the engine. The thief backed the Toyota out of the driveway and headed up the street, just over a kilometre, past our local high school, and turned right after some train tracks. Most likely the thief had a buddy in a second vehicle who dropped him at our house, then shadowed him up the road…
My Toyota stopped at the side of a small park at 3:05 a.m., according to the internal tracking device. Then all electronic trace of the five-month-old vehicle vanished…
Roughly 80,000 cars are stolen in Canada each year — 25,000 of those in Ontario, The Toyota Highlander and RAV-4, the Honda CR-V, the Ford F150 and Dodge Ram pickup trucks, along with several makes of Lexus, top the annual list of most stolen vehicles in Canada, published annually in December by the Insurance Bureau of Canada…
One reason for the rise in car thefts is the scarcity of new vehicles, caused by a disruption in the supply chain due to the pandemic. Modern cars use 1,000 to 2,000 semi-conductor computer chips for everything from the operation of power brakes, power steering, backup cameras and the onboard display screen. With fewer cars available, crews working in "steal to order" rings prowl Toronto and other neighbourhoods in an organized fashion…
Some see car theft as a "victimless crime." Your car is stolen, insurance covers the loss, you get a new vehicle. He said it is quite the opposite. To begin with, insurance rates for all drivers are affected, even if your car is not stolen. One study estimates that in Toronto, insurance rates are 13-15 per cent higher to cover payouts for all losses. But it is the involvement of organized crime that is more worrisome.
"These vehicles, yours, it's commodity-based money laundering," says Gast. "They're exchanging these vehicles and it's supporting terrorism, supporting organized crime. It's a significant problem. Many, many organized groups are behind it."Interpol, the International Criminal Police Association, draws a direct line between car theft and serious crimes. It has a unit dedicated to combating it."

Received from the Kingstonist, Nov 15, 2021 – Chris Vilela
Kingston Police seek assistance from the public after several Lexus vehicles stolen
Detectives with the Kingston Police Criminal Investigation Division are investigating recent thefts of Lexus vehicles that are alleged to have taken place on Nov. 12, 2021.
According to Kingston Police, the thefts occurred while the vehicles were parked in the owner's driveways with the suspect or suspects managing to gain entry, start the vehicles and eventually steal them without the use of vehicle keys.
"The investigation to date has revealed that the suspects had taken the time in identifying possible target vehicles during the early morning hours of Nov. 7, 2021. In the early morning hours of Nov. 12, 2021 the suspect(s) were successful in completing the thefts," Kingston Police said in a press release.
Both the apparent targeting of vehicles on Nov. 7, 2021 and the theft of vehicles on Nov. 12, 2021 took place in residential neighbourhoods in the west end of Kingston near Highway 401, Kingston Police said.
Kingston Police are requesting that anyone who owns a Lexus or is the neighbour of a Lexus owner, check their surveillance video, if they have it, on Nov. 7, Nov. 11th, and Nov. 12th, 2021.
"Should you observe anything suspicious, including images of the vehicle and persons of interest, please contact Detective Constable Paul Wood at 613-549-4660 ext. 6312 or via email at pwood@Kingstonpolice.ca," Kingston Police requested.
Witnesses can also provide tips anonymously by calling the Kingston Police general number 613-549-4660 ext. 0 and asking to remain anonymous.

Thanks to John Thomas for link to Faraday Protectors fyi:
https://www.amazon.ca/Faraday-Protector-Signal-Blocking-Shielding/dp/B07W94QLKM/ref=asc_df_B07W94QLKM/?tag=googleshopc0c-20&linkCode=df0&hvadid=293037038875&hvpos=&hvnetw=g&hvrand=5370921075789322405&hvpone=&hvptwo=&hvqmt=&hvdev=c&hvdvcmdl=&hvlocint=&hvlocphy=9000712&hvtargid=pla-816920644745&psc=1

8. Recent Hotel Scam
Thanks to Sam Cheng for this one.
Typically, when checking in, you give the front desk your credit card (for any charges
to your room) and they don't retain the card. You go to your room and settle in.
The hotel receives a call and the caller asks for (as an example) room 620 – which happens to be your room.
The phone rings in your room. You answer and the person on the other end says the following:
"This is the front desk. When checking in, we came across a problem with your charge card information. Please re-read me your credit card numbers and verify the last 3 digits numbers at the
reverse side of your charge card.'
Not thinking anything wrong, since the call seems to come from the front
desk you oblige. But actually, it is a scam by someone calling from
outside the hotel. They have asked for a random room number, then ask
you for your credit card and address information. They sound so
professional, that you think you are talking to the front desk.
If you ever encounter this scenario on your travels, tell the caller that you will be down to the front desk to clear up any problems. Then, go to the front desk or call directly and ask if there was a problem. If there was none, inform the manager of the hotel that someone tried to scam you of your credit card information, acting like a front desk employee.
This was sent by someone who has been duped……..and is still cleaning up the mess.

9. Inner Harbour Proposed 70 million dollar Clean-Up Update
Transport/Parks/Procurement Canada with Golder consultants have proposed what we consider to be a questionable and very expensive clean-up of contaminants in the sediments of the Inner Harbour. They are proposing dredging, capping and revetment, all of which would be extremely expensive, disruptive to local eco-systems and perhaps ill-advised.
We are very concerned about:
a) the lack of assessment of community use, past, present and projected and the consequent remediation proposals based on undocumented, and possibly quite overblown, assumptions regarding dangers to humans in this shoreline that is actually a Nature Park,
b) the effects on turtles and their habitat especially given their inaccurate description of turtle habitat,
c) the very possible danger that the clean-up might be worse than leaving well enough alone,
d) weak data on benthic community followed by questionable assumptions concerning food chain risks,
f) lack of adequate data on sources of exterior lesions in brown bullheads and assumptions regarding legacy contaminants as the cause of problems in brown bullheads as well as in other species, when the causes may well be other sources,
g) lack of comparison of Inner Harbour species with control group of same species in Lake Ontario,
h) the use of revetment (shoreline rocks) to prevent erosion when recent research shows that it actually causes erosion,
i) lack of nature-based solutions such as bio-engineering as opposed to heavily engineered solutions.
j) lack of addressing possible future climate change issues,
k) effects of the clean-up on Metal Craft Marine if the harbour is closed even temporarily,
l) ongoing sources of contamination post clean-up through sources like storm sewers, and
m) the wisdom of spending 70million dollars when the problem may well be ongoing.
As you can see, we have many questions.
At our FKIH stakeholders' meeting we gave them 8 pages of questions accompanied by science-based reasons underlying our questions. Feel free to contact inverarymary@yahoo.com if you would like a copy.
We remain hugely grateful to Dr. Peter Hodson (Emeritus Professor, Queen's Univ. Environmental Sciences), Dr. Gerhard Pratt (former Head of Earth Sciences, Western Univ), Joyce Hostyn (Master Gardiner), Elvira Hufschmid (PhD Candidate Queen's University) as well as Dr. Herb Helmstaedt, (former Head of Earth Sciences, Queen's Univ), Chris Hargreaves of the Kingston Field Naturalists, and Don Mitchell of the Sydenham District Association, for their up-to-date knowledge, analysis, and advice on a number of different fronts.
We have been told that this is the beginning of their consultative process and that other meetings will follow. We were somewhat encouraged by the fact that they seemed open to some of our bio-engineering suggestions after we sent them a summary of what might be possible. It seems as if the world is on a cusp where older, more invasive engineering solutions are being gradually replaced with nature-based solutions as those old-school methods are increasingly being shown to be insufficient, especially in the face of Climate Change.
Other stakeholder groups we know of so far include the Belle Island Caretakers' Circle, River First YGK, Turtles Kingston, and the Kingston Field Naturalists.

10.For the Love of Tannery Trees –Beautiful Video + Advocacy Group "No Clear Cuts in Kingston"
Beautiful 2 min Video – https://www.youtube.com/watch?v=h_pEHmed6F0
Also do have a look at the previous summary of what has transpired already re Tannery trees.
It is item #2 at this link: https://www.friendsofinnerharbour.com/november-newsletter-2021/
Now there is a petition to ask city planners to try and come to a win-win situation with developer, Jay Patry, where the trees can be saved along with the shoreline and the Provincially Significant Wetland.
Here is the link:https://www.change.org/p/mayor-bryan-paterson-and-city-council-stop-the-kingston-clearcut/psf/share?share=1
The group is also typically at Tara's on Thursday afternoons between 1:30 and 3:00 weather permitting if you would like to learn more and sign in person.
In the City's recent survey of citizen priorities the top five issues were: Housing, Long-Term Care, Climate Concerns, Road Maintenance, and Green Spaces.
Saving Trees fits in with two of the citizens' five stated priorities: Climate, and Green Spaces!https://www.youtube.com/watch?v=m07kkDY_3Ug

11. Friends of Kingston Inner Harbour AGM Nov 30 at 7 pm
What: The usual reports, updates, and discussions re Inner Harbour issues – this year focusing on the Transport/Parks/Procurement/Golder Consultants proposed 70 million dollar clean-up, the Tannery and trees, and our canoe exhibit with the Marine Museum. All welcome
When: Tues. Nov 30, 9 pm
Where: Party Room at Frontenac Village Condo, 1 Place d'Armes
NOTES: Attendance is restricted to 25 due to COVID. Proof of double vaccination required. If you would like to attend, please get in touch with Mary Farrar at inverarymary@yahoo.com or 613-544-1246. Twelve people have signed up so far. Bring your own refreshments.

12. Coalition of Kingston Communities AGM Dec 1 at 7 pm
What: Diversity and Democracy at City Hall Panel + board elections + reports from participating groups.
Who: Panel members Kemi Akapo, City Councillor, Peterborough; Helen Cooper, Kingston Mayor, 1988-93; Mary Rita Holland, City Councillor, Kingston
Where: Zoom meeting. Details provided closer to the time.
When: 7 pm, Wednesday, Dec 1, 2021,, Panel discussion at 7:30 pm
NOTES: For further Info contact coalitionkingston@gmail.com

13. Kingstonist Opinion Piece: Kingston Needs a New Green Deal
Do consider subscribing for great features like this!
Received from the Kingstonist, Nov 2, 2021 -Jeremy Milloy and Kyla Tienhaara

On Tuesday, Nov. 2, 2021, the people of Boston will elect a new mayor. Why are we, two Canadians living in Kingston, excited about this election? Because one of the candidates, Michelle Wu, is running on a Green New Deal (GND) platform that could change the way that cities all over North America approach the dual crises of climate change and rising inequality.
The GND was popularized by American Congresswoman Alexandria Ocasio Cortez in 2019. The idea has flourished and spread throughout the world, from the UK to South Korea. In Canada, NDP MP Peter Julian has a motion for a made-in-Canada GND. And as of late, the idea has been taken up at the local level by several progressive mayors and candidates like Wu.
GNDs emphasize the role of governments, rather than markets and the private sector, in driving the transition to a low carbon economy. And programs and investments under a GND must deliver on both equity and decarbonization.
That means creating jobs that are "green" – but also good (i.e., well-paid, unionized). Additionally, while the "green jobs" slogan generally conjures up images of men wearing hard hats and installing solar panels, the GND also emphasizes the importance of "pink collar work" – i.e., jobs in teaching, nursing, and child/elderly care – that is low-carbon and critical to society, but also often poorly paid.
Although employment is central to the GND, it is not the only path through which inequality and injustice is addressed. Michelle Wu's GND for Boston includes a plan for fare-free public transportation, and numerous initiatives to ensure affordable and energy-efficient housing.
Like Boston, Kingston has officially declared a climate emergency. The city seeks to get to "net-zero" by 2040. City council will soon deliberate on a draft climate leadership plan (CLP). While we applaud many of the initiatives in the CLP, we feel that it is missing the two key aspects that make Wu's GND so promising. Wu responds to the climate crisis as the emergency it is, and she applies an equity lens to make her plan fair and forward thinking. Kingston's CLP would benefit from more urgency and more equity.
The urgency starts with the "net-zero" target itself. Offsetting is a controversial and often/potentially unreliable bandaid/stopgap solution to reducing carbon emissions. Not only does it offer an unreliable estimate for carbon saved, but it has also increased conflict over land use and land rights elsewhere in the world. We should not be depending on offsetting for 35 per cent of the reductions needed, as the CLP does – we must directly minimize carbon expenditure at the source. We can do more, and as a wealthy, privileged community, we must do more. The 2040 target needs to be zero, not net zero.
Urgency also requires that we move up our interim goals and engage local residents in meeting them. When faced with the imminent threat of WWII, the Canadian state mobilized rapidly and radically in order to win the war. We must do the same with the climate emergency. One way to keep the public engaged is to be clear and transparent about our goals and what we need residents to do to play their part in achieving them. Plans fail without transparency and accountability. Kingston would benefit from an external panel evaluating City and community progress and reporting on it publicly.
Urgency also requires that we mandate action. For example, instead of hoping developers will build what we need, we should announce that new building permit requests (both residential and commercial) after January 1, 2023, will not be allowed to have natural gas connections. In August, California amended its building code to make heat pumps the standard for home efficiency standards and requiring most new commercial builds to have the capacity to store renewable energy.
If we act with urgency on climate, we can simultaneously address some of the major issues of equity that plague our city right now. The pandemic has highlighted what most residents already knew: we are also in an emergency concerning housing and poverty. Thousands of Kingstonians have no chance at home ownership. A growing number of people have no home at all.
Our city's emergency food providers have seen a staggering increase in demand over the last couple of years. A drug poisoning epidemic is killing people in our community. This is the legacy of decades of policies that tore apart our social safety net. Disinvesting in health care, income supports, employment insurance, and job training has consequences, and we are living with them now. In order to make our society stronger and adapted for the climate crisis and climate action, we have to invest in public capacity, not private profit.
Investing in fare-free, green transit, for example, would be a major boost to the quality of life for lower-income residents. It would also make transit a better alternative to car travel, and significantly contribute to our climate goals. If we more aggressively move to retrofit multi-unit housing, we can achieve greater emissions reductions and energy savings, create more jobs locally, and help our most vulnerable residents adapt to extreme weather. That is the beauty of combining climate action and economic justice – you get synergies that reduce emissions and make communities healthier and stronger.
We know that Kingston can't do it alone. Federal and provincial partnership is required. But this was the case when our city was among Canada's first to declare a climate emergency. We acted then because we recognized the crisis and wanted to be leaders in building momentum towards a solution. We must do the same now. Kingston needs a Green New Deal.
Dr. Kyla Tienhaara is Canada Research Chair in Economy and Environment and Assistant Professor in the School of Environmental Studies and Department of Global Development Studies Queen's University.
Dr. Jeremy Milloy is a climate justice organizer who works with 350 Kingston, Just Recovery Kingston, and River First YGK, and also a scholar of work and capitalism in Canada and the USA.

14. Rejean's Really Beautiful Pics of the Inner Harbour Wreck
https://www.flickr.com/photos/193488782@N06/sets/72157719956649563
15. Frontenac Heritage Foundation & McKendry Old Stones Event Nov 25
What: Talk – "Kingston, the Limestone City: Stone Buildings in the Kingston Region"
Who: Dr. Jennifer McKendry
Where: The Spire, 82 Sydenham St, Upper Hall
When: Nov 25, 7 pm
NOTES: COVID Protocols in place – masks and proof of vaccination required.
More info: Penny Sharman, Exec Director at – contact@frontenacheritage.ca or 613-766-2599

FROM THE CHAMBER OF MARINE COMMERCE
16.The Port of Antwerp and the Port of Montreal pledge to create a green shipping corridor, Montreal Port Authority, November 4, 2021. At the 26th Conference of the Parties (COP26) on climate change, the Port of Antwerp and the Port of Montreal have signed a cooperation agreement to support the creation of the first green shipping corridor in the North Atlantic. Through this agreement, the two pillars of marine transportation between Europe and North America pledge to mobilize their respective public- and private-sector partners alike in the assessment, identification, development and adoption of shared or complementary solutions and infrastructures. Together, they intend to facilitate the trade of green fuels and the supply of renewable fuels and clean technologies to vessels.
17. Canada, US, Italy among 20 countries to stop financing fossil fuels internationally, Climate Home News, November 4, 2021. Four major economies have agreed to end their support for fossil fuel projects internationally in an announcement campaigners hailed as a "historic breakthrough". At an overflowing event on the sidelines of Cop26 climate negotiations in Glasgow, Canada, the US and Italy joined the UK in promising not to commit any new finance for unabated coal, oil and gas projects in other countries by the end of 2022.
NOTE: Of course it might help if this initiative was for Canadian initiatives as well.

18.MSU researchers collecting data on Great Lakes shoreline, CTV News (Windsor, Ontario) November 8,2021. Researchers at Michigan State University are collecting data on how Great Lakes shoreline, including how residents view coastlines and the impact of high water levels. Assistant professor Erin Bunting said the goal is to empower local communities, which is important to the future of the lakeshores and future research.
19.Canadian Coast Guard buys light icebreaker for Great Lakes; vessel currently in Turkmenistan, Welland Tribune, November 14, 2021. A new light icebreaker will ply the waters of the Great Lakes once inspected and design work to prepare its conversion is carried out, says the Ministry of Fisheries, Oceans and the Canadian Coast Guard. The Mangystau-2, docked in the port of Hazar in Turkmenistan on the Caspian Sea, will eventually join the CCGS Griffon and CCGS Samuel Risley in icebreaking duties, and it will tend to navigational buoys in Great Lakes, St. Lawrence River and Atlantic regions.
20.Inuit to have a say on shipping frenzy in Arctic | Canada's National Observer: News & Analysis, National Observer, November 17, 2021. Inuit have secured a seat at an international round table to regulate shipping concerns in the Arctic, an increasingly important issue as Indigenous communities in the North are disproportionately impacted by accelerated global warming in the region.
INTERESTING STUFF FROM FARTHER AFIELD
21. When Malaria was a Fact of Life in Ontario
https://www.tvo.org/article/then-the-shaking-begins-when-malaria-was-a-fact-of-life-in-ontario
22. Municipal Natural Assets Initiative – MNAI
Received Nov 4, 2021 – Sponsored by the CSA Group and Environment and Climate Change Canada
Link to meeting recently held: https://www.frascanada.ca/en/psab/committees/psadg/nov-12-2021
CSA Group: national standards for better results coming your way!

A new agreement is in place to develop a National Standard of Canada (NSC) for inventories, which are the first step in the natural asset management process. The standard will aim to provide a consistent step-by step methodology for conducting natural asset inventories and will be based upon the Technical Guidance, Developing Natural Asset Inventories, that MNAI developed, as well as the guidance of the national CSA Group technical committee.

Once complete, the NSC means that whether the inventories are developed in Gander, Toronto, Iqaluit, or anywhere else, they will be comparable. This is a key step to making natural asset management a broadly based, fully scalable activity.

The CSA Group has more than 100 years of experience in the facilitation, project management, and development of consensus-based standards and codes for the North American marketplace.

Through this project, we will also complete the discovery phase for a national registry for completed inventories. This will lead to one central, searchable repository for all completed inventories and will draw inspiration from the registry for accessible buildings that the Rick Hansen Foundation developed. The goal is to ultimately standardize many more parts of the natural asset management process. We'll provide more information as the project unfolds.

This project was undertaken with the financial support of the Government of Canada through the federal Department of Environment and Climate Change. Ce projet a été réalisé avec l'appui financier du gouvernement du Canada agissant par l'entremise du ministère fédéral de l'Environnement et du Changement climatique.
23. Fascinating Details of Tollund Man's last meal
https://www.nationalgeographic.com/history/article/tollund-mans-last-meal?cmpid=org%3Dngp%3A%3Amc%3Dcrm-email%3A%3Asrc%3Dngp%3A%3Acmp%3Deditorial%3A%3Aadd%3DSpecialEdition_Escape_20211103%3A%3Arid%3DC2DC149D63666E2CCEC3DF1E9C241C82&loggedin=true
24. How Tides May Be Linked to the Rise of Life
https://www.nationalgeographic.com/science/article/how-earths-tides-may-be-linked-to-the-rise-of-life-as-we-know-it?cmpid=org=ngp::mc=crm-email::src=ngp::cmp=editorial::add=SpecialEdition_Escape_20211103::rid=C2DC149D63666E2CCEC3DF1E9C241C82
25. Green Roofs and Growing Food
https://www.utoronto.ca/news/more-700-green-roofs-toronto-missing-opportunity-grow-its-own-food-u-t-researchers
26. The Latest on Gypsy Moths: Effects on Lake Quality and Carbon Emissions
Received from The Conversation – Nov 16, 2021 – John Gunn, Andrew Tanentzan, Samuel Woodman
Very Hungry Caterpillars can have Large Effects on Lake Quality and Carbon Emissions
Outbreaks of invasive moth caterpillars, Lymantria dispar dispar, and forest tent caterpillar moths, Malacasoma disstria, occur at least every five years in temperate forests. The insects munch through so many leaves that our research has found the resulting decrease in leaf-fall and increase in caterpillar poop hugely alter the way nutrients, particularly carbon and nitrogen, cycle between land and nearby lakes.
Nitrogen-rich insect excrement, called frass, can wash into lake water and act as fertilizer for microbes. These microbes can then release carbon dioxide into the atmosphere as they metabolize the frass. In years with insect outbreaks, the large quantities of frass may favour the growth of bacteria that release greenhouse gases in lakes overpowering the lake algae that remove carbon dioxide from the atmosphere.
---
Read more: Why an invasive caterpillar is munching its way through tree leaves, in the largest outbreak in decades
---
Tree leaves eaten by caterpillars on Montreal's Mount Royal in July 2021. THE CANADIAN PRESS/Paul Chiasson
These insects are basically little machines that convert carbon-rich leaves into nitrogen-rich poo. The poo drops into lakes instead of the leaves, and this significantly changes the water chemistry. We think it will further increase the extent to which lakes are sources of greenhouse gases.
Our mission is to share knowledge and inform decisions.
About us
As the climate in the world's temperate region shifts, insect populations are expected to increase and move northwards. This puts northern forests at increased risk of defoliator outbreaks in the future, potentially causing greater quantities of carbon dioxide to be released from nearby lakes. Climate change is also expected to favour the growth of broad-leaved deciduous trees around the lakes, which we have found will amplify the insects's impact.
Where is the good news?
While the impacts of insect defoliation appear to be on the rise in both frequency and severity, lake waters across the Canadian Shield are also undergoing a process called browning due to a build up of tea-like dissolved organic carbon in lake water.
This declining clarity of lakes has been attributed to many factors including climate change and their recovery from historical acid rain and logging activities. Our 32-year-long monitoring study showed that an outbreak of leaf-munching caterpillars can effectively offset an entire year's worth of carbon accumulation in nearby lakes, significantly improving water clarity.
An outbreak of leaf-munching caterpillars can effectively offset an entire year's worth of carbon accumulation in nearby lakes, significantly improving water clarity. (Unsplash)
In years without outbreaks of leaf-eating insects, carbon and nitrogen entering lakes usually comes from decaying leaves and conifer needles. These inputs typically peak in quantity in autumn. In outbreak years, we found that nearby freshwater lakes, especially those surrounded by deciduous forests had one-third less dissolved carbon or "forest tea" in the water, because the hungry caterpillars effectively held back the flow of carbon to the lake.
The lasting benefits of these marauding insects becomes evident when the invasive insects encounter already stressed trees, such as the stunted birch forest surrounding the massive metal smelters in Sudbury, Ont. This 80,000 hectare industrial area is undergoing a remarkable natural recovery of its own, because of a 98 per cent reduction in acid and metal particulate emissions from what was the world's largest point sources of sulphur pollution as recently as the 1970s. The legacy of soil loss, contamination and degradation in Sudbury clearly puts trees at a disadvantage in the battle with defoliating insects.
Caterpillars as tiny plows?
Trees can't flee from insects but usually can survive multiple heavy attacks. However, trees in the industrial barrens of Sudbury don't fare so well, because of all the other stresses they face.
These stressors include the loss of soil moisture and organic matter, and decades of accumulated toxic metal particles from the smelters. The result is that these stressed trees present themselves as a delicious food source for caterpillars and other insects and the landscape is often littered with dead and dying trees on their way to becoming soil.
In earlier lab experiments, we showed that when we fed L. dispar caterpillars leaves from the stressed white birch trees of the industrial barrens they ate more leaves and produced far more frass, which increased plant growth in soil that had received this rain of poo.
Yes, the insects are giving the struggling trees a very hard time at the industrial sites. But the improving soil quality is the real winner.
Healthy soil is one of the largest and safest places to sequester carbon from the atmosphere, key in our fight against climate change. As every farmer knows, protecting and restoring soil quality is also essential for sustainable agriculture. That is why well-informed farmers regularly try to stop extracting nutrients from the soil and plow in a nutrient-rich fodder crop like alfalfa to rebuild the soil.
Our research shows that these hungry caterpillars now appear to play surprisingly large roles in altering key features of the global carbon cycle, but we also now think of them as tiny plows that can help improve degraded soils.

27. Darwin's Fascinating Observations about Trees
Received from Science, Nov 14, 2021
AN OBSCURE DARWIN IDEA COULD BE KEY TO SOLVING THE CLIMATE CRISIS
It has taken a century and a half to make people take Darwin's proposal seriously and apply it to trees.

MORE THAN 150 years ago Victorian biologist Charles Darwin made a powerful observation: that a mixture of species planted together often grows more strongly than species planted individually.
It has taken a century and a half — ironically about as long as it can take to grow an oak to harvest — and a climate crisis to make policymakers and landowners take Darwin's idea seriously and apply it to trees.

There is no human technology that can compete with forests for the take-up of atmospheric carbon dioxide and its storage. Darwin's idea of growing lots of different plants together to increase the overall yield is now being explored by leading academics, who research forests and climate change.
Scientists and policymakers from Australia, Canada, Germany, Italy, Nigeria, Pakistan, Sweden, Switzerland, the UK, and the US came together recently to discuss if Darwin's idea provides a way to plant new forests that absorb and store carbon securely.

WHY WE SHOULD PLANT MORE FORESTS
Planting more forests is a potent tool for mitigating the climate crisis, but forests are like complex machines with millions of parts. Tree planting can cause ecological damage when carried out poorly, particularly if there is no commitment to diversity of planting. Following Darwin's thinking, there is growing awareness that the best, healthiest forests are ones with the greatest variety of trees — and trees of various ages.
Forests following this model promise to grow two to fourfold more strongly, maximizing carbon capture while also maximizing resilience to disease outbreaks, rapid climate change, and extreme weather.

In mixed forests, each species accesses different sources of nutrients from the others, leading to higher yields overall. And those thicker stems are made mostly of carbon.
Mixed forests are also often more resilient to disease by diluting populations of pests and pathogens, organisms that cause disease.
Darwin's prescient observation is tucked away in chapter four of his 1859 famous book On the Origin of the Species. Studies of this "Darwin effect" have spawned vast ecological literature. Yet it is still so outside of the mainstream thinking on forestry that, until now, little major funding has been available to prompt the use of this technique.
Darwin also famously described evolution by natural selection, a process by which genes evolve to be fit for their environment. Unfortunately for the planet, human-induced environmental change outstrips the evolution of genes for larger, slower reproducing, organisms, like trees.
Modern gene-editing techniques — direct DNA surgery — can help speed things up once careful laboratory work identifies the key genes. But only the evolution of human practice — that is, changing what we do — is fast and far-reaching enough to rebalance the carbon cycle and bring us back within safe planetary limits.

HEALTHIER TREES CAPTURE MORE CARBON
At our meeting we discussed a study of Norbury Park estate in central England, which describes how — using the Darwin effect and other climate-sensitive measures — the estate now captures over 5,000 tonnes of carbon dioxide per year, making it quite possibly the most carbon-negative land in the UK. Such impressive statistics don't happen by accident or by sticking some trees in the ground and hoping; care and ecological nous are needed.
Trees of different ages also continuously provide harvestable timber and so steady jobs, in stark contrast to the other methods of forestry, where large areas are felled and cleared at the same time.
The UK government, like other administrations, has laid down requirements for responsible large-scale tree planting. These requirements continue to be revised and improved. There are still vital questions about which trees we should plant, where we should plant them, and what to do with them once they've grown.
It has been said that it is impossible to plant a forest, but it should certainly be possible to design a plantation that will blossom into a forest for future generations. We need forests to be a practical, dependable, and just response to our climate and biodiversity crises, and Darwin has shown us the way.
So that's a wrap for November,
Cheers,
Mary Farrar, President, Friends of Kingston Inner Harbour