ON THE WALL
Kingston's Renowned Street & Participatory Art Festival is Back
August 21st -26th
Doug Fluhrer Park, 2 North Street, Kingston
In 2014 the "On The Wall" street art festival won the Kingstonist award for being the most
exciting new arts event of the year in Kingston! With such a tremendous community response we are thrilled to be bringing it back for 2017 bigger and better than ever. With all this buzz it's no wonder we have already been voted as one of the TOP 5 things to do in Kingston during the month of August, with local dignitaries slated to attend.
Grand Celebration Finale on Saturday, August 26 11:00am – 4:00pm
Over 25 artists have registered to showcase their skills alongside local community groups and businesses offering family-friendly services such as:
Trailhead – Try out kayaking and stand-up paddle-boarding on the river
Parcours – Try out their lively stunt-acrobatics
Kingston School of Dance -Learn interpretive dance
Kingston Pipe Band – Give bag-piping a try
Blue Canoe and Storefront Fringe – Improv
Yessi – Drumming and Zumba
Kingston Broadsword Academy – Discover your medieval self
Great food – Juicy Kiks, Mio Gelato, Glocca Morra, You Found Us
All are encouraged to drop by Doug Fluhrer Park (Behind RideauCrest Retirement home) and see the artists in action while sampling what our great local vendors have to offer.
Should you have any questions feel free to email Mat Poirier
Article from The Kingstonist:
DECEMBER 23, 2014 | BY DANIELLE LENNON
After year's of being underutilized and otherwise ignored, Douglas Fluhrer Park emerged in 2014 as an important gathering space and focal point for the local community. Excitement began to swell as a result of the On the Wall Street Art Festival, which brought a collection of local artists and community groups together to breathe new life into the iconic graffiti-clad retaining wall over the course of a weekend-long spectacle. While many of those pieces have since been cannibalized by spray cans, the remnants of the original compositions reminds us of the potential for Douglas Fluhrer Park moving forward. Of course, that future could ultimately be jeopardized by the contentious Wellington Street extension, which would reduce the park to a thin ribbon of sod holding back two or more lanes of busy roads from the gentile shores of the Cataraqui River. Moreover, the reversal of the decision to demolish the nearby historic broom factory and the rejected massive housing project just down the shoreline raise hope as well as renew concern regarding how this important slice of Kingston's waterfront will emerge in the coming years. Most recently, Douglas Fluhrer Park has been eyed as a potential site for the relocation of the historic 148 year-old grand trunk train station, which would be completely overhauled to provide high end retail and office space.
The park's namesake, Douglas Fluhrer, worked as a planner with the City of Kingston for 36 years and during that time he is credited with establishing over 70 public parks; one of the highest ratios of urban park land in North America. He passed away two weeks prior to the inaugural On the Wall Street Art Festival. I'd like to think that he would have been pleased with the renewed interest and aesthetic of the park that was named in his honour.
——————————
On The Wall Street Art FestivalThe Water Access Group, who brought us the Shoreline Shuffle, has teamed up with the Friends of Kingston Inner Harbour to create Kingston's first ever street art festival from August 18-24, 2014. City Council unanimously agreed that a festival celebrating talented Kingston artists perfectly reflects the city's Culture Plan and Art in Public Places policy. On The Wall Street Art Festival will take place over the course of the week, with twenty Kingston artists painting, drawing and building artworks on the retaining wall that borders Doug Fluhrer Park at the end of Wellington Street. The artists will work daily from noon-8pm, creating large- scale works while members of the public are invited to visit the park to watch their creations come alive. The finished product will remain for one year and then painted over at what will hopefully become an annual event. On Saturday, August 23rd a Celebration Day will take place in the park with live music, food, flash mobs and other fun, family friendly events from 3pm-8pm.
Many cities all over the world have incorporated street art on the sides of large buildings, around everyday objects such as phone booths and even on sidewalks. These works of art add beauty and interest to the cityscape, and in many cases can also inspire and challenge.
The On The Wall Street Festival hopes to democratize urban art in the City of Kingston and celebrate creativity by transforming the waterfront park into a lively public art venue where citizens and tourists alike can watch artists at work, from the beginning to completion of their unique contemporary art projects.
While the event is being sponsored, there is still a need for more funding to aid in the success of the Celebration Day. An Indiegogo campaign has been started, seeking out $6000 to go towards honorariums for the performers, a stage, chairs, tables and a solar powered sound system. Exceeding this goal will mean more, much deserved compensation for the artists and performers.
A list of participating artists can be found here. Be sure to visit the Indiegogo campaign to learn more about the impact art in public spaces can have and why it's an important part of our community.
Thanks to Michele Mazzoli, Rebecca W, Graham Coreil-Allen and JAM Project for today's photos.
– See more at: http://www.kingstonist.com/2014/12/23/on-the-wall-street-art-festival-32692/#sthash.o5HxfHSd.dpuf
Public Letter of Thanks to Sponsors of ON THE WALL
ON THE WALL Kingston 's first ever juried street art festival. The Friends of Kingston Inner Harbour are extremely grateful to the artists, the jurors, the City of Kingston and the late Doug Fluhrer as well as to the many individuals and corporate sponsors for the huge success of Kingston's first ever juried street art festival –ON THE WALL, held in Douglas R. Fluhrer Park (known historically as "The Willows") during the week of August 18-24.
First, we are most grateful to the artists for their stellar work and for giving so generously of their time, their expertise and their financial resources as we simply did not have enough money to compensate them fully for the total cost of materials. Here they are in no particular order: JoAnna Duarte, Aaron Forsythe, Joshua Vrooman, Jean Jamieson-Hanes, Harley Brushey, Jessica Rivera Belsham, Mikhail Peabody, Phoebe Cohoe, Wendy Luella-Perkins, Vee Blackburn, Jamie Brand, Christine Jamieson, David Dossett, Sam MacLeod, Robbie Darling, Kingston Maker Space, H'Art Studios, Mark Reinhart, the Kingston School of Art, Thomas Tugnette and Luis Munoz. Well done!
Second, we wish to thank the jurors: Su Sheedy, Julian Brown, Primrose Craig and Karen Peperkorn for their excellent adjudication work and for their continued support throughout the festival week. Third, we thank Mayor Gerretsen and City Council for their unanimous support in waiving the graffiti by-law for the week of August 18-24 to allow the selected street artists sufficient time to do amazing work and to the late Douglas R. Fluhrer for envisioning the park in the first place. Without his vision, none of this could have happened. Fourth, we are most grateful to the Awesome Kingston Foundation for granting us a $1000 prize to cover the cost of renting Douglas R. Fluhrer Park for a week.
Fifth, we are truly grateful and most appreciative of support from our founding sponsors, CIBC Wood Gundy Investment Advisors, Burkom, LeBlanc and Wilcox as well as other sponsors who contributed most generously financially including Shoalts and Zaback Architects Ltd., Leighton Lands Inc., Reid-Siemonsen Design Group, Llynlea Fine Homes, Cunningham Swan, Gallery Raymond, Trailhead, Mark Peabody Custom Builder, Mark Sinnett (Royal LePage), the Quintilian School, Phase 2 and the Boiler Room Climbing Gym.
Sixth, thanks so very much to James Brown and Joan Lee for their truly generous gift and to those Individuals who contributed $100 or more including Sophie Kiwala, MPP, Councillors Rick Downes, Kevin George, Rob Hutchison, Jim Neill and Liz Schell as well as Bud Burkom, Ric Barr, Dennis Black and Susan MacLean, Susan and Lorne Carmichael, George Hutchison, the Reinhart family, Beth TenHove and Jim Vowles. We simply could not have succeeded without their support.
Seventh, we would like to publicly thank our in-kind sponsors who provided us with discounts on the cost of paint including Donovan Painting and Decorating, the Rockit Boutique, Living Rooms and Wallacks, to Quattrocchi's Specialty Foods for providing fruit for Saturday's fruit carving station, to Costco for providing a slab cake, to Ironclad Graphics for giving a discount on their t-shirts and to the Eastern Ontario Events Centre for generously providing signs, tents, chairs, a stage, children's games, a megaphone and a P A system free of charge and to Irina Svortskova for donating so generously of her time, her energy and her expertise as an artist, t-shirt designer and program facilitator for our Saturday Celebration of Artists and the Arts.
We also wish to thank those performers and creative souls who donated so generously of their time to make Saturday's event a success including Kingston Tai Chi, the B Boyz (Break Dancers), CFRC, Kala Seraphin (Belly Dancer), Luis Munoz (Fruit Carver), Kyra and Tully, Carl Beaupre, the Swamp Ward Orchestra and Daisy Chain, musicians, Rose deShaw with her songs of protest, Patrick Bois and Bruce Kaufmann who organized a Poetry Corner, Andrew Farrar with his slackline, Burgandy Dunn who helped out with children's games and activities, Christine Harvey, Face Painter, Max Beckett, balloon artist, Vanessa McCourt and her First Nations Drum Circle and Yessi Rivera Belsham and the Kingston Drum Circle. In addition to the performers and activity center organizers, we thank the following for adding to the event with their display and information tables: Kingston Maker Space, Waterfront Working Group, Peace Quest, Sustainable Kingston and to Yellow Bike for volunteering to help out with minor bike repairs. Food was available from Two Nuts in a Food Truck, Memories of Alexandria, Chester with his Polish sausages and Jane Etherington with her freshly popped popcorn. Thank you all!
And last but not least we would like to thank every contributor, large or small who rallied to the cause over the final few weeks. Space does not permit an accounting of each of the over one hundred individuals who came to believe in our cause but we are enormously grateful to each and every one of you.
Sincerely,
Mary Farrar, President
Friends of Kington Inner Harbour
Station 14 Coverage of ON THE WALL
Sept 1 update:
ON THE WALL, Kingston's first ever juried street art festival, a huge success! The quality of the art work – stellar! A few sections of wall that were left blank are gradually being filled in by other artists who we hope will apply next year. The Saturday Celebration was also wonderful with fun activities including the B Boys, Belly Dancing, The Whole Shebang, Slacklining, Children's Games, Tai Chi, a Poetry corner, CFRC radio, Kyra and Tully, Daisy Chain, Carl Beaupre, the Swamp Ward Orchestra and protest songs with Rose. The mayor cut the cake and several other dignitaries were present. We managed to raise $6000 thanks to Irina and her Indiegogo campaign as well as with the help of our sponsors and generous contributors. We are now drafting a letter to the Whig to thank our sponsors. We are also putting together a short PowerPoint presentation for the Downtown Business Association that will highlight the work of the juried artists. Hopefully it will result in a few well-deserved commissions.
MISSION
On the Wall aims to become an exciting annual event where the work of local Kingston street artists as well as artists from the broader Canadian artistic community can be celebrated in a unique waterfront venue.
JURORS
Su Sheedy, Artist
Julian Brown, Co-founder of the Kingston Prize, Canada's Portrait Prize
Primrose Craig, Artist/President/Children's Program Coordinator, Kingston School of Art and Window Art Gallery
Karen Peperkorn, Program Coordinator/Founder, Creative Arts Focus Program (est. 1990) Limestone District School Board/QECVI
ARTISTS
Anita Boldt (H'art School)
Community Wall
Chrystal Wilson
Irina Skvortsova
Jean Jamieson-Hanes
Joanna Duarte
Joshua Vroom
Sam MacLeod
Mark Reinhart
Harley Brushey
Robbie Darling
Jamie Brand
Mikhail Peabody
Phoebe Cohoe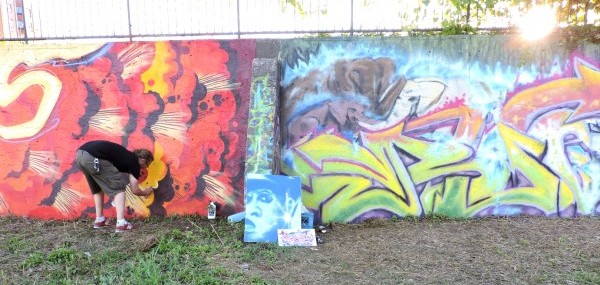 Wendy Luella Perkins
Thomas Tugnette
Yessica Rivera Belsham Kingston School of Art
Aaron Forsyth
Christine Jamieson
David Dossett
Further details:
The retaining wall along the northern segment of Wellington St. consists of 23 concrete panels approx. 25' x 8.5' situated on the west side of Douglas R. Fluhrer Park on Kingston Ontario's waterfront. The road is closed to traffic. The week long art festival, ON THE WALL, culminating in the weekend of Aug 23-24, 2014, hopes to democratize urban art in the City of Kingston and celebrate creativity by transforming the waterfront park into a lively public art venue where citizens and tourists alike can watch artists at work, from the beginning to completion of their unique contemporary art projects. The works will remain on the wall for one year at which point they will be painted over – enlivening and refreshing the park each year.