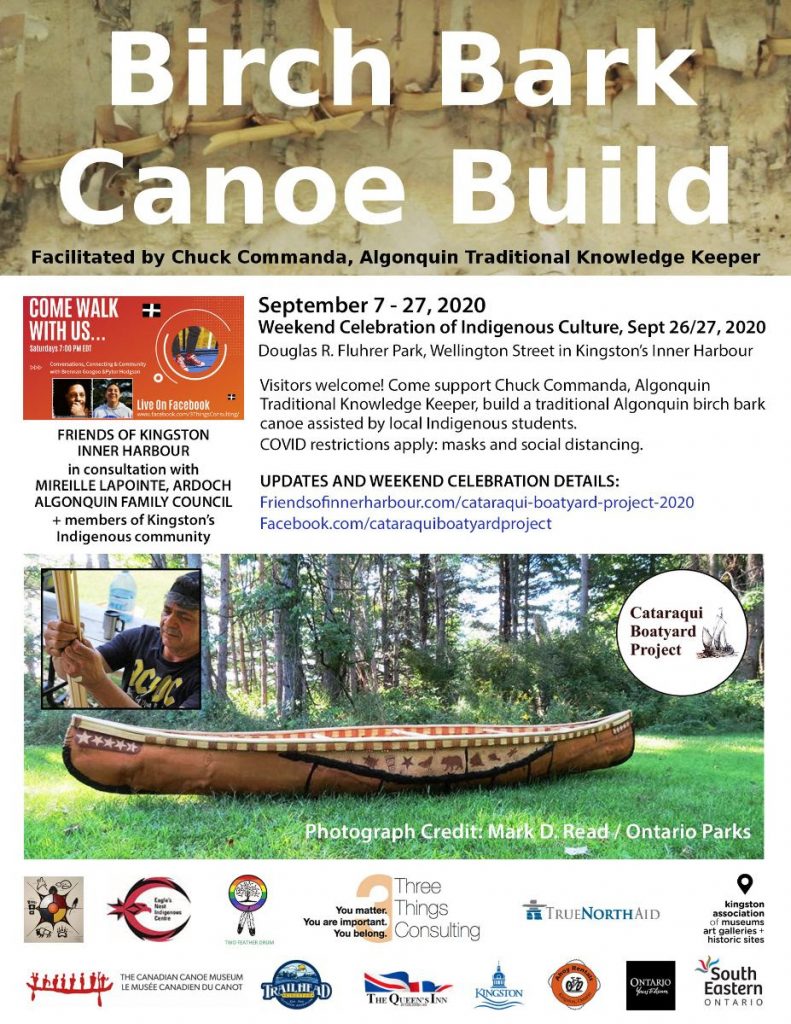 Dear Friends of Kingston Inner Harbour,
WE ARE SO EXCITED ABOUT OUR UPCOMING BIRCH BARK CANOE BUILD LED BY CHUCK COMMANDA, ALGONQUIN TRADITIONAL KNOWLEDGE KEEPER.
The build will be in Doug Fluhrer Park. Set-up is Sept 7 and the build will continue daily from 9-5 through to a Celebration Weekend, Sept 26/27 with the opportunity for visitors to get out on the water in one of three authentic birch bark canoes.
Saturday will include: a free venison chili feast, blessing and launch of the boat, Sisters of the Drum, Two Feather Drum + display tables from the library, Algonquin writer Rick Revelle, and TrueNorthAid. Master of Ceremonies, Pytor Hodgson will also host a live-streamed show that evening on Come Walk With Us… Facebook. The evening show will also include pre-taped interviews, live-streamed discussion and entertainment.
Sunday's event, in partnership with TrueNorthAid, will include their wonderful Reconciliation Walk as well as Indigenous Water teachings as it is World Rivers Day. Lorie Young and Brodrick Gabriel will be Masters of Ceremony. It will be amazing.
COVID precautions in place: masks and social distancing. Visitors of all ages welcome!
To volunteer contact Mary – inverarymary@yahoo.com
For updates visit: Friendsofinnerharbour.com/Cataraqui-boatyard-project-2020
Plans change regularly due to COVID.

1) Construction on Wolfe Island Docks Begins This Fall
2) Third Crossing Update
3) Turtle News: Bad & Ugly & Good + URGENT REQUEST for MITIGATION SUPPORT
+ Sept 4 TURTLE HATCHLING RELEASE IN DF PARK!
4) International Moss Pollutant Study – Belle Island Possibility?
5) Utilities Kingston's Recommended Service Line Warranties
6) Doornekamp's Proposed Deep Water Dock in Picton
7) Viewpoint: Jamie Swift on Sir John A Statue Option
8) Mutual Aid Katarokwi
9) Quiet Streets Initiative
10) Wolfe Island's Staley Point Becomes Protected Area
11) Great New Contactless Food Service in Market Square
12) Downtown Resident Speaks out against Downtown Development
13) Heat Mapping for Cities – New Citizen Science Concept
14) How Were the Great Lakes Formed?
15) New World Record: 88 Waterspouts over Great Lakes
16) Paddling the Rideau
17) How Amphibians Restore Balance and Harmony to the Land
18) Jennifer McKendry's Short Piece on the Penitentiary
19) Beautiful Piece by Kimmerer, Author of Braiding Sweetgrass, on the Power of Language
20) Interesting Conversation about Old Growth Forest. Does Belle Island Qualify?
21) Possibility of $100,000 fines for Queen's Students with COVID Violations!

1) Construction on Wolfe Island Docks Begins This Fall
Received Aug 28, Jessica Foley, The Kingstonist
The Ontario government is investing $63.3 million to rebuild the Marysville ferry dock on Wolfe Island and $82.5 million for the Kingston dock, Steve Clark, MPP for Leeds-Grenville-Thousand Islands and Rideau Lakes, and Daryl Kramp, MPP for Hastings-Lennox and Addington, stated in an announcement today, Friday, Aug. 28, 2020.
This investment is part of the province's plan to keep Ontario's transportation safe and reliable, while supporting economic growth and the creation of local jobs, read the statement.
"Ferry service is vital to the economies of island communities and their residents and businesses who rely on ferries daily," said MPP Clark. "By investing in ferry infrastructure, we are supporting growth and job creation for the entire region."
MPP Kramp continued Clark's sentiments: "These projects will provide a better experience for ferry travellers who will have more space and a more efficient process while boarding and exiting the ferry. These improvements will make a huge difference, especially for those who rely on this service in their daily lives."
The projects hope to improve efficiency for boarding passengers and goods by increasing the size of the docks and loading areas. According to the release, the new docks will improve safety by providing separation for pedestrians and cyclists from vehicles. They will also feature the addition of new passenger waiting areas. Construction on the Marysville dock is slated to begin in early September, and the Kingston dock construction is expected to start in the fall.
"Investing in projects that improve the reliability and safety of transportation is an important part of our plan to improve our transportation network in eastern Ontario," said Caroline Mulroney, Minister of Transportation. "These investments will help prepare for the new, larger Wolfe Island ferry which will provide increased service for passengers and better access to goods on the island."
Quick Facts, as outlined in the statement:
The province is currently developing the first regional transportation plan for eastern Ontario, to be released in 2021.
In July 2020, work began on the first contract awarded for the Wolfe Island Docks Project to lower parts of the St. Lawrence channel to accommodate for the future arrival of the new, larger Wolfe Island ferry.
2)  Third Crossing Update
https://www.youtube.com/watch?v=zUWs_Jly1Jc&fbclid=IwAR234paQoWnhULyX86Sslu5rQ0ASe9c_b-IkqiiEcKCrgOyOLNXTM20GXow

Received August 28, 2020 from the Third Crossing Team
"Hello west shore neighbours,
As the project team heads into the fall and the winter of 2020, in-water construction activities will continue to be a major focus. Earlier this Spring, the team started extended working hours, Monday through Saturday from 7 a.m. to 10 p.m. to support on-going work for building the pier foundations for the bridge. Prior to starting extended work hours, the team conducted a night time construction noise impact assessment to determine potential impacts to nearby residential areas. The results of that study indicated noise levels will be within acceptable levels as per provincial guidelines. For more information visit: https://www.cityofkingston.ca/web/third-crossing/construction/construction-mitigation

Moving into fall and winter, these extended work hours will continue with additional limited low noise activities continuing up to 3 a.m. 
Construction activities will continue with what you have been currently hearing and seeing from 7 a.m. to 10 p.m. About a five-person crew will be working with equipment to continue building the west shore pier foundations. Limited low noise generating activities will continue from 10 p.m. up to 3 a.m. 
We want you to know that activities occurring up to a maximum of 3 a.m. will be minor in nature and will not include loud construction activity such as drilling operations. The kind of limited low noise generating activities that will be occurring are in relation to preparing work for construction activities the following day. Nighttime construction noise mitigation measures are being implemented.

If you have any questions, please don't hesitate to reach out to the Third Crossing project team. 
https://thirdcrossing.cityofkingston.ca/engagement/newsletter/sign-up
Third Crossing Project Team
Email: thirdcrossing@cityofkingston.ca
Website: thirdcrossing.cityofkingston.ca
Subscribe to the Third Crossing newsletter"

3) Turtle News: A) Bad & Ugly + B) URGENT REQUEST for MITIGATION SUPPORT
+ C) Sept 4 TURTLE HATCHLING RELEASE IN DF PARK!

A) COWARDLY AND SELFISH ACT HITS TURTLES KINGSTON CONSERVATION EFFORT
Whig Standard, August 24, Elliot Ferguson
KINGSTON – With headlamps and hand tools, volunteers with Turtles Kingston on Sunday night sifted through the remains of most of the turtle nests they protected earlier this summer on the side of Princess Street next to Collins Creek.
They were looking for any eggs that may have eluded whoever raided the nests overnight Saturday and Sunday. None were found.
The nest protection – a wooden frame topped with heavy wire mesh and secured to the ground by iron spikes at each corner – was designed to deter predators.
They were not meant to stop a poacher, said Mabyn Armstrong of Turtles Kingston.
"You could see his footprints, where his feet were planted firmly and it took all his energy. I've pulled those things up and it is not easy," Armstrong said. "He just yanked it up and flipped it over. That tells you it wasn't vandalism, it was what he was after."
After the frames were out of the way, the culprit apparently used a hand trowel to dig down to solid rock before removing the eggs.
"Whoever excavated these, he knows exactly where, how much, how deep. This is a poacher," she said. "They knew what they were doing."
Almost 400 turtle eggs were likely taken in the raids, which happened between 9 p.m. Saturday and 10 a.m. Sunday.
Armstrong said she believes the eggs were taken by a poacher who she said could have learned about the nest locations through the group's website and social media accounts, all of which are open to the public.
"For them, turtle conservation is like the supermarket, it's like shopping," Armstrong said.
"Unfortunately, the protection of baby turtles from one threat has exposed them to another one – greedy humans," said Steve Marks, a Windsor-area herpetologist. "Someone took these eggs for cash."
Poachers can sell turtle eggs for a few different uses, Marks added, including for use in Chinese traditional medicine, for sale as pets once the turtles hatch, and for food.
"In Ontario, our eight species are all at risk and yet people still consume them," Marks said.
Eating turtles is particularly hazardous as the animals that Armstrong calls "the janitors of the wetlands" feed on carrion and the toxins they consume are not flushed from their systems and bioaccumulate in their bodies. Their eggs carry much of the toxins passed on by the parents, Marks explained.
"Hatchling turtles actually qualify as living toxic waste in many places in Ontario and around the world," he said. "Eating then is dangerous."
Armstrong said she contacted the Kingston Police and the Ministry of Natural Resources and Forestry after the damage was discovered.
Turtle conservationists eagerly anticipating hatching season, when young hatchlings break out of their eggs, emerge from their nests and crawl to the nearest water.
It was hoped the nests the group had protected would give local turtle populations a boost.
Volunteers checked the sites twice a day anticipating this year's hatching season, excited to see how their work would help. Instead, they are mourning their losses.
"When we arrived Sunday we saw one nest protector overturned, then another," she said.
"It's a terrible hit," she added. "We're devastated."
Turtle conservationists were looking forward to the imminent construction of turtle fencing along Princess Street between Collins Bay and Westbrook roads.
Princess Street across the Collins Creek is considered the worst spot in Kingston for turtle mortality and as such was where much of the group's efforts were focussed.
Up to 70 nests had been located in the area, although not all of them were protected by the group.
Loyalist-Cataraqui Dist. Coun. Simon Chapelle, who has volunteered with Turtles Kingston at the site, called the nest raid "cowardly and selfish" and that it illustrated the need for fencing along the roadside to better protect the nesting area.
"I was looking forward to seeing the protected hatchlings return to the wild, safely and help rebuild their endangered population," Chapelle said Monday morning. "It almost feels like a parental role in knowing we were making a difference.
"To discover someone has now poached these precious eggs for sale or consumption saddens me and I can only hope a concerned citizen can come forward and report the criminal so that this person can be charged and prosecuted to the full extent of the law," Chapelle said.
Collins-Bayridge Dist. Coun. Lisa Osanic, who has pushed for better protection for the turtle nesting sites along Princess Street, echoed Chapelle's call for charges.
"The loss of all the eggs will be harmful to the future turtle population in Collins Creek," Osanic said. "The people who did this illegal poaching need to be caught."
Under Ontario's Fish and Wildlife Conservation Act, there is a maximum fine of $25,000, up to a year in jail or both, Armstrong said, and if buying, selling or trading is involved the penalty increases to up to $100,000, a maximum of two years in jail.

B) URGENT REQUEST FOR MITIGATION SUPPORT
Received from Mabyn Armstrong, Turtles Kingston, Sept 2
"THIS IS SO IMPORTANT !
PLEASE, PLEASE TAKE A MINUTE TO SAVE THE TURTLES !
Turtles Kingston main objective is to have the Westbrook Wetland located in the west end of the city mitigated with exclusion fencing, eco passages and alternate nesting sites.
It is Kingston's number one turtle road mortality 'hotspot'.
The proposal is presently before the 'Environment, Infrastructure and Transport Committee'' of the City of Kingston's Council.
An engineering firm has been contracted by City Staff to submit an estimate of cost to be accepted for the 2021 budget.

We are calling on the public to support the project. The implementation of these mitigation measures will not only address the issue of 'road mortality' which is the second highest reason for the decline in the turtle populations following 'habitat loss',  but will also resolve the issue of 'Poaching'.
As profiled this past week in the media, there was a devastating poaching incident that took place 10 days ago at the Westbrook Wetland where the hatchlings from 11 of the 18 turtle nests that had been protected with box nest protectors had been raided and the hatchlings stolen for sale in the illegal wildlife trade market.

Please copy and paste the following statement of support into your email and send the one email addressed to all 6 members of the 'Environment, Infrastructure and Transport Committee'. You can embellish the email if you choose to do so.

"Please accept this email as a statement of my support for the implementation of Mitigation Measures comprised of 'exclusion fencing, eco passages and alternate nesting sites' at the Westbrook Wetland located on Princess St / Route #2 between Collins Bay and Westbrook Roads."

Please copy and paste the email addresses for the 6 members of the 'Environment, Infrastructure and Transport Committee' found below and send them your email with your statement of support.
You do not have to send 6 different emails but simply send your one email addressed to all 6 members of the Committee.
Please cc a copy of your email to 'turtleskingston@gmail.com'.
We thank you whole heartedly for responding to this request.
We can make a difference! Action brings hope!

* Councillor Stroud,  Chair,  pstroud@cityofkingston.ca
* Councillor Doherty, Vice Chair,   bdoherty@cityofkingston.ca
* Councillor Holland,  mrholland@cityofkingston.ca
* Councillor Neill,  jneill@cityofkingston.ca
* Councillor Osanic,  losanic@cityofkingston.ca
* Councillor Oosterhof,   goosterhof@cityofkingston.ca"

C) GOOD NEWS
Received from Lesley Rudy Sept 30
"Many of you will have heard of the horrifying turtle poaching that occurred in west Kingston to nests being cared for by our friends at Turtles Kingston.  Our stomachs turn at the cruelty and our hearts go out to all the wonderful volunteers who worked so hard to help turtles, only to have it dismantled in one night.  Clearly, there are some people who still do not understand the implications of our declining biodiversity and who have no regard for the work of others.  We want to let Turtles Kingston know that their work was not for nothing, they have raised the profile of these important species and their plight and have made sure that there are fewer people out there who remain ignorant.  We hope you will join us in extending our thanks to Turtles Kingston volunteers for everything they do and let them know that most people really do care. 
Here in the inner harbour, the turtle nests remain in place.  We hope that you will help us be vigilant and watch for any suspicious activity. 

In better news, this past few weeks has seen the first emergence of hatchlings from nests laid this spring!  It is about 2 weeks earlier than we first spotted them last year.  Thank you to everyone who is reporting sightings.  Please do keep your eyes out when walking in Doug Fluhrer Park, the K&P to Belle Park and the surrounding areas for hatchlings.  Boxes cover some nests, but not all and so some turtles are doing their best to make it to the water on their own.  If you see one on a path or lawn, you can gently pick it up and place it at the water's edge.  They need to enter the water on their own.  If you see any in a box, rest assured that I check boxes regularly and will release them soon! 

If you wish that you could see hatchling released but haven't happened to be there when I release some, we do have an opportunity for you to see a scheduled release.  A nest was laid inside the construction area before we had the turtles fully excluded from there at the start of the season.  We excavated the eggs from the nest so that they wouldn't be harmed and the good folks at Sandy Pines Wildlife Centre have been caring for them for the last several weeks.  Eleven hatchlings survived and are now big and strong and ready to be released. 

Sandy Pines and FKIH will release these hatchlings on Friday September 4th at 5 pm near the Irish cross at Douglas Fluhrer Park.  For safety reasons, we ask everyone that comes to watch to wear a face mask.  Also, if more than 20 people come, we may have to turn some people away or ask people to take turns, so we cannot guarantee space. 
As always, please feel free to ask questions if you see me checking boxes in the park. 
Thank you all for your support.
Lesley Rudy, Queen's MSc Candidate and Friend of Kingston Inner Harbour"

4) International Moss Pollutant Study – Belle Island Possibility?
Received from Simon Smith Aug 11, 2020
A fascinating international study is ongoing examining pollutants in mosses e.g. microplastics in the air.
Link to biomonitoring survey website:  https://bryomonitoring.ca/.,
This includes e-mail details for Dr. Julian Aherne, the organiser of the survey in Canada. 
This link connects to the parent organising body:  
https://icpvegetation.ceh.ac.uk/our-science/heavy-metals.
If you are interested feel free to contact Simon at sjsmith@kos.net

5) Utilities Kingston's Service Line Warranties
Received from the Kingstonist
Utilities Kingston wants to remind local homeowners that mail offerings from Service Line Warranties of Canada are legitimate.
The local utilities provider entered into an agreement with Service Line Warranties of Canada (SLWC) earlier this year. SLWC is a provider of homeowner emergency repairs programs, and participation in the service plans is optional and voluntary.
Area residents will receive a reminder from SLWC, which will also include the Utilities Kingston logo. If you've not received the reminder, it should be coming soon.
"Residential property owners are responsible for the water service and sewer lines on their private property," Utilities Kingston said in a press release, dated Friday, Aug. 28, 2020.

"Optional Exterior Water Service Line Coverage and Exterior Sewer Line Coverage plans from SLWC can help protect Kingston homeowners from potentially expensive repair costs due to breakdowns of major systems inside and/or outside their homes."
Utilities Kingston underlined that signing up for plans through SLWC is entirely up to the homeowner, and that neither Utilities Kingston nor the City of Kingston extend any sort of warranty with respect to SLWC's coverage.
SLWC and Utilities Kingston will not go door-to-door or telephone residents to market the plans. Additionally, Utilities Kingston does not receive commission or payment when customers sign up.
Utilities Kingston would also like residents to know that they did not sell or otherwise provide any mailing information. Mailing information was obtained by SLWC through a third party at their cost.
Residential property owners in Kingston can learn more by visiting the website, viewing the SLWC frequently asked questions, or by calling SLWC toll-free at 1-844-616-8444.  
The following are some of the most frequently asked questions (FAQs) and answers from Utilities Kingston about this program.
Who is Sewer Line Warranties of Canada?
Service Line Warranties of Canada or SLWC is a private company that provides optional water and/or wastewater warranty plans to homeowners.
SLWC is an accredited Better Business Bureau organization that has maintained an A+ rating.
Why was this company selected?
Sewer Line Warranties Canada is the only provider to offer such a warranty program in our area.
The company is endorsed by the Local Area Services of the Association of Municipalities of Ontario.
This program is used by over 475 cities, municipalities, and utilities across North America, including over 50 municipalities in Ontario.
After researching and consulting with other municipalities with similar programs, Utilities Kingston and SLWC reached a contractual agreement allowing the vendor SLWC to offer the program to Utilities Kingston customers.
Why aren't we working with a Canadian-based company?
At the time of selection, SLWC was the only company that could provide this type of service to residents in Canada. Anecdotally, we have heard of some Canadian insurance companies that offer a similar insurance-based product.
Why did Utilities Kingston choose to endorse such a program?
To provide an optional service to customers who feel they may benefit. Water or sewer line repairs are often unexpected and expensive. In fact, we often hear concerns from customers who are facing large bills for repairs to their privately-owned portion of the water or sewer line. 
To educate residential property owners about their responsibilities for the maintenance, repair and replacement of water and sewer service lines (portion from their homes to the property line). Many customers do not understand their obligation to repair and maintain service laterals on private property, at their expense. When a problem with a service line arises, it can be costly to repair and a plan from SLWC offers a possible solution.
The package provided in the mailings is for information only, to help residents make an informed decision. Utilities Kingston does not encourage residents to sign up, nor is there any requirement to do so. The decision is entirely at the discretion of the homeowner. 
Is Utilities Kingston receiving compensation in this arrangement?
As part of this arrangement, Utilities Kingston allows SLWC to use its logo on marketing materials. However, we can assure you that Utilities Kingston does not receive any remuneration, commission, or royalty payment of any kind.
Did Utilities Kingston provide SLWC with customer mailing information?
The protection of privacy is important to us. We did not sell or otherwise provide personal or account information about our customers with SLWC. SLWC purchased from a third party a list of city residents. Utilities Kingston does not control the quality of that service. To be removed from the mailings, you can contact SLWC at 1-866-922-9004.
SLWC pays for all aspects of the program including marketing, customer service and repairs.
Are the warranty plans considered insurance?
The plans are a warranty service plan offered by SLWC as an independent private provider. Although the plans use terms like deductible, coverage and exclusions, the plans are not insurance, but a contract pledge to arrange a contractor to repair your service lines.
Ask your insurance provider if your policy covers repairs to water and sewer line systems. If your policy does not cover water or sewer utility lines, consider the Service Line Warranty program.
To be clear, signing up for these plans is at the discretion of the homeowner. Similarly, signing up for insurance through an insurance company is at the discretion of the homeowner.
How can I stop getting mail from SLWC?
To be removed from future mailings, contact SLWC by calling 1-866-922-9004.
Does this affect my taxes or rates?
This program has no impact on taxes, water rates or sewer rates and there is no payment or revenue generated for Utilities Kingston or the City of Kingston.
Who is responsible for the service lines?
Utilities Kingston (or your utility provider) is responsible for maintaining and repairing equipment up to the ownership demarcation point. It is the property owner's responsibility to maintain and repair equipment beyond the ownership demarcation point. Utilities Kingston has prepared some diagrams that illustrate demarcation for typical utility services for residential homes.
Rely on us for your local news? We rely on you to keep publishing it! Subscribe to Kingstonist.

6) Doornekamp's Proposed Deep Water Dock in Picton
Picton Terminals floats plan for cruise ship docking, County Live (Bloomfield, Ontario), August 26, 2020.  Picton Terminals' application for a re-zoning request, revealed at a public meeting Tuesday, shows, among other things, a proposed cruise ship docking concept for the facility, as well as open storage for goods and materials.  Hosted by the municipality, two back-to-back public information meetings Tuesday outlined details of zoning bylaw amendment and site plan control applications made by Ben Doornekamp, owner of Picton Terminals, an industrial deep-water port located on an 80-acre site off White Chapel Road (off County Road 49) on Picton Bay.  The Official Plan currently allows for the transshipment (the shipment of goods or containers from one destination to another) at the site, but is not reflected in the permitted uses of the current zoning.  Picton Terminals states it has received full approval from Transport Canada, allowing it to begin operations as a port for Great Lakes cruise ships.

More Info?
Picton Bay deep-water port to welcome Great Lakes cruise ships, confirms owner
Received from the Belleville Intelligencer, August 20, 2020,  Derek Baldwin
First in a two-part series by The Intelligencer examining Picton Terminals, the former Bethlehem Steel deep-water port on Picton Bay first opened in 1955 to ship iron ore from Marmora Mines and now undergoing a retrofit under new ownership…

Once a romantic paddle-wheel steamer and schooner destination of renown on Canada's inland seas, Picton waters are set to once again witness tourists grace its shores from a fleet of Great Lakes cruise ships in a holiday scramble for amusement at nearby vinyards, art galleries and quaint eateries.
Great Lakes cruise ships carrying up to 300-400 passengers each will chart a new course for Picton Terminals' deep-water port facility on Picton Bay for day excursions in summer 2021 adding Eastern Ontario to an existing string of luxury-ship stopovers along the freshwater lakes system.
Picton Terminals – once the Bethlehem Steel-owned shipping port for untold tonnes of iron ore the US steel giant dug from the 750-foot deep Marmora Mine until its closure in the late 1970s – has resumed in recent years loading and offloading of aggregates under new ownership as a core business on the 80-acre site, said facility owner Ben Doornekamp.
The firm is a sister company to H.R. Doornekamp Construction based in Odessa as well as Hendriks Aggregates and Abna Investments.
High atop the limestone cliff face overlooking Picton Bay, Doornekamp said Thursday his facility is adding the cruise ship lineup for summer 2021 as an extension of an ongoing facelift of the historical port that promises to float new tourism dollars into Prince Edward County.
Doornekamp said he expects next summer to host up to 10 cruise ships at his 800-foot long dock which has a 30-foot deep draw, ample depth for medium-sized Great Lakes cruise ships which on average require 18 foot of water for safe navigation.
In coming years, summer visits to Picton are expected to top 20 cruise ships berthing at Picton Terminals, he said.
In an exclusive interview on a tour of the site with The Intelligencer, Doornekamp confirmed Picton Terminals has received full approval from Transport Canada as a new destination port for Great Lakes cruise ships.
He said the firm is now in the process of basic housekeeping to finalize the plan by submitting a rezoning application to Prince Edward County municipality to amend its site plan to host the cruise ships.
A public meeting will be held Aug. 25 at Prince Edward Community Centre/Picton Arena to allow the public to review the Picton Terminals application and submit comments.
"Obviously, the region, I've been told by a great many people, is a very tourism-rich region and tourism needs people and money. And that's what the cruise ships will bring – tourism and money. Those people, when they arrive, there won't be hundreds of cars driving out. Let's say there will five to 10 buses all going out, they have it all planned," Doornekamp said.
Each cruise ship "will arrive at 8 o'clock in the morning, they will have their breakfast on the boat, get off the boat and do their thing, and they will back for dinner and the boat will be gone," Doornekamp said, emphasizing the one-day docking regimen of cruise ship visits.
"These are day tours."
Not adding to traffic congestion in Prince Edward County is critical, he said, given complaints by locals that County destinations such as Sandbanks Provincial Parks are wreaking havoc on local roadways when thousands of beach goers from urban centres such as Toronto descend on weekends, often closing the park this summer before 11 a.m.
Local tour operators who will twin efforts with the cruise ships' arrivals are also aware of a groundswell of growing resentment by local county residents who are unhappy Picton and neighbouring villages are losing their local charm when swamped by urban tourists.
Doornekamp said his cruise ship plan has been met with positive views by businesses and residents but acknowledged there is a growing number of people who want tourism growth slowed.
A petition, for example, calling on Prince Edward County council to work to stem rapid growth of tourism has been signed by more than 6,500 people.
Growth in the number of Airbnbs and a runaway binge of property purchases by non-County residents, combined with a surge in visitors to a growing number of beaches and local wineries, is diminishing the once-quiet character of Prince Edward County as a rural hideaway, say locals.
"The people who run these things (local day and bus tours) are professionals. These cruises are stopping in every downtown, Picton isn't the first downtown. You'll see the buses will work with the town. If the town doesn't want the buses on the main drag, they won't go on the main drag. They are not here to piss people off. They're here to fit into what's already here," Doornekamp said. "They're not trying to change. It's easily tweaked."
Doornekamp said Picton Terminals "has nothing to do with the planning once people get on land from the ship. It's all done by Viking cruises and all the cruise lines. All the stops, they will be informed. Everyone knows a year in advance where everyone is going [on the day tours]," he said. "A lot of thought, in combination with the people who live here, who own businesses here, who are part of the tourism group, a lot of thought goes into pulling off a day trip."
He also noted his firm will earn a basic revenue from each cruise ship visit when charging an industry standard of $3-$5 landing fee per passenger and a docking charge by the foot for the vessel estimated to be around $1,000 on average.
The main financial benefits to the cruise line visits will be spent by tourists in the community boosting revenues to eateries, wineries, retail and antique stores as well as tour operators, Doornekamp said.
The Intelligencer spoke with downtown Picton business owners, all of whom declined to lend their name to the newspaper's reporting of Picton Terminals' plans to welcome cruise ships in 2021.
Some business owners said Thursday they were worried about community reaction given the current mood among local residents about the ever-growing flood of tourists as well as concerns about Picton Terminals' operation impacts on Picton Bay's ecosystem.
The company reached a court settlement in 2019 with Save Picton Bay over concerns of stored materials leaching into Picton Bay, the source of the town's drinking water.
Doornekamp said the company is remediating surface water runoff from the property and is not storing road salt on the site in the interim.
One business owner, meanwhile, said he liked the idea of Picton hosting cruise ships because the tourism sector needs out-of-town dollars to stay healthy and said more tourists will spend money in the downtown core.
"All the power to them [Picton Terminals]," said the store owner, noting people should welcome tourism dollars now, not deny them.
"Pun intended, the ship sailed a long time ago before we could start caring about these things. If we really cared, we would have made changes years ago," he said. "This is going to make a tonne of money. How can it not be good for local businesses if it is implemented right?"
He queried, however, whether welcoming a cruise ship with hundreds of people – if COVID-19 still persists next year – is a wise move from a community health perspective.
"The cruise ships, are they going to come and bring COVID-19 to everyone who is over 65? People here are already scared to death," he said.
Another business owner pondered aloud Thursday on Picton's main street under an afternoon sun amid bumper-to-bumper traffic and crowded sidewalks that bringing more people into Prince Edward is not a smart idea given the municipality is under siege by visitors.
"Ask any of the locals the last time they were at the Sandbanks. When you look at Twitter and Sandbanks is saying they're shut down at 9 a.m. That isn't because of the locals. We can't enjoy the beach. We can't even enjoy downtown Picton. There is no parking here as it is. Sure, let's add another 500 people a week from these cruise ships," he said.
"That doesn't make any sense, we'll just be more backed up, wall to wall as it is right now. I don't think we need any more."

7) Viewpoint: Jamie Swift on Sir John A Statue Option
"There has in recent weeks been a revival of longstanding unease about the way Canada's first Prime Minister is commemorated in Kingston. Queen's is actually considering changing the name of the building that houses its Law Faculty. When the university first named it after Sir John A. MacDonald, I suspect that few if any eyebrows were raised. But the way we understand history is always changing. I am not a professional historian. But my most recent books have examined the way that Canada remembers the wars in which so many have died. Commemoration matters. Consider two local war memorials. Just up from where MacDonald its on a tall City Park pedestal is a Great War monument devoted to the 21st Battalion; a uniformed soldier atop the lofty pedestal raises his weapon in triumph. The new Memorial Wall at the Veterans' Memorial Garden is different. One can stand and read the names of local people lost to war. The polished stone is like a mirror, reflecting the viewer like a mirror. So it invites reflection.  What did the Great War accomplish anyway, besides leading to an even deadlier global war?
My suggestion is that we bring the MacDonald memorial up to date. Because the statue stands well above us, it invites passersby to look up to MacDonald, both literally and figuratively. This is no longer appropriate, if it ever was.
We know that he was a skilled political entrepreneur who brought together four British colonies in 1867. Other provinces joined as Canada slowly took shape. But we now acknowledge that Canada's Indigenous people had paid – and continue to pay – a heavy price for colonialism. Residential schools ripped Indigenous communities apart. Countless children died. MacDonald's government passed a law against traditional West Coast potlatch ceremonies because watching people give away their riches offended the spirit of capitalism. People were jailed.
In 2013 James Daschuk's Clearing the Plains: Disease, Politics of Starvation, and the Loss of Aboriginal Life proved that infectious disease and government-supported starvation killed off innumerable people of the plains. The book won the Canadian Historical Association's prize for the best scholarly work of Canadian history. Ironically, it was for years called the MacDonald Prize. That changed in 2018.
Time for a change here in Kingston. It's time to take MacDonald off his tall stone base and bring him down to size. Human scale. He was, after all, simply a person like the rest of us, despite his accomplishments and his crimes.
I don't think, however, that we should remove him. What we should do is to launch a juried competition inviting Indigenous creators to propose a work of art that would be placed near the MacDonald statue. A jury of Indigenous people could determine the winner.  The result would, hopefully, offer passersby a more complete and up-to-date understanding of the first Prime Minister and the controversies surrounding what he did. It would invite reflection. It would foster a creative tension. It would ask locals and visitors alike to ask themselves difficult questions. It would be unique. City Hall could even promote it as a tourist attraction, showing how we're an up to date kind of place where history is considered in a thoughtful way.
After all, the City's marketing slogan claims that history and innovation are thriving hereabouts. Here's a chance to be innovative. Food for thought? " 
Jamie Swift is a 30 year resident of the McBurney Park neighbourhood and the author (with Ian McKay) of The Vimy Trap: Or, how we learned to stop worrying and love the Great War. It was a finalist for the MacDonald Prize in 2017.

8) Mutual Aid Katarokwi
MAKK – https://mutualaidkatarokwi.wordpress.com  MAKK is there for you. They are busy with a myriad of community projects and social justice issues including homelessness, food sharing, advocacy, emotional and physical supports. If they don't know, they can direct you to someone who does. mutualaidkatarokwi@gmail.com. Contact them if you need help or if you can lend a hand.

9) Quiet Streets Initiative
An exciting new pilot project from the Kingston Coalition for Active Transportation is rolling out in partnership with the City of Kingston this week. The Quiet Streets Pilot Initiative, a community-led project aims to provide more connectivity for pedestrians and cyclists by creating corridors linking services, parks, trails and other active transportation pathways in the city. "One thing we wanted to do was avoid fire routes, bus routes, ambulance routes and any roads that were high speed, but also roads in neighbourhoods that people speed on or use for cut throughs, this work is not traffic-calming. We're not trying to fix those problems. We want to take a quiet road and up it a notch to make it quieter." The project has been spearheaded by Roger Healey, Patricia Collins and Bruce Bursey, with the help of several volunteers. The group is looking for more people to get involved with the project. To learn more please visit www.kcat.ca.

They are looking for volunteers who can help with: 
–  access to trucks to transport the equipment from the City warehouse on Division Street
–  volunteers to help with the assembly and installation of the signage and barriers on each block along the routes
–  "Street Stewards" to help be the "eyes and ears" for a few blocks along the routes, to do regular daily checks to make sure the equipment is in place; and
–  volunteers to help organize and host a kick-off event. If you are interested and available contact info@kcat.ca.

10) Wolfe Island's Staley Point Becomes Protected Area
Whig Standard, Aug 27, Elliot Ferguson
MARYSVILLE – A parcel of land on Wolfe Island with a history of Indigenous settlement dating back thousands of years and a historical connection to France's longest reigning monarch has been added to the Nature Conservancy of Canada's growing portfolio of protected natural areas in eastern Ontario.
The NCC announced earlier this week that 33 hectares of meadow, wetland and shoreline on Staley Point on the islands northwestern tip was purchased from the family of Bill Brown.
The purchase of the land – budgeted at about $1.1 million late last year – was funded by private donors, and Maple Cross Fund and contributions from the Canadian and United States governments.

"A project of this scale and importance would have been impossible without the collective passion of the local Wolfe Island and Kingston communities for ensuring this special place be protected," said Mark Stabb, program director for the Nature Conservancy of Canada. "It's thanks to the community, and forward-thinking donors like the Maple Cross Fund, that we are able to announce this amazing conservation success today."
Brown was a member of a hunt camp that operated on the land until the 1990s. As the club's membership dwindled, Brown purchased the land to protect it from development.
In 2004, the land was deeded to Brown's three daughters who maintained it as a natural area in their dad's memory. 
Its purchase by the NCC means protection of the land will continue and it will provide habitat for migratory and at-risk birds including the threatened bobolink and eastern meadowlark, and monarch butterflies.
The wetlands on the south side of the property filter the water flowing off Wolfe Island into Lake Ontario and offer habitat to waterfowl.
"By protecting the coastline on the historic Wolfe Island, we are supporting the many diverse plant and animal species that call our community home," Kingston and the Islands MP Mark Gerretsen said in a statement. "I would like to congratulate the Nature Conservancy of Canada and their various partners on this important milestone."
For thousands of years the land was the site of permanent or semi-permanent settlements by Huron-Wendat, Haudenosaunee, Mississauga and Algonquin-speaking people.
Staley Point was part of the land awarded to explorer and trader René-Robert Cavelier La Salle by King Louis XIV of France in 1675.
Ten years later, in 1685, the property was part of the very first private land sale in Upper Canada when La Salle transferred the island to Jacques Cauchois.
As the largest island in the Thousand Islands, Wolfe Island is a stopover for waterfowl and other migratory birds and offers wintering grounds for snowy owl, gyrfalcon, rough-legged hawk and other northern raptors.
"The conservation of Staley Point will protect meadow and wetland habitat for species at risk in Ontario," said Jonathan Wilkinson, the federal minister of environment and climate change. "By working with partners like the Nature Conservancy of Canada, we are protecting our natural environment for generations to come. Together, we are making progress toward our goal of conserving a quarter of Canada's land by 2025."
The NCC owns almost 1,620 hectares of land in the Frontenac Arch Biosphere, a region that covers a roughly 2,700-square-kilometre area that stretches from Brockville west to beyond Gananoque, north as far as Athens, Westport and the Rideau River, covering most of Leeds and the Thousand Islands Township and part of South Frontenac Township.
The NCC, since 1962, has been involved in the protection of 14 million hectares of land across Canada, including 84,000 hectares in Ontario.

11) Contactless Food Service in Market Square
Received from The Kingstonist Aug 14 – Samantha Butler-Hassan
The Downtown Kingston! BIA has announced contactless food ordering to the Love Kingston Marketplace patio in Springer Market Square.
Diners can now order food from AquaTerra, Black Dog Tavern, Golden Rooster Delicatessan and Sharetea Kingston through a mobile ordering platform in the market. Food is delivered directly to a Love Kingston Marketplace bistro table in Springer Market Square.
According to the BIA, guests can order food and drink items without touching a menu, tapping a machine or waiting in line. Patrons sit at one of 20 socially distanced bistro tables bearing a "Love Kingston Patio" sticker, and use their phones to scan a QR code or manually enter the URL. This presents an online menu, and lets patrons order, pay and tip directly from their mobile devices. Their order is delivered directly to their table.
The BIA says the new ordering service adds to the already vibrant atmosphere in Springer Market Square, which has been re-imagined as part of Love Kingston Marketplace this summer.
"From live music in the evenings, to family-focused programming in the amphitheater, the Square is a hub where residents and visitors can enjoy safe entertainment and support the many local businesses in the downtown core," says a statement from the BIA.
The ordering app is powered by Sociavore Instant, a Kitchener-based website builder and e-commerce platform for restaurants. As restaurants across Canada shut down in response to the COVID-19 pandemic, Sociavore implemented a set of resources to help them offer safe and comfortable dining experiences, recover revenue and transition to a digital platform.

12) Downtown Resident Speaks Out against 223 Princess St.Development
Received Aug 25, Morgan Oddie, The Kingston Local

80-year-old Kingston Resident Speaks Out.
Last week, the City of Kingston invited residents to contribute input on the potential community benefits for the development proposal for 223 Princess St.
80-year-old downtown resident Mike Cole-Hamilton took the time to do just that.
"Kingston needs to provide the housing people need today and tomorrow, not yesterday," said Cole-Hamilton. "The current high rise proposals for downtown give the City the opportunity to change course and build to match the post-COVID needs."Capitol 7 theatre closed in 2012 with the opening of the new multiplex in the north end of Kingston. (Realtor)
COMMUNITY INVITED TO EXPRESS VIEWS OF DEVELOPMENT
"Community consultation is an important part of the planning process," said Tim Parks, manager of development approvals for the City of Kingston. "Through it the public is invited to express their views, which may be in favour of or against the development."
DOWNLOAD THE KINGSTON LOCAL APP
Download the Kingston Local app now at the iOS or Android app stores: personalize your content, get alerts on critical local information, events and more.
Prior to the collection of resident feedback, the estimated value of community benefit contribution for this development has been identified as between $100,000 and $150,000.
"It is the role of the Planning Committee and Council to take into account this input in conjunction with the recommendations put forth in the planning report and base their decision on that," said Parks.
"Council is the approval authority and the project must meet the tests of good planning and be approved before Council can enter into a community benefit arrangement with the developer," added Parks.
The proposed development would require a by-law exemption for its amended proposal of 16 stories. (Twitter | Mayor Bryan Patterson)
'CARE ABOUT THE FUTURE OF THE CITY'
Associated with the group Vision for Kingston, Cole-Hamilton has encouraged the City consider the impact the large-scale development would have on the community, particularly given post-COVID considerations for downtown living.
"Allow for courtyards and walk-throughs and build two affordable, pleasing, walkable communities right in the heart of downtown Kingston. Isn't that what everyone wanted in the first place?" asked Cole-Hamilton.
Cole-Hamilton pointed to the long-term impact that COVID-19 may have on demands for housing, including safe interactions with neighbours and easier access to outdoor spaces.
"I have no personal stake in this challenge. I'm 80 years old and, if the towers are indeed built, I shan't see much of them. But I care about the future of the city we chose to live in and would hate future generations to view the proposed downtown high-rises as we today see Princess Towers."

Here is Mike's piece in full:
 Covid 19 has changed our lives, perhaps forever.   And we are changing our housing demands to fit the "new normal."
 Since lockdown, people worldwide are doing their utmost to move out of cities – real estate agents are busy, suburban and country prices have risen.   Large offices may be obsolete with people working from home.
 Kingston needs to provide the housing people need today and tomorrow, not yesterday.   The current high rise proposals for downtown give the City the opportunity to change course and build to match the post-Covid needs.
 Current designs do not work in this new reality.  People don't want to be in an isolated box high above the street, with awkward avoidance of neighbours in passageways, potentially infected elevator buttons, handrails or doors, queuing for an elevator, anxious avoidance of fellow elevator users.  They need access to space where they can safely socialize, the feeling of being part of a community, not isolated fearfully up in the air.  Usually, you have to move away from city centres to get this.
  But, downtown Kingston has an interesting exception, a cluster of condominium townhouses within 5 minutes leisurely walk of the market square.    In the last few months these houses have changed hands at breath-taking speed and for increasing prices.   Why?
 The houses are set around garden courtyards, each with its own, small, outdoor patio.  .     Neighbours can be seen, hailed and talked to at a safe distance outdoors and face-to-face socializing can take place in your own patio (just sit at opposite sides and maybe use masks.  (OK, bring your own drink). 
 So developers have been given a one off opportunity by Covid to enhance downtown Kingston, create communities, achieve intensification and walkability without the opposition they face at present.   
 Start within the podia dimensions of the two Homestead proposals and, borrowing an idea from Anna Lane, re-design for affordable townhouses with apartments above.    Put the parking underneath.    Allow for courtyards and walk-throughs and build two affordable, pleasing, walkable communities right in the heart of downtown Kingston.   Isn't that what everyone wanted in the first place?
 This is not a new concept.     Houses and apartments around courtyards have been built and lived in happily as communities for at least two centuries.  During Italy's lockdown, neighbours kept in touch (and sang and applauded) across courtyards.   Granted, we don't have an Italian climate for much of the year but surely we can make outdoor life possible and equally allow for winter.
 Granted, developers will have to recalculate, they reasonably expect to make a profit.   But it could be there is no profit to be made on 20-storey towers with a lifestyle that can't work post Covid 19.
 I have no personal stake in this challenge.   I'm 80 years old and, if the towers are indeed built, I shan't see much of them.    But I care about the future of the city we chose to live in and would hate future generations to view the proposed downtown high-rises as we today see Princess Towers.
13) Heat Mapping for Cities – New Citizen Science Concept
Received Aug 14 from whatonearth@cbc.ca
A horde of cyclists and electric vehicle drivers will soon take to the streets of Vancouver to map out the hottest and coolest parts of the city — a move that will help inform future plans to mitigate rising temperatures.
It's called heat mapping, which is an urban planning tool other cities across the world have used to identify which neighbourhoods are most susceptible to increased temperatures amid global climate change.
"It's a really neat citizen-science project," said Stephen Sheppard, the director of the University of British Columbia's Collaborative for Advanced Landscape Planning. "Obviously, things are going to get a lot hotter in the summers [ahead]."
The collaborative is partnering with the city to carry out the project. About 60 volunteers are expected to participate in the city's heat map project. Each will traverse a route in the city, equipped with high-tech sensors to monitor temperature as they travel.
The city recruited cyclists and EV drivers to do the mapping, so as not to emit any greenhouse gases while collecting data. Volunteers will travel the route three separate times throughout the day to collect a range in temperatures.
"One reason to do it is to have a much more accurate, precise map of not just neighbourhoods but local areas, green spaces, places that could be cool refuges in really hot areas, and also places that are very vulnerable to heat and health effects from heat waves," Sheppard said.
Organizers are targeting a hot day in late August to run the program.
According to Sheppard, the project will establish baseline temperatures for neighbourhoods across the city. Plans are to continue mapping in the years ahead, tracking overall changes in heat.
"Most people aren't that familiar with the predicted effects of climate change and how much hotter it's going to get," said Sheppard. "The popular meme is that we're going to be as hot as San Diego in the summer by mid-century, and that means a lot to people's health and well-being."
In a statement, the city spokesperson said the data will provide information to help guide the city's urban planning, public health and urban greening initiative. Sheppard said that means adding things like water features, cooling stations and green space in hotter neighbourhoods.
It will also identify areas where the city can enhance the tree canopy.
"This can reduce temperatures by several degrees, and that's what we're going to need in these commercial areas and residential areas with very low tree canopy, like in East and South Vancouver, where it's going to get very hot," said Sheppard.
Vancouver has some of the lowest canopy coverage of major cities in Canada — it's currently at around 18 per cent. The city's goal is to bring that number up to 22 per cent.
Sheppard said it's never too early for residents to contribute.
"We need a lot more people aware of the problem and planting trees now in their gardens, not only so they can cool themselves but their neighbourhoods in 10, 12, 25 years, when it's going to be a lot hotter."
— Jon Hernandez

14) How Were the Great Lakes Formed?
How Were The Great Lakes Formed?, World Atlas (St. Laurent, Quebec), August 16, 2020. The chain of five deep, freshwater bodies known as the Great Lakes make up 20% of the world's surface water supply. In fact, the Great Lakes are so large they are often referred to as inland seas. For thousands of years these lakes have been the source of food, transportation, and drinking water for populations of First Nations, early European settlers, and, today, millions of people in Canada and the United States. But how and when were the lakes Superior, Michigan, Huron, Erie, and Ontario formed? Read on to discover the origins of the Great Lakes.

15) New World Record: 88 Waterspouts over Great Lakes
New world record set, 88 waterspouts over the Great Lakes, The Weather Network, August 21, 2020. From August 16-19, 88 waterspouts hit Lakes Michigan, Erie, and Ontario, making it the densest waterspout occurrence over the Great Lakes, according to the International Centre for Waterspout Research. There was an indication that this new world record could occur as the waterspout season started off aggressively earlier this month. Waterspouts are the most common during late summer early fall, when the lake temperatures are still relatively warm, meaning the recent outbreak is happening right on schedule.

16) Paddling the Rideau
We are delighted that this group will be setting off from Kingston's Inner Harbour on Sept 26.
'Paddling the Rideau' is a project that involves paddling the Rideau Canal waterway to promote the conservation of this important collection of rivers, lakes and canals. We will launch from Kingston on September 26th and reach Ottawa on October 3rd, 2020.

This project will promote conservation by encouraging local youth and their families to get out, enjoy nature and protect it through activities they can get involved in including garbage clean-ups, water testing and a BioBlitz. In addition to these activities, the work of local conservation groups will also be shared on social media. There will also be a short video created about what the waterway means to people.
For the latest information about 'Paddling the Rideau' follow A Rising Tide on Facebook (@arisingtide1) and Instagram (@arising_tide).
This project is an initiative of Anika Smithson an Ocean Bridge Ambassador with the Ocean Bridge Program facilitated by Ocean Wise. Ocean Bridge is a national program that connects Canadian youth, age 18-30, from coast to coast to coast empowering them to make a difference towards ocean conservation by working on initiatives in their local communities. It is supported by a Rising Youth Community Service Grant from Takin

17) How Amphibians Restore Balance and Harmony to the Land
Really informative important short video.
https://www.facebook.com/SustainableHumanOfficial/videos/2702730576710259/?notif_id=1597590198760809&notif_t=live_video&ref=notif

18) Jennifer McKendry's Short Piece on the Penitentiaryhttps://mcusercontent.com/a0a22299bea7c35ebeb3fe518/files/2708f8d4-a601-43f8-8ed3-d5b3a6a57c1e/KP_in_the_19th_century_by_Jennifer_McKendry_AUGUST_2020.pdf

19) Beautiful piece by Kimmerer, Author of Braiding Sweetgrass, on the Power of Language https://orionmagazine.org/article/speaking-of-nature/?fbclid=IwAR27g9KaDGSn5DfADlXOHIc0lz0QGqFTXQka_bCTO-m5W3acW9HUU9RT4dw

20) Interesting Conversation about Old Growth Forest. Does Belle Island Qualify?
Thanks Hilbert Buist for this.
http://www.ancientforest.org/what-is-old-growth-forest/?fbclid=IwAR0WxZ6FqW7Ya8J0mVFP0piPE1RUcFRVduaDQ2EoJtodo4lHT4xLf2DRylA

21) Possibility of $100,000 fines for Queen's Students and COVID violations
Kingston Whig Standard Aug 26, Meghan Balogh
Kingston residents can 'expect immediate enforcement' at unauthorized social gatherings
Kingston residents are being reminded that social gathering restrictions will be strictly enforced by both city bylaw and Kingston Police as the community continues to attempt to curb potential spread of COVID-19.
A joint statement from Kingston, Frontenac, Lennox and Addington Public Health, Kingston Police and the City of Kingston asked local residents to continue to respect the social gathering caps of 50 people indoors or 100 people outdoors, and said that those attending unsanctioned events can "expect immediate enforcement under the pertinent legislation."
That legislation includes the city's Nuisance Party Bylaw, which came into effect in 2018 after an unsanctioned student party during St. Patrick's Day and which enables Kingston Police to declare a large social gathering as a nuisance party. Anyone charged under the bylaw is required to appear before a Kingston justice of the peace.
But more immediately, the Reopening Ontario Act, 2020 gives police and bylaw officers the ability to issue fines ranging from $500 to $1,130 at a minimum to unsanctioned partygoers. At maximum, people charged under the Act could face a mandatory court attendance with a maximum individual fine of up to $100,000.
Those who fail to identify themselves if found attending a gathering that defies the Act's restrictions or who refuse to leave when directed to do so could face further charges.
The joint statement comes on the cusp of the return of college and university students to the city's post-secondary institutions.
According to the statement, the highest incidence of COVID-19 across Canada has been reported among people ages 20-29.
"Young adults are at increased risk for becoming infected with COVID-19 due to the nature of their social interactions," the joint statement said. "They may unknowingly transmit the virus, before they know they are sick, to people in the community, including older family members and people at high risk of serious illness."
Every fall and spring university students have held large unsanctioned street parties—sometimes numbering 10,000 people or more—to mark Queen's University's Homecoming and St. Patrick's Day.
Kingston Police Deputy Chief Chris Scott said that, while Queen's Homecoming events have moved online this year, police don't know how unsanctioned parties will play out.
"It really is an unknown, what the large gathering this fall will be," Scott said. "I would say our past experience is out the window, and we're going to just kind of gather information, the new normal, in the days and weeks to come. From that, the experience that we have in the month of September will kind of drive us for the traditional Homecoming.
"It's really going to be a learning process with the community itself and our partners in the health unit and bylaw as we navigate the next few weeks, and the new normal."
On March 14 this year, postsecondary students did gather for a St. Patrick's Day revelry as in past years, but Kingston Police moved in to keep crowds on sidewalks instead of allowing them to take over Aberdeen Street, as partiers have done in past years.
That street party came three days before Ontario declared a state of emergency in the face of the COVID-19 global pandemic, but Scott said that they were toned down.
"If we go back to St. Patrick's Day weekend, the community was really quite compliant for St. Patrick's Day," Scott said. "I think that all the community partners did a really good job with that messaging, and a lot of compliance from the students and from the entire city. We're hopeful that that's not going to materialize. Everyone has become well informed, well educated on the risks of COVID. We're really, truly hoping that that won't be an issue this year. We still have to plan for it, but we're hopefully we have that voluntary compliance that we're looking for."
A written statement provided to the Whig by Paige Agnew, commissioner of community services for the City of Kingston, said that the city encourages residents to continue to follow recommendations from local public health.
"The City of Kingston is committed to working with community partners to ensure that residents are aware of current regulations, and to ensure that any high-risk nuisance behaviours are addressed in an effective and timely way to help manage these risks across the community," she said in the statement.
Scott said that so far, Kingston residents have shown restraint throughout the pandemic in terms of large gatherings.
"We've been very, very pleased with the level of caution that the community as a whole has taken," he said. "I think that speaks to how low the rates are….It's just a matter of managing as the entire community, the province shifts to larger openings. You've got to try to make sure that we keep that in the fronts of our minds to protect the community as a whole."
Scott hopes everyone will keep these policies in mind before attending unsanctioned gatherings.
"What we want is voluntary compliance," he said. We want to educate everyone so we don't have to use any of these tools and do enforcement. Enforcement, in law enforcement, is always a last resort. That's why we're partnering with the City of Kingston, KFL&A Public Health, Queen's is pushing this out as well, it's really a joint message of education and prevention."
Scott urged students to think of others as they make decisions about unsanctioned parties.
"Treat this like your hometown, which the vast majority do, and be very mindful of your own health and how your actions can affect the health of others," he said. "Together, we'll get through this."

So that's a wrap for now. Can't believe what a crazy busy August this has been!
Hope to see you at the Inner Harbour canoe build.
Cheers,
Mary Farrar,
President, Friends of Kingston Inner Harbour