TURTLE PROJECTS, 2019 SEASON
a) Freshwater Future Grant for Radio-Telemetry and Possible Impacts on the Third Crossing:
We received a grant or $1500 USD in the spring of 2018 to do a radio telemetry study for 2 turtles in Kingston's Inner Harbour – attaching antennae to two turtles and checking their position with a receiver over the course of the summer. The Ontario Ministry of Natural Resources and Forestry insisted that we increase our sample size to 6 and we also had to secure the appropriate permits for the work. The result was the need for an extension of the grant until Dec, 2019. We were grateful for the cooperation and support of Dr. Stephen Lougheed of Queen's University to help us obtain the necessary permits through Queen's and for the opportunity for our hired student/consultants to work with Lesley Rudy, one of our previous volunteers who is now working on her M. Sc. with Steve Lougheed. The results of the work have been surprising. We now know that many of the turtles go up to Kingston Mills probably to hibernate there. We are grateful that Matt and Kenny put together the following letter to the City's Third Crossing Team documenting their findings. Most certainly the city will need to take their findings into account. We are also extremely grateful for their very professional work creating capture/release protocols, collecting and inputting the data, and creating wonderfully descriptive visuals.
Comments on Detailed Impact Assessment (DIA) for the proposed Third Crossing by Consultants Kenny Ruelland and Matt Keevil:
"FKIH radio telemetry observations of four female Northern Map Turtles suggest that the reach between Highway 401 upstream to the Kingston Mills dam is a primary overwintering site for Map Turtles captured in the Inner Harbour in July and August. Prior to the radio-telemetry study and incidental observations by boat, FKIH suspected that the primary overwintering area for Map Turtles was somewhere in the river south of Belle Park, close to the Davis Tannery property as indicated in the Third Crossing Detailed Impact Assessment (DIA). This had been inferred based on walking surveys documenting concentrations of basking Map Turtles at the Tannery shoreline in April at the beginning of the active season. Because of the new data we have collected, we now suspect that most Map Turtles in the Inner Harbour must traverse the proposed Third Crossing site in late summer or fall and again in early spring in order to migrate to and from their primary overwintering site. With the third-crossing being directly in their route, we cannot be sure how this will negatively affect the seasonal movements of this species at-risk.
Six female Map Turtles were fitted with transmitters during July and August. One transmitter fell off in late August and we have been unable to detect a signal for another after 9 September. Between 13 August and 2 September the remaining turtles moved approximately 6 km from the Inner Harbour area downstream of Belle Park to the Kingston Mills/401 reach. Over the same period, we observed a pronounced increase in basking Map Turtles in the Kingston Mills/401 reach while incidental observations of adult and older juvenile Map Turtles declined in the Inner Harbour to the point that we essentially ceased encountering them there in September.
On 23 August we observed five Eastern Musk Turtles during 60 minutes of directed searching in the Kingston Mills/401 reach with several others observed opportunistically on other occasions. Similar sampling at several sites downstream of the 401 in late August failed to detect Musk Turtles although we had been able to find them earlier in the active season. This suggests that they are also present in large numbers in the Kingston Mills/401 reach towards the end of the active season and this is consistent with the possibility that this species also uses this area for overwintering. However, there are no longitudinal survey data for Musk Turtles available to establish a spatio-temporal trend in habitat use for this population. Given that Musk Turtles, like Northern Map Turtles, are constrained to overwinter at sites with relatively high dissolved oxygen, we provisionally presume that it is likely that Musk Turtles in the Inner Harbour also undertake migrations for overwintering that may intersect the proposed Third Crossing site.


Other turtle species present in the Great Cataraqui River include Painted and Snapping Turtles which are less constrained by dissolved oxygen levels during the winter. There is a complete lack of data on their overwintering sites. While most individuals of these species may not migrate across the Third Crossing route, we are concerned that some may overwinter at the proposed site and may be displaced or killed during construction."
b) Lesley Rudy's Nest Study 2018/2019/2020 and Demographic Study 2019/2020
2018 nests checked throughout April-June 2019 for overwintering hatchlings
2018 nests excavated in June/July 2019 to determine success/outcome
New (2019) nests identified (with help from Kenny and Matt) and sensors placed in June/July. 33 nests are in the study in park and surrounding area. There are also 10 nests for comparison in rural locations.
2019 nests checked from mid-August to early November. 9 nests with 2-11 hatchlings each emerged this fall.
Will repeat in 2020.
Plan to collaborate on international nest-site selection study.
Goals are to determine success rate, emergence timing and hopefully detect cues that might trigger emergence; and to compare these findings with other locations.
Demographic study:
First year 2019
Lots of help from Kenny and Matt, thank you!
Over 100 unique turtles identified and marked.
Will capture again next year and look for re-captures.
Goal is to estimate population size and structure.
Lesley will be happy to discuss results and their potential meaning in more detail when more data is available and has been properly analysed, likely in 2021.
c) Citizen-Science Turtle Monitoring, 2019
Once again, a dedicated crew of volunteers was involved in monitoring turtle behaviour and alerting our student consultants to where nest covers should be placed.
d) Mark/Release/Recapture Protocol
For the first time this year our student/consultants worked with former volunteer, Lesley Rudy to institute a mark/release program where turtles were captured, marked, released, and future sightings documented. Over 150 turtles were marked which involved drilling two tiny holes in their shells and marking their shells with sharpies. Observations of over 170 nests were documented. Data currently under analysis
Turtle Initiatives: 2016-2018
A major initiative of the Friends of Kingston Inner Harbour for the past three years has been turtles. In 2016, we began our first citizen-science project where we managed to protect over 100 nests from predation through a citizen-science initiative where volunteers would do shoreline walks to monitor turtle activity and fill out data sheets. In 2017 we received a grant from the Community Foundation for a Turtle Awareness Initiative where we held a series of 4 community education events highlighting information about local Inner Harbour turtle species as well as Indigenous perspectives on turtles. In 2017, Queen's University Biology students also GPS located the over 100 protected nests and created three GPS location maps indicating the range. Over the past two years, over 50 citizen-science volunteers were involved in half-hour monitoring walks along the shoreline, documenting turtle activity and protecting nests. The data sheets were coordinated and the data submitted to Ontario Nature.
In 2018 we received a larger grant from the Community Foundation for close to $12,000 to hire two students to organize the citizen-science volunteers, create more complex gps location maps of nests, organize a greater number of events (14 events in total), create an ongoing Facebook page, as well as coordinate the data to submit to Ontario Nature. In addition partnerships have been set up involving Dr. Stephen Lougheed, Herpetologist at Queen's University. One of his students conducted a hibernacula study in February where he drilled through the ice and collected water samples. Turtle DNA was then isolated and extracted from the water samples to determine concentrations of hibernating turtles. In addition, one of our 2017 volunteers began a study where thermometers were inserted in some of the nests to try and determine relationships between gestation temperature and gestation time. Also HOBO equipment was purchased to create more consistent and accurate measures of water temperature as well as air temperature and humidity. The quality of our citizen-science has improved dramatically as a result of this grant. We also received a grant from Trailhead to partner paddlers and turtles and a grant for events from World Wildlife Canada. All told, a great year.
Mapping the Map Turtles – video
October 2017
Snapper Hatchlings, October 24th, 2017,
Photos by Martine B.
The little turtle wakes up in my camera bag…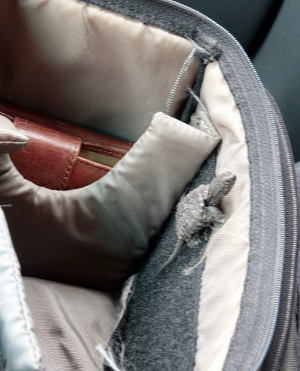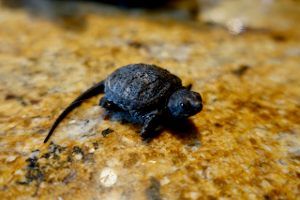 Release of my new friend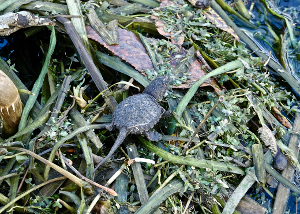 July 2017
Eggs Rescued and Incubated
Huge thanks to local hero Ric Barr for alerting us to a nest located near his business at the National Grocer's Building where heavy trucks might have crushed the eggs. Ric contacted Susan Irving at Sandy PInes Wildlife Centre in Napanee and she came out to harvest the eggs and take them for incubation. July, 2017
Rescuing a Northern Map Turtle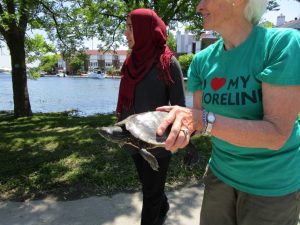 Egg-laying Northern Map turtle at Doug Fluhrer Park.
Mary Farrar rescues the turtle from being run over – June 2017.
---
Turtle Release at Doug Fluhrer Park
July 2016
Doug Fluhrer Park recently welcomed home 4 adult turtles (2 Northern Map turtles and 2 Snapping turtles) from the Inner Harbour who were returning to their homes after a stint of rehabilitation at Sandy Pines Wildlife Centre in Napanee. Mary Farar assisted Susan Irving, a volunteer with Sandy Pines, with the releases.
These turtles had been brought to Sandy Pines for care and rehabilitation following injurious encounters (usually vehicle related) with humans. These turtles were happy that their stay at Sandy Pines was relatively "short" (having been injured earlier this spring). A significant number of turtles with more serious injuries can take a full 12 months to recover sufficiently to be able to return to the wild. Sandy PInes has remarkable success with saving turtles with serious, life threatening, injuries.
The Ministry of Natural Resources requires that rehabilitated animals are released back into the environment within a mile of where they were found.
If you are interested in learning more about turtle rehabilitation or other facets of the care that Sandy Pines provides to well over 2,500 injured and orphaned animals every year, you may contact Susan at menardsa@sympatico.ca
---
September 2016
Susan Irving of Sandy Pines Wildlife Centre released five baby Northern Map turtles into the water in Doug Fluhrer Park. One turtle is quite visible to the right of the central dark rock. Two other tiny heads are visible in the water a bit further out.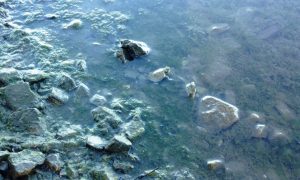 ---
Protecting the Turtles
The Friends of Kingston Inner Harbour are helping protect Inner Harbour turtles by covering nests containing laid eggs and also making a record of the turtles people are seeing. Contact 613-572-1246 and/or harbourturtles@gmail.com
Turtle Awareness Evening was held on June 7th, 2016. For stories and photos see Turtle Awareness Evening, Snapd Kingston July 2016, and Turtles' Best Friend, Kingston This Week, June 30, 2016.
An informal get-together took place in Doug Fluhrer Park on July 12th.
See Chairs for Turtles – a video of the event by David McCallum.
Inner Harbour species are mainly Painted, Northern Map and Snapping. For pics, visit
Toronto Zoo | Adopt A Pond | Resources
Below are some amazing photos of turtles sighted at the Inner Harbour.
Photographer:
Herb Helmstaedt
For more photos of turtles sighted this spring please go to the Gallery
Northern Map Turtles Basking in the Sun


Painted Turtles